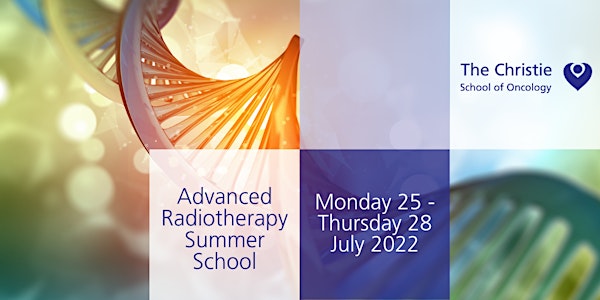 The Christie Advanced Radiotherapy Summer School 2022
Location
The Christie School of Oncology
Wilmslow Road
Department 17
Manchester
M20 4BX
United Kingdom
Various ticket options . Rates for LMIC countries are available. 1 day tickets also available Email :the-christie.educationevents@nhs.net
About this event
This is a live event whereby delegates can interact live on the day. All those registered will be able to catch up on all sessions on-demand - the perfect solution should you have prior clinical commitments or leave. The links to the recordings are typically available a few hours after the event has finished.
We invite you to join us to discover, discuss and debate recent advances in radiotherapy with leading practitioners.
The Christie is one of Europe's largest cancer hospitals treating in excess of 40,000 patients per annum and has Europe's largest radiotherapy department, with 16 linacs. It was chosen by the National Health Service as one of the two UK proton therapy sites (NHS investment of £250m) and started treating patients in 2018.
The course is designed as an integrated programme but one day attendance options are available. Select one day and you will be able to specify the day you want to attend during the booking process.
View the agenda here (will be available to view within next few weeks)
Intended audience
The course is deliberately aimed at a wide audience: radiographers, medical physicists and clinicians as well as those from a more academic environment who wish to learn more about this subject
Low-to-Middle-Income Country (LMIC) course fees are offered at reduced registration fees. Countries eligible for LMIC reduced rate can be found here. Countries listed under the headings "Low-Income Economies" and Lower-Middle-Income Economies" will be considered. If you are currently domicile in an LMIC please email the-christie.educationevents@nhs.net attaching proof of employment from your current hospital/institute upon registering.
Livestream
In light of strict social distancing and restricted footfall measures at The Christie, we are excited to extend our offering of 'virtual' learning and live streaming for our forthcoming programmes. The transition enables educational study days to be available to all healthcare professionals, regardless of location – UK or overseas.
Please note, currently only Christie staff and students will be permitted on-site (socially distanced), all external delegates will be required to take part virtually and will need to book the "livestream" ticket options. Livestream audience participation will be enabled via a fully interactive online platform, with the facility to ask questions, engage with panel discussions and take part in polls and voting. Should this change in the coming months we will notify accordingly.
This is an exciting new change in our approach to education events, and supports our ethos that cancer education is still at the forefront of what we do for patient care.
Join in the conversation and Tweet #SoORTSS2022
Booking terms and conditions can be found here 
Contact: Email the-christie.educationevents@nhs.net, call +44 (0)161 918 7409 or visit @TheChristieSoO
Are you waiting for funding to be approved before you book your place? Are you worried you might miss out on a ticket? Purchase your ticket now and change the payment option to 'pay by invoice'. We can arrange to receive your purchase order / grant as and when it is approved. For further questions, please call +44 (0) 161 918 7409.
Agenda