Event Information
Refund policy
Refunds up to 30 days before event
A unique online learning experience providing an in-depth understanding of all clinically relevant aspects of proton therapy.
About this event
Welcome to The Christie Proton School Online.
Join us for an exciting six weeks of virtual learning as the school delivers 'The Christie Proton Therapy Course' – 4 hours a week across 2 days from 4th November to 9th December 2020.
The Christie Proton School is led and run by experts in proton therapy and education from the Christie Proton Clinical Service, the University of Manchester and the School of Oncology. The course content is based on the specialist knowledge and experience of those who have developed the proton service and are involved in the delivery of proton therapy to patients here in Manchester.
The course will provide an in-depth perspective in proton therapy. Involves Live Presentations, Interactive Sessions and Virtual Networking.
What can you expect to learn?
Live webinars of fundamentals of proton therapy, science and research in proton therapy and clinical application of proton therapy. Webinars will also include sessions on service and centre development.
Interactive delivery with opportunities to network with faculty and delegates virtually.
Course dates and module delivery:
Week 1 Clinical Protons: 4 &5 November - Core modules of basics of proton physics and treatment planning.
Week 2 Clinical Protons: 12&13 November - Radiobiology, RBE and research in protons.
Week 3 Clinical Protons: 18 & 20 November - Case studies (MDT, pre-treatment, delineation, planning, on-treatment, Paeds (Body and CNS), CNS and BoS.
Week 4 Clinical Protons: 24 & 25 November - Head and Neck Sarcoma.
Week 5 Proton Service: 2&3 December - Contingency pre-treatment and on-treatment workflows, Commissioning and QA.
Week 6 Proton Centre: 8&9 December - Centre Design, Procurement, Legal issues, Feasibility testing, etc.
* The course will commence sessions at the same time each day 08:00-10:00 GMT (please ensure the timing is appropriate when booking international).
Expert faculty
Dr Ed Smith - Clinical Director and Director of The Christie Proton School
Prof Karen Kirkby - The Richard Rose Chair for Proton Therapy Physics, University of Manchester
Prof Ran McKay - Director of Christie Medical Physics and Engineering
Alongside these, the faculty includes programme managers, project managers and practitioners who have been directly involved in the development of a highly successful proton service.
Day to day decision making processes will be demonstrated, including the opportunity to talk through real world cases.
The faculty will share their experiences and highlight key learning points.
To view more information on the Christie Proton Centre please click here.
Please see our booking Terms and Conditions here
Click here to read our privacy policy: http://www.christie.nhs.uk/professionals/education/continuing-professional-development/study-days-and-conferences/school-of-oncology-events-privacy-policy/
Please note that by accepting The Christie School of Oncology Privacy Policy you are agreeing to your data being shared by a third party organisation. This third party organisation will provide access to an online webinar/conferencing platform.
Course Fees
ALL NHS/HEU UK and non-NHS UK based and international £350.00
NOTE
The School will accept no liability for any costs arising from expenses incurred prior to approval for course attendance.
 Further information: rebecca.parker31@nhs.net or call 07909 043397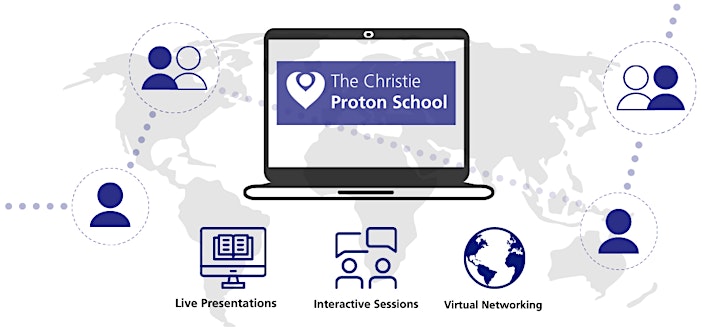 Date and time
Location
Refund policy
Refunds up to 30 days before event
Organiser of The Christie Proton Therapy Course - 6 weeks online