Join us to find out more about Thomley's new Achieve Life Skills Centre & their programme for learners aged 16-25
About this event
Why are we hosting this event?
Thomley are opening a brand new Achieve Life Skills Centre and they are searching for new learners to join their programme, launching in September 2021.
This exciting new programme is aimed at young people (aged 16-25) from the Buckinghamshire and Oxfordshire areas, who have have an Education and Health Care Plan (EHCP).
We'd like to invite you to join us, to learn more about what's on offer.
What will be the format of the event?
We will hear a joint presentation from Ewan Shinton, CEO of Thomley and Hannah Lett from New Meaning Training; and then there will be time for audience Q&A.
What's the aim of the Achieve Life Skills Programme?
To teach Independent Living skills to young people with special educational needs, helping them to become more independent and be able to prepare for adulthood. Alongside this, learners will also be taught Functional Skills (Maths and English) and Employability.
When does the Achieve Life Skills Programme start?
The programme commences on Monday September 13th 2021 and runs school term time for 39 weeks. Learners will attend 2 ½ days a week.
Where can I find out more?
Please find our poster attached below. Or you are welcome to email Hannah Lett for further information:
E: hannah.lett@newmeaning.co.uk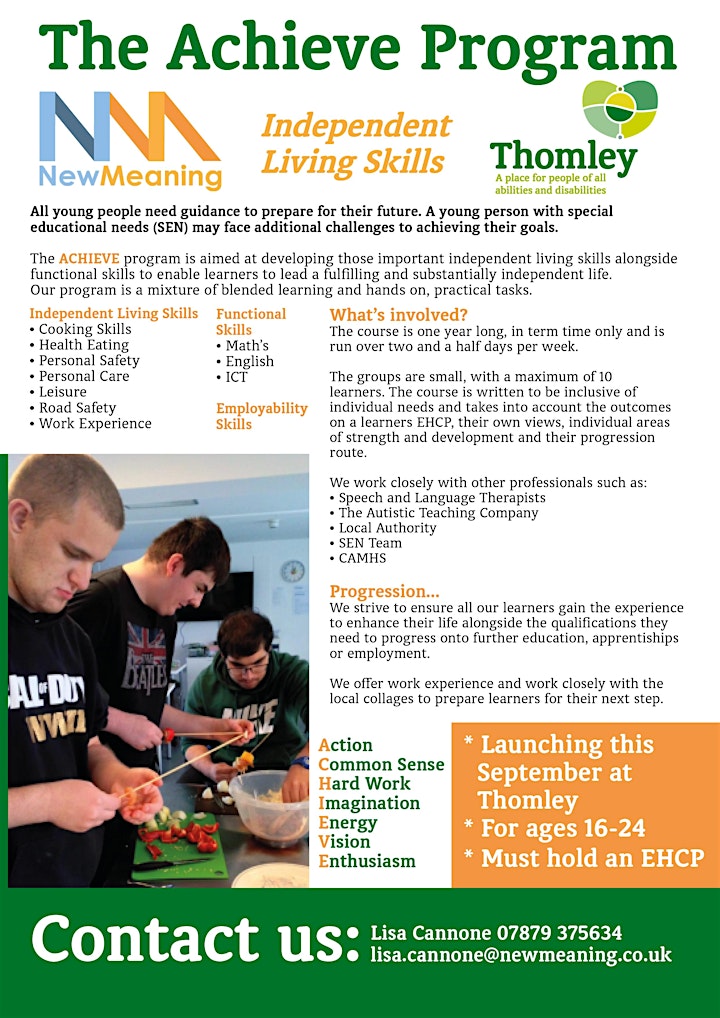 Organiser of The Clare Foundation Spotlight: Thomley's Achieve Life Skills Programme