Location
C. Cifuentes, 5
5 Calle Cifuentes
28021 Madrid
Spain
Refund policy
Contact the organizer to request a refund.
Eventbrite's fee is nonrefundable.
Discover what's next in student living at The Class Conference '22 – coming to Madrid this 16-17 November.
About this event
The Class Conference is our annual flagship event where leaders from real estate, higher education, urban planning, and policy-making come together to explore how big ideas and cross-border collaboration will shape the future of student living. Get cutting-edge insights from industry trailblazers and network with international executives, investors, developers, operators, and more over the course of our two-day programme.
HYPER-CONNECTIVITY
The Urban (R)evolution
The UN estimates that by 2050, 70% of the world's population will live in cities. Globalisation and digitisation have transformed almost every aspect of urban life. Our smart homes are full of smart devices that talk to each other via the 'Internet of Things', and our lives are increasingly mediated by algorithms. We work in the gig economy, pay for goods and services with digital currencies, and eschew ownership in favour of sharing and renting models. This is one potential vision of our hyper-connected future – but is it really the one we want?
Or, can we envision a different sort of connectivity altogether –– where hardware and software come together seamlessly to create a human-centric urban environment? What would that look like for our homes, schools, offices, parks, and shops? Perhaps we'd wake up to the sound of birds rather than traffic. After finishing our locally-sourced breakfast, we'd hop on an electric tram and commute through lush green spaces into the city centre. Because our cities have become an extension of our campuses, education is now considered a lifelong affair. We find new ways to connect and exchange with one another across cities, generations, and backgrounds. Instead of seeking one-size-fits-all solutions to society's problems, we creatively adapt successful initiatives from other cities to our unique local context. In this version of the future, hyper-connectivity gives us agency rather than taking it away in favour of convenience.
We find ourselves at a pivotal moment, where the decisions we make around infrastructure and design have the power to shape the experience of future generations. Paradigm shifts, public/private collaborations, and holistic innovations are just some of the tools we have at our disposal as we seek solutions to the most pressing issues facing our cities and communities. Together, we can co-create a green and sustainable built environment that prioritises well-being and community and leverages smart technologies to increase access and usability. Are you in?
Join us in Madrid and help us bring about our vision for the university cities of tomorrow.
WHAT TO EXPECT
This isn't like any other real estate event you've experienced before. Imagine a conference... but with the spirit of a festival – a place to connect and reconnect with industry peers, and a platform to inspire and be inspired by novel trends and insights.
For this year's conference, we're pulling out all the stops to create a "city within a city". Attendees will be able to follow coloured metro lines within the venue to explore different themed areas including…
The Plaza (main stage)
This forum for the exchange of ideas is inspired by the ancient Greek 'agora' or village square. As the central hub of our venue, the Plaza plays host to birds-eye conversations on how to design cities for the next generation, the relationship between living and learning, the convergence of silos within our sector, and balancing globalisation and localisation.
The Academy (2nd stage)
Intended for deeper dives, the smaller stage spotlights data insights, regional market updates, grassroots conversations, and dialogues on niche topics such as future investment ambitions.
The Marketplace (Exhibitor Areas)
Our exhibitor areas feature a diverse mix of Europe's leading operators, investors, universities, city innovators, and the tech community.
The Park (Networking Areas)
Drawing inspiration from Madrid's ongoing urban regeneration efforts, these indoor 'green spaces' create a verdant backdrop for networking, co-working, and chilling in between sessions.
Plus… site tours of innovative student accommodations around Madrid, the 7th edition of the Best in Class Awards, the launch of our 2022 Trend Report, and much more!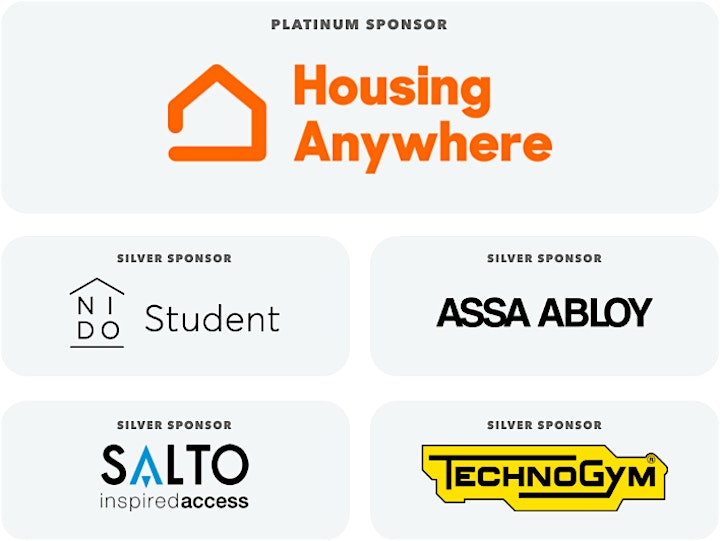 SPONSORSHIP
For sponsorship enquiries, please reach out to Mell via mell@theclassfoundation.com.
REFUND POLICY
Purchased tickets are strictly non-refundable. Refunds will only be offered to ticket holders in the event of a cancellation, postponement, or significant change to the programme agenda (e.g. change of theme or location). In the event of a refund being issued, Eventbrite processing fees will not be refunded. In case of unforeseen circumstances (such as a positive covid test or bereavement), a ticket may be transferred to another individual within the ticket holder's organisation. The value of the unused ticket can also be applied to another one of The Class Foundation's events taking place in 2023.