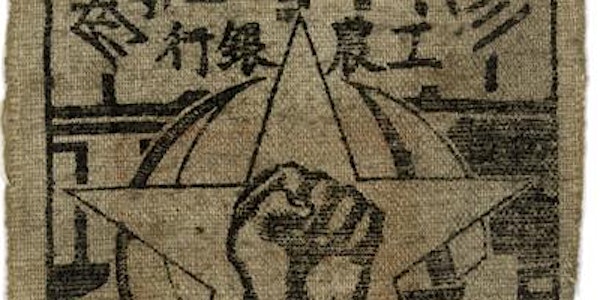 The Cloth Banknote of the Sichuan-Shaanxi Soviet Government Workers & Peas...
Event Information
Location
The Pauling Centre
58a Banbury Road
Oxford
OX2 6QS
United Kingdom
Description
The Cloth Banknote of the Sichuan-Shaanxi Soviet Government Workers and Peasants Bank
Talk by Dr Paul Bevan, Christensen Fellow in Chinese Painting, Ashmolean Museum

In China, during the turbulent decade of the 1930s, a number of Chinese Soviet areas were formed as a direct reaction to the violent government crackdown on membership of left-wing organisations that had taken place since the late 1920s. The most extensive of the Soviet areas, where large numbers of Communists made their homes, was the Jiangxi Soviet, established by Mao Zedong in 1931. In one less well-known soviet area in particular, due to the lack of paper supply, the government began to use cloth as a substitute for paper to print banknotes for local use. This banknote was printed using a modern printing presses commandeered from a local warlord, and distributed by the Sichuan-Shaanxi Soviet Government Workers and Peasants Bank in 1933. The cloth banknote is a striking example of modern design. In common with a number of paper examples produced by similar Communist organisations, it displays many of the common symbols associated with the worldwide socialist movement: the hammer and sickle, the clenched fist, and Marxist rallying cry, "Workers of the World, Unite", translated into Chinese. Examples in various denominations, in shades of grey or blue, printed on heavy cotton cloth can be seen in museum collections worldwide, including, in the UK, in those of both the Ashmolean and British Museums.
Perhaps the most striking thing about the banknote, however, is the typographical element seen on the reverse of the banknote, which is evidently done in imitation of Soviet Russian Constructivist design. Indeed, it is this Constructivist design that makes it unique amongst banknotes in China. Here, slogans with a socialist message are presented in stylised typographical form, the Chinese characters together formed into the shape of a printing press or other industrial machine. Such approaches to typographical design were also used by publishers working for left-wing periodical presses in Shanghai and were related to a widespread form of design associated with modern "Art Deco" design in China. These were, in turn, connected to an adoption of design elements found in left-wing magazines worldwide, which ultimately had their origins in the USSR and arrived in China, via Japan in the 1920s. It is this aspect of Soviet Russian art and design, adopted by the creators of the cloth banknote in this remote area of China in 1933, that makes it so important in the fields of numismatics, textile history, and the history of art and design in China.
Dr Paul Bevan is Christensen Fellow in Chinese Painting at the Ashmolean Museum, University of Oxford and Research Associate at the School of Oriental and African Studies and has taught modern Chinese literature and history at the University of Oxford, the University of Cambridge and SOAS. His first book A Modern Miscellany - Shanghai Cartoon Artists, Shao Xunmei's Circle and the Travels of Jack Chen, 1926-1938, Leiden: Brill, 2015, was hailed as "a major contribution to modern Chinese studies"; his second offering: "Intoxicating Shanghai": Modern Art and Literature in Pictorial Magazines during Shanghai's Jazz Age, is in the final stages of publication. His wide-ranging research interests focus primarily on the impact of Western art and literature on China during the country's Republican Period (1911-1949).
Location: The Pauling Centre, 58a Banbury Road, Oxford OX2 6QS.
Date: Thursday, 26th of September 2019
Time: 6 pm for a 6.15 pm start
OATG events are free for members and £3 for non-members
Please do let us know in advance if you require any special assistance.
Please note that you do not need to print your ticket and that you can also register by sending us an email:
oatg.events@gmail.com
Please be also advised that we will be taking pictures for our print and digital communication during the event. Please do let us know on the day if you don't want to be photographed. Thank you.
Image: Banknote of China, 1933, HCR6442, Ashmolean Museum Collection.
Date and time
Location
The Pauling Centre
58a Banbury Road
Oxford
OX2 6QS
United Kingdom