Location
St Mary's Church, Putney
Putney High Street
London
SW15 1SN
United Kingdom
This public conversation is the fourth in a series called "The common good: what does it mean for families, for society and for government?"
About this event
Politicians regularly say that they want to act for the common good. This is not surprising. After all, who could disagree? But, what does the term mean? And is it an agenda just for politicians?
This event addresses the role of government for the common good. With the Levelling Up agenda and the pressing need for civic renewal, this will be a highly relevant conversation.
Earlier in this series we explored the responsibilities of the family and civil society institutions like businesses, clubs, associations, charities, churches and other faith groups.
Join us in person on Tuesday November 16th
The appropriate role for government is contested - some argue for a strong, centralised state that guides the economy and explicitly supports civil society and the family. Meanwhile, others make the case for a decentralised model, rooted in the renewal of place, and in the revitalising of local and regional institutions. Others believe that only a more hands-off approach will allow civil society and the family the room, freedom and resources to flourish.
Held at the church of St Mary's Putney, home of the historic 1647 Putney Debates, our discussion will be opened up by a distinguished panel of active and influential speakers.

Chair: Ruth Kelly, Non Executive Board Member at Council for the Economy, Vatican; Visiting Professor at St Mary's University, Twickenham, former MP and senior government minister
Lord Maurice Glasman, Labour Life Peer, political theorist and thinker on political economy, organiser and writer, Director of the Common Good Foundation and founder of Blue Labour
Danny Kruger, Conservative MP for Devizes, co-founder of the New Social Covenant Unit, parliamentary private secretary in the Department of Levelling Up, Housing and Communities
Caroline Slocock, co-founder of A Better Way leadership network, co-founder and Director of Civil Exchange, member of the Early Action Task Force and former senior civil servant
A drinks reception will follow the discussion.
Booking essential
You will need to bring your booking confirmation with you, either printed on paper or on your phone or device
First come, first served: should social distancing be introduced for this event, the organisers will be in touch with all registrants and reserve the right to prioritise those who have booked first
Enquiries
Any enquiries please to Marianne Rozario, Project Manager at St Mary's University, at marianne.rozario@stmarys.ac.uk
For information about the venue itself, please contact Berni Griffiths at Bookings@parishofputney.co.uk
Travel advice
NB there is no parking on site. Nearest tube is Putney Bridge. Nearest overground rail is Putney.
Watch the full series
This public conversation is the fourth in a series called "The Common Good: what does it mean for families, for society and for government?" To watch the first three events in this series online, please click here.
This event will be filmed and made available on YouTube a few days afterwards
Who is organising this series?
The series is jointly organised and held by Together for the Common Good, the Centre for Social Justice, Caritas Social Action Network and the Benedict XVI Centre for Religion and Society at St. Mary's University.
These conversations are supported by our longstanding partner, CCLA, one of the UK's largest ethical fund managers, home of the new Catholic Investment Fund. CCLA is generously providing a drinks reception after the event.
We are grateful to the vicar and staff at St Mary's Putney for their warm welcome.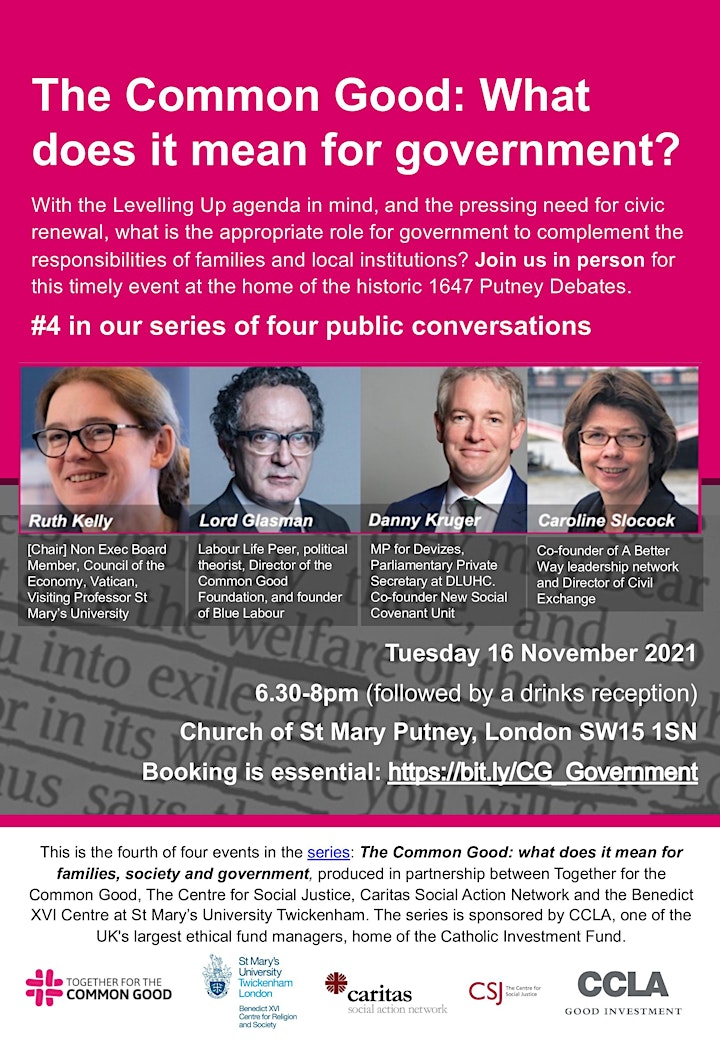 For videos of the three previous events in the series please click here