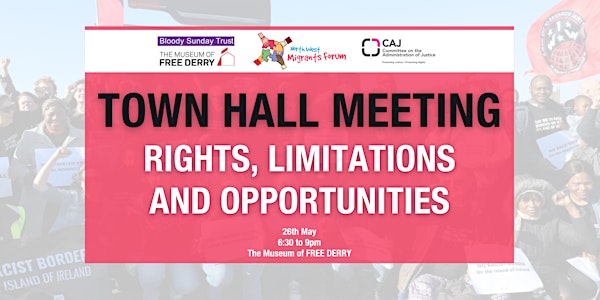 The Common Travel Area, rights, limitations and opportunities. Public Event
Location
Museum of Free Derry
55 Glenfada Park
Londonderry
BT48 9DR
United Kingdom
Brexit has recently put the Common Travel Area in the news,but the longstanding impact of CTA rules on non-CTA residents is rarely discussed
About this event
There are many residents of Ireland, North and South who face a hard border despite the Common Travel Area. They work, pay taxes and have established their lives here but cannot fully take part in many areas of life others take for granted.
The event will examine the limitations of the CTA rules, what CTA limitations mean for non-Irish and non-UK citizens, the proposed Electronic Travel Authorisation (ETA), the impact of Brexit on EU Nationals and NI in general
NWMF and CAJ (Committee on the Administration of Justice) have put forward proposals that provide practical and workable solutions to the CTA challenges - what are they and how will they address some of the hurdles faced by non-CTA citizens on these Islands?
Join us on 27th June to find out more about the challenges, and opportunities for change and of course - how you can get involved.