Sales Have Ended
Ticket sales have ended
Thank you for booking for the 2019 Community Media Conference. You will need to arrive as early as possible on the day to clear registration - please bring some form of ID (photo ID preferred). We are also running a citizen journalism workshop on Sunday 29th September at the same venue which is free to attend. Booking here: https://2019commjournalism.eventbrite.co.uk Any questions, please email conference@commedia.org.uk
Sales Have Ended
Ticket sales have ended
Thank you for booking for the 2019 Community Media Conference. You will need to arrive as early as possible on the day to clear registration - please bring some form of ID (photo ID preferred). We are also running a citizen journalism workshop on Sunday 29th September at the same venue which is free to attend. Booking here: https://2019commjournalism.eventbrite.co.uk Any questions, please email conference@commedia.org.uk
Description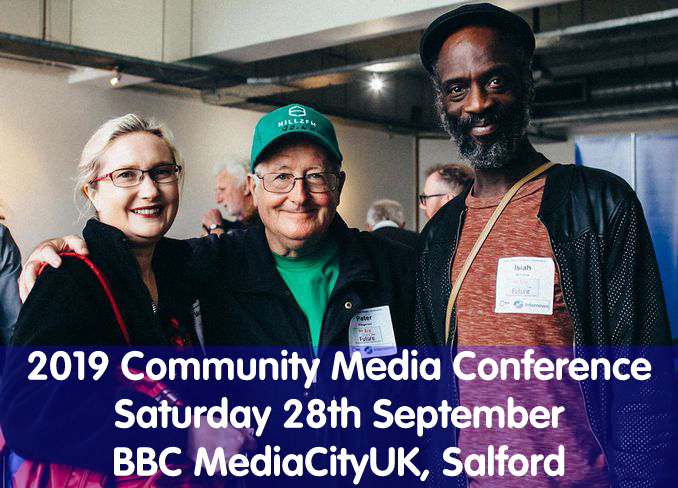 Book now for the UK's largest Community Media conference to be held at Quay House, BBC MediaCityUK in Salford on Saturday 28th September - tickets are available below at only £25 per person!
This is a different event to the Citizen Journalism Workshop taking place the following day for which separate booking is required.
The theme of this year's Conference is "We Need To Talk" to recognise that the community media sector needs to talk to Government, to funders, and to the wider media industry.
The 2019 Community Media Conference will address a number of key themes:
The outline Conference agenda is below (subject to change):
09:00 Registration and networking
10:00 Opening & Welcome from CMA Chairman and Vice-Chair with Mike Shaft
10:15 Workshops and discussions
12:15 Lunch & Networking
13:15 Plenary session on Small-Scale DAB with Peter Madry from Ofcom
14:00 Workshops and discussions
*Morning session repeated so that delegates can attend both
15:00 Workshops and discussions continued
16:00 Break
16:15 Closing session with Paul Dennett, City Mayor of Salford
16:30 Networking
17:00 Finish

We need to talk to each other about the upcoming changes around small-scale digital audio broadcasting, we need to talk about citizen journalism, and we need to talk about essential skills to develop talent and keep the sector sustainable. As a society, we need to talk more - and community media is the ideal platform for facilitating those conversations and advancing social change.
The Community Media Conference will bring together broadcasters, producers, community developers, publishers, media enthusiasts, creatives and academics for a day of learning, exchange, and celebration with inspiring speakers, workshops and networking opportunities.
Book now for tickets!