Bloom hosts 'The Comparison Trap - Turning competition into collaborative energy'
About this event
The Comparison Trap - Turning competition into collaborative energy
We are bombarded by always-on inspiration and content, where the possibilities may appear endless, but so too are the opportunities to compare and benchmark against others.
Join us for an event that will delve into powerful and honest experiences of comparison, explore how it can limit us, and discover how to channel that negative energy into positive behaviours.
We will explore the honest truth and stories behind our glossy exteriors. The current climate is exacerbating comparison - from the different ways people are coping with lockdown – from productivity overdrive to total overwhelm – and, of course, the devastating events of the past couple of weeks which are resulting in a growing and belated discussion of systemic racism.
We want to hinge our conversation around your experiences of comparison at this time. Ahead of the event, we will ask you to tell us anonymously through our digital 'Booth of Truth' about your own experiences of comparison.
Have you found yourself unhealthily comparing your life to others? Are there particular areas of your life where this is rife? Have you been at the receiving end of unhealthy comparison? Tell us about these situations and how they made you feel. We will send you a link to submit your honest truths ahead of the event.
The format of the event will be stories from our speakers, a short interactive workshop on overcoming comparison, ending with a Q&A and everyday actions for you to embrace going forwards.
This is a free event, but at Bloom we pride ourselves in raising much needed funds for Women's Aid and we ask attendees to consider making a voluntary donation in lieu of an admission charge. The typical donation to our events is £10.
Speakers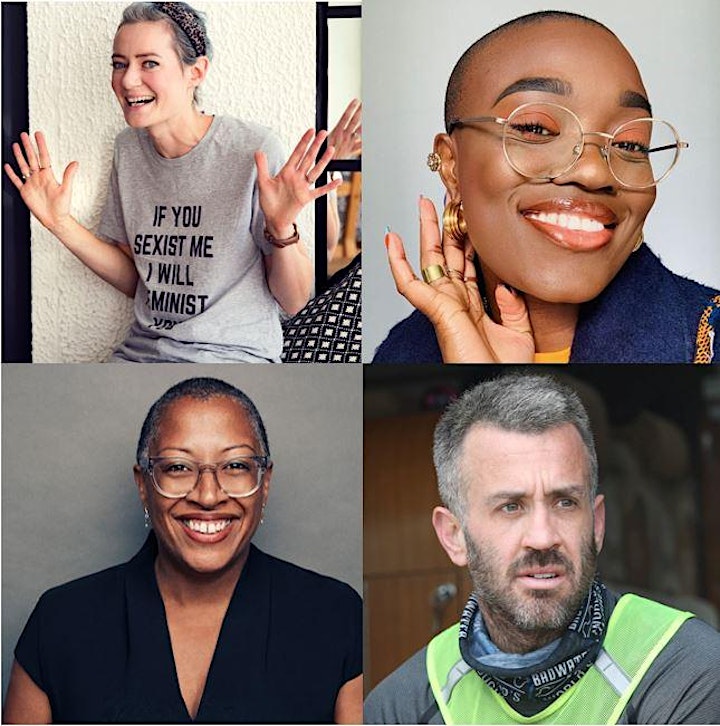 Keri Jarvis, Life and Business Mindset Coach
Keri Jarvis is The Audacity Coach. She's leading a reclamation of "who does she think she is?!", inspiring and supporting women to activate their personal autonomy & access alliance with one another.
She's the founder of Do It Like A Mother, a business she sold in Feb 2020, and an experienced, yes wildly uncertified coach.
She will use her skills to guide us through an interactive session with practical tips on how to overcome comparison.
Nicole Crentsil , Founder of BIG SIS and Unmasked Women
Nicole Crentsil is a London-based Ghanaian born cultural producer, public speaker, creative consultant and opinion former. She's the founder of BIG SIS and Unmasked Women.
Listed as 'one of 100 women to follow on Twitter and Linkedin' by Forbes in 2018, her passion for supporting and promoting diversity through various industries, alongside her drive to stimulate forward thinking conversations, has also seen Nicole awarded a recommendation as Time Out's 1 of 50 Londoner's shaping the city's cultural landscape.
With several appearances as a guest speaker on BBC Women's Hour, discussing everything from mental health to race and representation, Nicole is an experienced commentator and a previous Tedx speaker & host.
She has also had features across print, online and media including Stylist, Evening Standard, Channel 4 and more.
Sarah Jenkins, Managing Director, Saatchi & Saatchi London
Sarah Jenkins is Managing Director at Saatchi & Saatchi London, joining in December 2019.
Previously a 9 year veteran of Grey London where she held the role of Chief Marketing Officer and Head of Account Management and was responsible for some of the agency's flagship creative accounts - including The British Heart Foundation and Lucozade.
Sarah has worked in both global network agencies and start ups and across organisations as diverse as Mars, GSK, P&G and the Home Office.
A staunch believer in the need for greater diversity of talent at all levels across advertising, Sarah has been a driving force behind the industry wide Advertising Diversity Task Force, which brings together the most progressive agencies across the communications industry to use their combined energy, expertise and skills to shift the diversity dial.
She is also a Trustee of the Historic Royal Palaces – so has a side hustle of looking after the Tower of London and the Crown Jewels.
Dan Furlong, Founder of MAD, Male Anxiety and Depression
Dan lived 20 years of his life in a space he labeled the suicide limbo. Not anymore, he has traded up! Dan W Furlong is a Men's Mental Health Advocate, a Recovered Addict, an Entrepreneur, and also an Ultra Runner.
- Ran 600KM Through The Himalayan Mountains of Nepal in 17 Days
- ​Conquered 230KM in 5 Days Through the Amazon Jungle
- Creator of Male Anxiety Depression
Host: Zara Bryson, Strategy & Innovation Director at Publicis Media & Co-Head of Strategy at Bloom
Zara Bryson - Strategy & Innovation Director at Publicis Media, Co-Head of Strategy at Bloom and Founder of Who's Next a podcast about shining a light on brilliant and collaborative women.
Tickets
This is a free event, however we suggest you make a donation to Bloom's charity partner Women's Aid when purchasing your ticket.
Get involved!
Bloom invites you to break the silence on your experiences of comparison, by submitting your 'truths' anonymously via our Booth of Truth on slido.com. Our brilliant panel will discuss solutions to overcoming those situations. We will send you a link to submit your honest truths ahead of the event.
Who we are
Bloom is a professional network for women in communications. Home of The Booth of Truth (where people can submit their 'truths' or 'confessions' anonymously to help tackle industry taboos) we champion the real voices of women.
We're on a mission to ensure women have equal opportunity in the communications industry, by harnessing the power of their real voices.
Bloom's charity partner is Women's Aid, the national charity working to end domestic abuse against women and children. As a result of the donations from the new and existing Bloom members, during lockdown we've been able to donate £20,000 to Women's Aid to assist with the increase in demand for their live chat helpline service. This is a great achievement, but there is still so much more we can be doing.
Find out more about Bloom at www.bloomuk.org
LinkedIn is proud to be working in partnership with Bloom for 2020.

Organiser of The Comparison Trap - Turning competition into collaborative energy
Bloom is a professional network for women in communications. We future-proof women's careers, drive industry change and pay it forward via our industry-wide mentoring scheme and commitment to supporting Women's Aid. 
For more information, contact bloomorguk@gmail.com