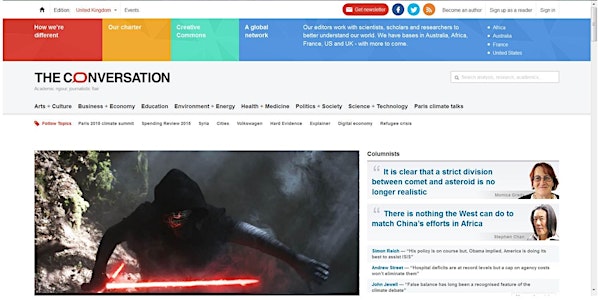 The Conversation: Seminar from the Editor, Social Sciences focus
Location
A11 Highfield House UPC
University of Nottingham
United Kingdom
Description
Are you writing for The Conversation yet?
155 academics, researchers and PhD students Nottingham have already written 285 articles and attracted more than 2 million readers worldwide.
The Conversation is an independent channel of information staffed by a team of professional journalists with wide-ranging media experience. The authors are all academics and researchers with deep expertise who provide insights on issues that affect our world.
Laura Hood, Politics and Society Editor of The Conversation, will be joining us on 19 and 20 January 2016 to explain how The Conversation works and the benefits of writing for the public.
Working closely with editors like Laura, you can become a reliable and go-to resource for the public and other media; you will increase your public engagement as well as building your profile as an expert in your field. 75% of articles in The Conversation are then republished in other sources giving you a gateway to the rest of the media.
These events are aimed at academics, researchers and PhD students in the Social Sciences, Arts and Humanities.
Please sign up for a seminar and/or a bookable 10-minute slot with Laura.