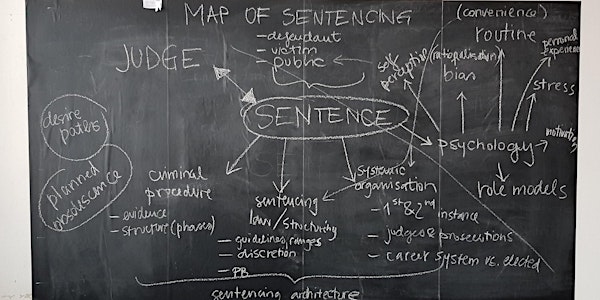 The Crime, Justice and Society Seminar - Mojca Plesničar
Towards a map of sentencing Dr Mojca Plesničar, Institute of Criminology at the Faculty of Law Ljubljana
About this event
The Crime, Justice and Society Seminar Series
Towards a map of sentencing
Dr Mojca Plesničar, Institute of Criminology at the Faculty of Law Ljubljana
Abstract
Scholars have been looking at various facets of sentencing for a long time. Some explore its philosophical and conceptual foundations; others look at its sociological reality; others still at psychological underpinnings of the sentencing process and decision-making more generally. From a legal perspective, we often start with analysing the various systems of structuring sentencing discretion, only occasionally diving into procedural issues as well. Typically, all these layers overlap in practice to produce a final sentencing decision. The various dimensions, however, often remain separated in academic work. I propose that we take a wider look at sentencing and attempt at collating them in one multi-dimensional map that would paint a more comprehensive picture of sentencing.
Crime, Justice and Society Seminar Series
The Crime, Justice and Society seminars are co-hosted by the Criminal Law and Criminology subject areas of Edinburgh Law School and are open to all. We particularly welcome students from our LLM and MSc programmes to join us. 
Organiser of The Crime, Justice and Society Seminar - Mojca Plesničar
Edinburgh Law School, based at the University of Edinburgh, has been training some of the world's finest legal minds for more than 300 years.
Information about you: how we use it and with whom we share it

The Edinburgh Law School process the personal data of our internal and external stakeholders, in order to deliver and improve the opportunities and services we provide in a personalised manner, to ensure each individual receives relevant information and to ensure we use resources in the most efficient and effective way.

Personal data is processed by the Edinburgh Law School to:

• Keep you up to date with news, events and opportunities at Edinburgh Law School (when applicable).
• Provide you with information on any services you have requested and the promotion of benefits and services.
• Ensure we only communicate with you about events, opportunities or services of interest to you.
We are using information about you because you have given us your consent, or you are or have been part of the Edinburgh Law School community, and we would like to stay in touch with you and keep you informed of our news.

We will continue to hold the personal data you have provided us as part of Edinburgh Law School; however, you can opt out of the mailing list at any time.

We do not use profiling or automated decision-making processes. A human decision maker will always be involved before any decision is reached in relation to you.
This Privacy Statement is continued at: www.ed.ac.uk/records-management/notice