Description




Follow us on Facebook to keep up to date on all the event news

The Crimestoppers Trust is an independent charity. It is not part of the Police, the States of Guernsey or the UK Govt. www.crimestoppers-uk.org
About the Event.
The inaugural Crimestoppers Runway Run was held in 2015 restricted to just 111 participants. Numbers have increased in subsequent years. Last year, all 500 places sold out quickly. The local Crimestoppers Board is pleased to offer islanders another opportunity to run the runway in this 5K challenge being held at Guernsey's Airport.
This night-time event race is open to runners of all abilities. Prizes will be awarded to the fastest male, female, veterans (45 and over) and Under 18. Please note an age restriction applies (min age 14 yrs.).
A trophy for the fastest team (made up of 3-6 runners with the three best placed counting) is also up for grabs !
The run is scheduled to start around 11pm and the runway will benefit from landing lights and, clouds permitting, moonlight !
All participants will receive a commemorative and reflective shirt to be worn on the night. - see below for sizes. There is no obligation on the part of the Charity to provide a shirt for ticket-holders who do not attend. Any surplus shirts will be given to our fantastic team of volunteers with any remaining sold for the benefit of our special hosts CI Air Search.
IMPORTANT. New rule for 2019. The Charity has been advised that as the runway is a designated secure area, all runners will now have to bring photographic ID in the same form as if you were boarding an aircraft. This photo ID will need to be shown at registration and before entering the runway area. A free valuables bag service or lanyard will be provided as options to safeguard this ID during the run. The good news is that you will not have to print your tickets !!
Please note that tickets are not transferrable without the organiser's consent and approval. No refunds will be made for any new ticket purchased.

Further details about this Runway Run will be emailed to those registered prior to the event. By registering, you are granting The Crimestoppers Trust permission to email you. You can revoke this consent at any time.
Why not follow us on Facebook to keep up to date on all the event news ?
See https://www.facebook.com/GuernseyRunwayRun
This event is kindly supported by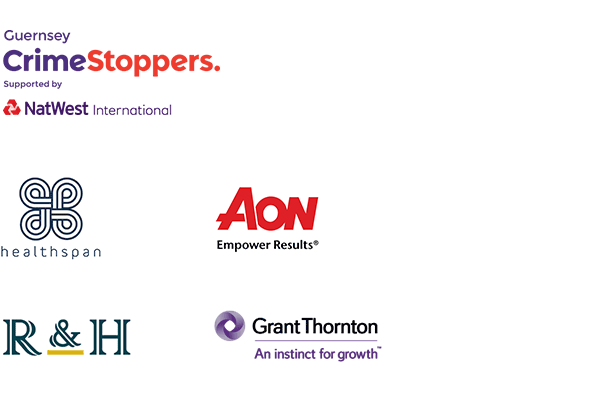 We anticipate T shirt sizes as follows;
Female
XS = 32-34; S = 34-36; M = 36-38; L = 38-40; XL = 40-43; XXL = 44-46
If in doubt, order one size up !
Male
S = 36-38; M = 39-41; L = 42-44; XL = 45-47; XXL = 48-50