Actions and Detail Panel
The Crossmodalist Cabaret: Music, Drama, Sex, Photography, and Art.
Fri, 19 May 2017, 16:00 – Mon, 22 May 2017, 00:00 BST
Description
Kabarett: a term first coined in the 19th Century, a place where artists, poets, composers, and dancers could come together, under the auspices of anonymity, to explore music, drama, sex, and art.
The Crossmodalist Cabaret: invoking the spirit of Cabaret - bringing together a mix of cross-disciplinary artists and scientists from around the world for one weekend only, for a combination of performance, revelry, and hedonistic surprise.
Expect provocation. Expect inspiration. Expect the unexpected.
---
How it works:
The Crossmodalist Cabaret is taking place on the Ground Floor of Platform, Southwark (next to the Young Vic theatre). Each of the events listed below are individually ticketed (click the links to access), whilst you can purchase a weekend-wide pass, including access to all events, and a free Negroni at our very own Negroni Bar.
Tickets for other events in the Cabaret will be purchasable at the venue, and in between performances, you are also welcome to join us for a drink and conversation at the Negroni Bar, or head upstairs to the first floor where Hack the Senses will be playing a sensory game.

---
Events Featured in the Crossmodalists Cabaret:
(Full Schedule Below)

Lick&Listen: Silent ethical porn films with live music, exploring our connection between sight and sound, and our relationship to sexuality. (Berlin)
Mediterranean Sounds Underground: A multi-sensory travel experience through classical piano, percussion, improvisation, soundscapes & electronica. (London/Brisbane)
UnforbiddenX: Unforbidden creates immersive experiences exploring sensuality, sexuality and spirituality. The aim is to bring people together and voluntarily push personal boundaries through a safe setting. (London)

Perfume Concert: Classical piano performance, with curated perfume design and dance. (Berlin/London/Singapore)
Crossmodalist Triptych Meditation Series: Exploring the power of sensory stimulation, and the ability of combining colour, tactility, sound, and perfume - Free Event. (Berlin)
Stimmung: An incredibly rare opportunity to hear Karlheinz Stockhausen's seminal 20th century vocal masterpiece, performed in its original format. (Cambridge/London)
Synaesthetic Action Painting: Live performance incorporating electro-experimental music, tech, and painting by synaesthetic visual artist Anna Kolosova, and synaesthetic music and sound artist Adam John Williams (London/Berlin)
BAD HOUSE//Experimental Cinema: Live avant-garde music and experimental cinema combine with films by Sky Ainsbury, and music composed by US composer Aleksandr Brusentsev. Including Directors talk and Q&A. (Berlin/Minnesota)
The Seed of Time: International arts collective, Elephants and Volcanoes, present a short film and talk on their debut project The Seed of Time - and introducing Firnocene: an participatory arts installation happening in London May 20-21st - Free Event. (Zurich/Amsterdam/Berlin).

Food Photography: Exploration on the colour of flavour with members from the Crossmodal Research Laboratory, University of Oxford, and renowned food photographer, Joe Sarah. (London/Oxford)
Spider Silk Violin: The first ever concert performed on Luca Alessandrini's Spider Silk Violin, featuring contemporary dance alongside a performance of Bartok's solo violin sonata by Shir Levy (London/Padua)
Anti-Film: A unique exploration of Franz Kafka's The Trial, told through five elements of sensory experience. More information to be announced.
HassFest London Edition: A special recreation from the debut Armenian Hearing Art - Seeing Sound Festival. (Yerevan/London)
Japanese Tea Ceremony: More information to be announced
Tarot Card Reader: More information to be announced
Negroni Bar: Open all weekend (card only). Selling Negronis, beer, and soft drinks.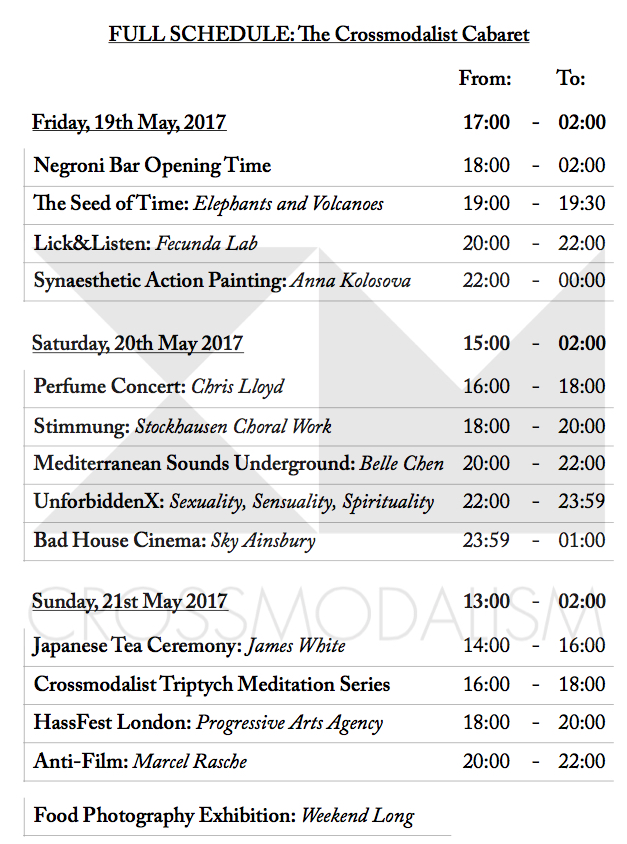 ---
WHAT IS CROSSMODALISM?
Crossmodalism is a movement born from the synthesis of art, science, and entrepreneurship. It is based in learning and collaboration across non-traditionally linked disciplines, ideas, and communities. Through this foundation, Crossmodalism fosters an appreciation of the full human experience in connection to its sensorial and natural environment.

www.crossmodalism.com