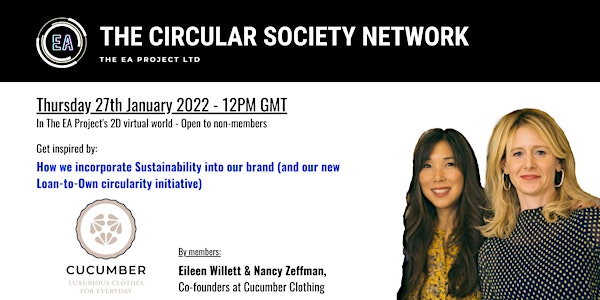 The CSN Connects: How we incorporate Sustainability into our brand
Refund policy
Contact the organiser to request a refund.
Eventbrite's fee is nonrefundable.
Get personally matched with inspirational leaders & experts around the globe and reflect on concrete sustainable or circular projects!
About this event
****
IMPORTANT INFORMATION - ONLINE EVENT - LIMITED TICKETS
Do NOT register if you are not sure of participating to the entire event (pitch + matchmaking session = approx.1h).
Your absence may penalize other participants looking forward meeting you.
Members who register and do not attend will receive a warning. After 3 warnings they will lose their membership.
External registrations (non-members) not honored will remain in our records and this may affect your application if you desire to join the community in the future.
TICKETS ARE LIMITED AND REGISTRATIONS END TWO DAYS PRIOR TO THE EVENT FOR THE MATCHMAKING PROCESS
Thank you for your understanding.
****
The EA Project (Events for Action) produces engaging & entertaining events to break silos and enable collaborations between the main following industries: Agriculture, Transportation, Construction, Industry, supported by leaders & experts in finance/investment, education, governance/policy, energy, mobility, supply chain, retail, biodiversity, etc...
Participants and members include board members, managers, experts, founders of large groups, innovative startups, SMEs and NGOs from 6 continents.
We highlight and support sustainable / circular study cases from our Circular Society Network members (non-members are more than welcome to attend, the more diversity the better!) and we create new synergies and collaboration opportunities between attendees during our matchmaking/networking sessions to imagine new ways of working together as a Circular Society.
What's included:
Discover Solutions: Discover every month, a new sustainable or circular solution pitched by one of our members (or more!). Every pitch must enable multi industries or sectors to get inspired. Diversity please!
Get personally Matched: Tell us your needs and expertise and you will be matched with the participants we think can bring you the most value. Discover new synergies and complementarities now!
Meet leaders & experts: Meet in small groups, selected profiles from all around the world, who may be working on similar or complementary projects, or may have the connections you need!
Access new opportunities: The more you participate, the more profiles you discover, the more connections you build and the more opportunities you will get! It's time to accelerate our transformation!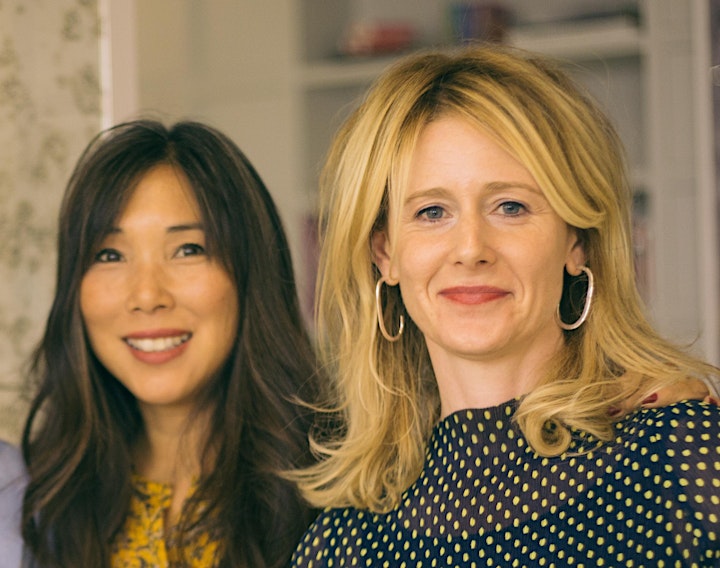 Cucumber Clothing's Sustainable approach and Loan to Own circular initiative
This month, members Nancy Zeffman and Eileen Willett, co-founders of Cucumber Clothing, will be talking about how they incorporate sustainability into their brand as well as their groundbreaking new Loan-to-Own circularity initiative allowing customers to try for up to two months before committing to buying.
Any returns are sold as part of their pRELOVED discounted collection. Rentals are increasingly welcomed in the wedding/occasionwear sector and Cucumber is revolutionising the leisurewear sector by launching rentals in this heretofore unexplored area.
Sustainability and slow fashion are at the heart of what Cucumber does. Every collection is designed, sampled, manufactured, graded and warehoused all within a five mile radius in London and all of Cucumber's fabrics last up to six times longer than cotton, meaning longer wear and less waste. 
Whether you are working in the fashion industry or not, Cucumber Clothing's approach will definitely inspire you on many aspects of your own transformation: design, retail, supply chain, materials, manufacturing and more.
Event Programme:
Welcome to The EA World! Explore a 2D environment and its interactive objects with your avatar!
Main stage - Introduction about The EA Project and The Circular Society Network
Pitch: Cucumber Clothing co-founders - 10min
(Others pitches may be added to the program)
Open Q&A - 5 to 10min
Guidance and placing at your networking table
Reflection & Networking at your selected table - 30min
Free networking time. It's time to move around and meet other members, visit our exhibition room or pursue the conversation at your table
End of the event when you decide to leave and after you have participated to your matchmaking session!
Format
Forget Zoom. With your avatar, walk around and use spatial sound and video to communicate just like in real life. The event will take place in Gather.Town, a stable, easy-to-use 2D platform, that enables a real level of engagement. More information to come after your participation confirmation along with the attribution of your Networking table number.
Requirements (Read before purchase):
A good internet connection, a quite recent computer, Google Chrome or Firefox and access to a computer with a keyboard, webcam, mic and mouse. Please try out the platform first before purchasing a ticket or registering.
Additional information (Read before purchase):
No refunds policy.
Photographs and/or filming will be taken at the Event, which may be used in post Event publicity and in future marketing materials. By completing registration, the participant consents to the official photographer and/or videographer taking such photographs and/or video, which may feature the participant, and the use of such photographs and/or video as described. Private conversations (including all networking sessions) will not be recorded.
Thank you for your understanding.
Sponsor our events: contact@the-eaproject.com
More information: https://the-eaproject.com/
Ts & Cs: https://the-eaproject.com/terms-conditions/
Privacy Policy: https://the-eaproject.com/privacy-policy/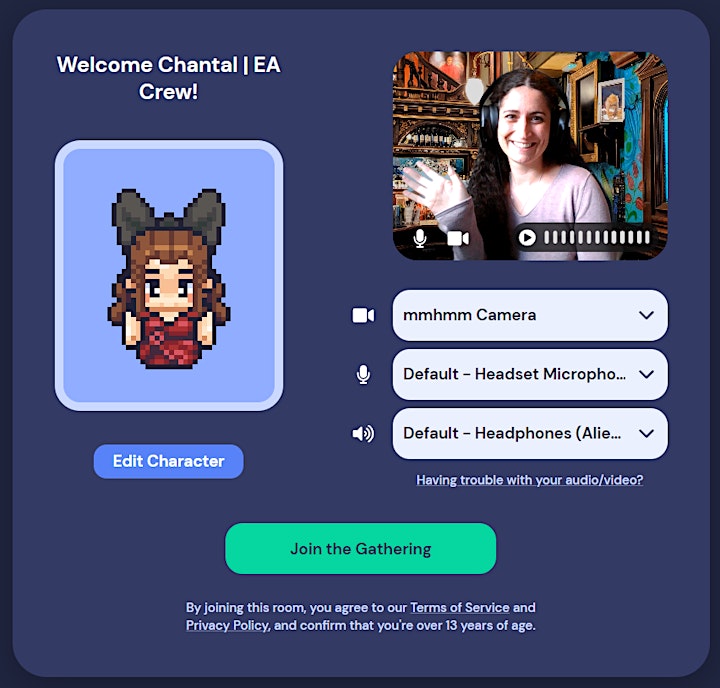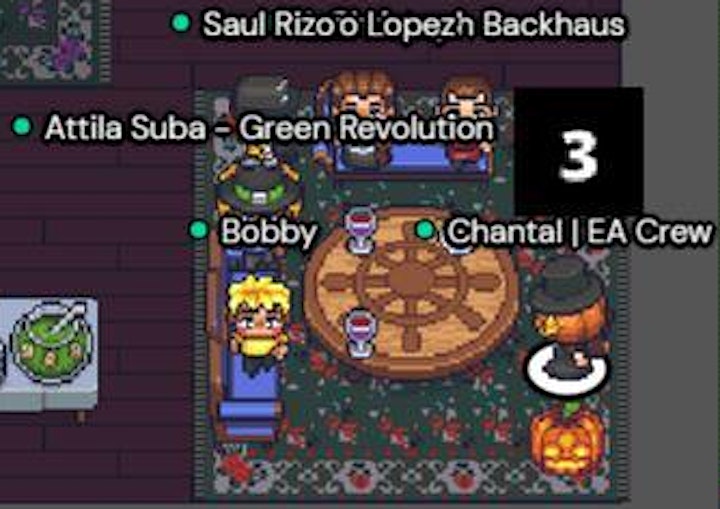 Need support or inspiration with your sustainable or circular project or just want to learn and connect with inspirational people around the globe?
Join The Circular Society Network (CSN) and be regularly matched at networking tables with other members in complementary industries and sectors to accelerate our transformation.
Who are we?
Our members include now more than 150 leaders & experts in 19 countries from organizations including Schneider Electric, Nationwide Building Society, World Resources Institute, The African Union, United Nations organizations, UK's Department for Transport, HS2, Carrier, Owens-Illinois, WWF SA, Audi, Carrier Corporation, ABB, Cambridge Cleantech, Amazon (AWS), Tata Consulting, PriestmanGoode, Lidl, influencers, investors, innovative startups, SMEs, NGOs etc.
More information here: https://the-eaproject.com/community/the-circular-society-network/