The Cultural Politics of Reproduction in Latin America conference
Through this conference we will explore the role that culture plays in reflecting and shaping reproductive politics in Latin America.
About this Event
Latin American countries have some of the world's most prohibitive and contentious reproductive health laws and policies; reproduction has long been a question of politics. State-directed initiatives have frequently attempted to control fertility according to nationalistic and often racist principles, while current debates have shown the unequal and contested forces that govern access to contraception, abortion and the provision of quality reproductive and obstetric healthcare. Attempts to fulfil development goals by addressing maternal/ neonatal mortality and morbidity have legitimised the introduction of technologies to medicalise birth and reproduction. And yet, since the 1980s, neoliberal policies have resulted in uneven access to reproductive healthcare in many Latin American countries. Moreover, human rights violations in the region have meant that some communities – many of them indigenous – have resorted to alternative practices that fall outside of the Clinic (Foucault 1963). Activists and organisations such as the Mexican Grupo de Información en Reproducción Elegida (GIRE) have lobbied for reproductive justice, rights and the 're-humanisation' of birth, often using culture as a tool to contest injustices.
The cultural politics of reproduction – the ways that cultural norms and attitudes as well as media and the arts shape the political, legal and social realities of reproduction, and vice versa – have tended to be absent from scholarship focused on this region. It is clear, for instance, that popular culture shapes obstetric practices, such as by normalising medical and technological intervention, as some US and UK studies have shown (Morris & McInerney 2010; Kline 2007; Horeck 2016). What role does culture play in reflecting and shaping the politics of reproduction in Latin America? What can Latin American cultural studies, and the humanities more broadly, bring to reproductive health-based 'development challenges', such as the burden of maternal mortality? How can cultural approaches further our understanding of questions of reproductive justice and rights? In order to explore these questions, this conference seeks to facilitate interaction and collaboration between activists, practitioners and scholars from the medical sciences, social sciences and humanities.
For more information, please see
our website: https://theculturalpoliticsofreproductioninlatinamerica.wordpress.com/
and twitter: @CuerpaPolitica
Image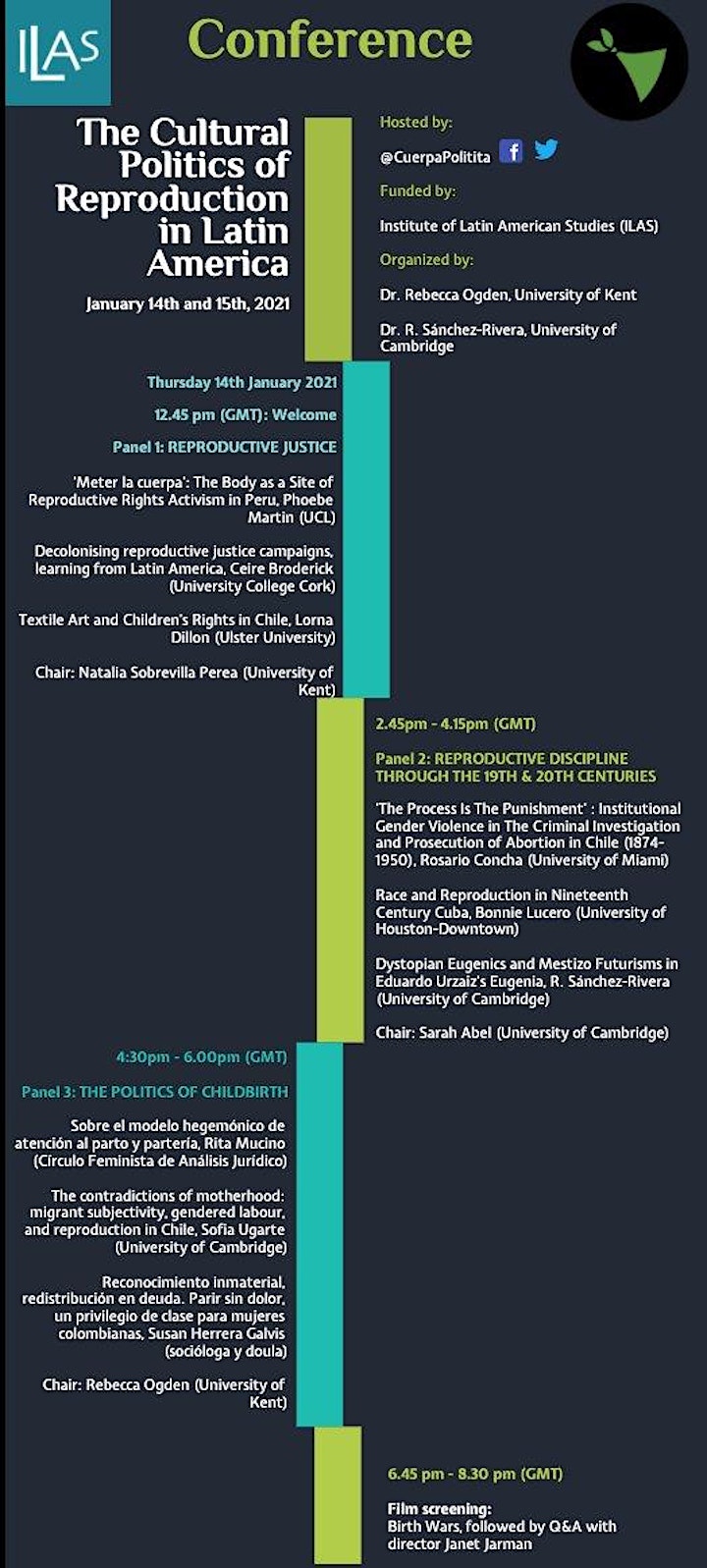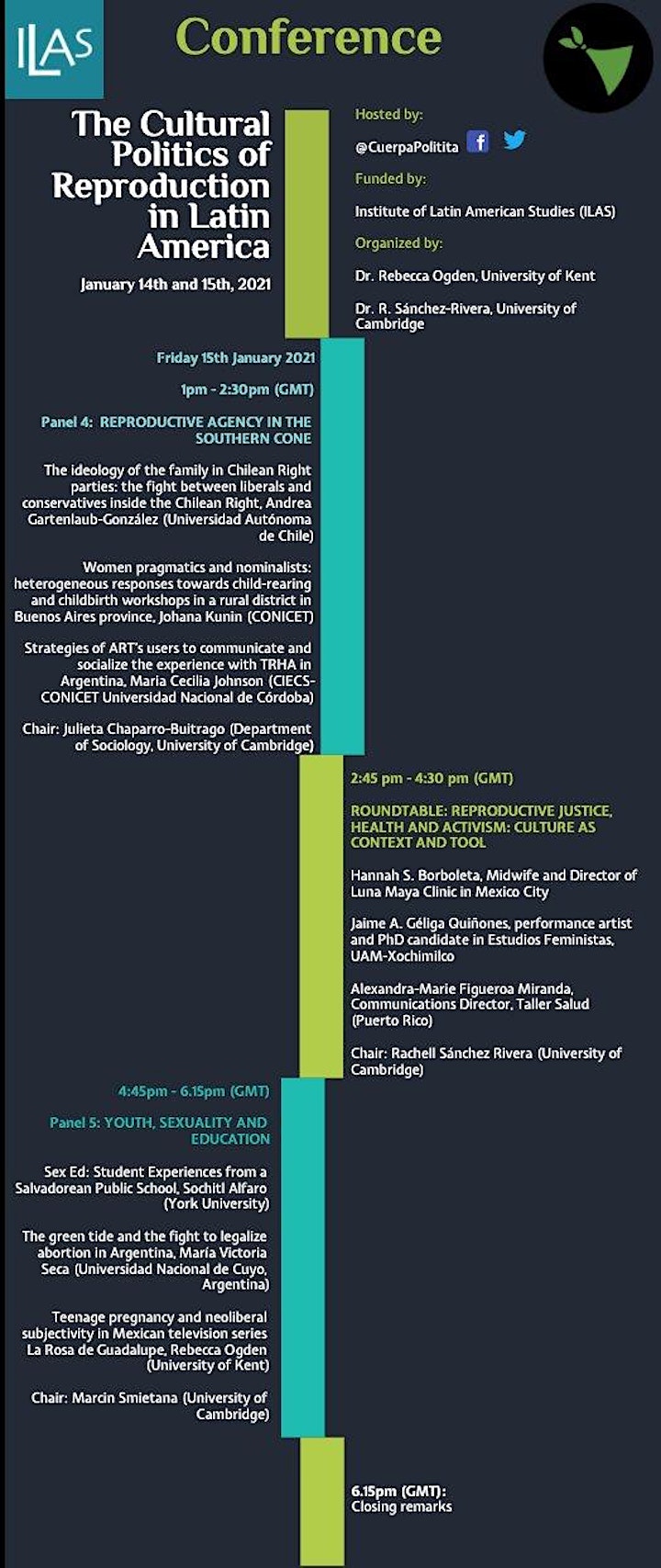 PROGRAMME
Thursday 14th January 2021
12.45pm GMT: Welcome
1pm - 2:30pm
Panel 1: REPRODUCTIVE JUSTICE
'Meter la cuerpa': The Body as a Site of Reproductive Rights Activism in Peru, Phoebe Martin (UCL)
Decolonising reproductive justice campaigns, learning from Latin America, Ceire Broderick (University College Cork)
Textile Art and Children's Rights in Chile, Lorna Dillon (Ulster University) with Erika Silva Urbano (Memorarte)
Chair: Natalia Sobrevilla Perea (University of Kent)
-----------------15 Minute Break-----------------
2.45pm - 4.15pm
Panel 2: REPRODUCTIVE DISCIPLINE THROUGH THE 19TH & 20TH CENTURIES
'The Process Is The Punishment' : Institutional Gender Violence in The Criminal Investigation and Prosecution of Abortion in Chile (1874-1950), Rosario Concha (University of Miami)
Race and Reproduction in Nineteenth Century Cuba, Bonnie Lucero (University of Houston-Downtown)
Dystopian Eugenics and Mestizo Futurisms in Eduardo Urzaiz's Eugenia, Rachell Sanchez Rivera (University of Cambridge)
Chair: Sarah Abel (University of Cambridge)
-----------------15 Minute Break-----------------
4:30pm - 6pm
Panel 3: THE POLITICS OF CHILDBIRTH
Sobre el modelo hegemónico de atención al parto y partería, Rita Mucino (Círculo Feminista de Análisis Jurídico)
The contradictions of motherhood: migrant subjectivity, gendered labour, and reproduction in Chile, Sofia Ugarte (University of Cambridge)
Reconocimiento inmaterial, redistribución en deuda. Parir sin dolor, un privilegio de clase para mujeres colombianas, Susan Herrera Galvis (socióloga y doula)
Chair: Rebecca Ogden (University of Kent)
-----------------Break-----------------
6.00pm - 8.30pm: Film 'screening' Birth Wars (running time 73min) via Vimeo: (password will be shared with registered participants.
8.15pm: Q&A with director Janet Jarman via original Zoom link.
***
Friday 15th January 2021
1pm - 2:30pm
Panel 4: REPRODUCTIVE AGENCY IN THE SOUTHERN CONE
The Old and New Chilean Right: A historic veto player for the sexual and reproductive rights, Andrea Gartenlaub-González (Universidad Autónoma de Chile)
Women pragmatics and nominalists: heterogeneous responses towards child-rearing and childbirth workshops in a rural district in Buenos Aires province, Johana Kunin (CONICET)
Strategies of ART's users to communicate and socialize the experience with TRHA in Argentina, Maria Cecilia Johnson (CIECS-CONICET Universidad Nacional de Córdoba)
Chair: Julieta Chaparro-Buitrago (Department of Sociology, University of Cambridge)
-----------------15 Minute Break-----------------
2:45pm - 4:30pm
ROUNDTABLE: Reproductive justice, health and activism: culture as context and tool
Hannah S. Borboleta, Midwife and Director of Luna Maya Clinic in Mexico City
Jaime A. Géliga Quiñones, performance artist and PhD candidate in Estudios Feministas, UAM-Xochimilco
Alexandra-Marie Figueroa Miranda, Communications Director, Taller Salud (Puerto Rico)
Chair: R. Sánchez Rivera (University of Cambridge)
NB: Discussion will be in Spanish and English.
-----------------15 Minute Break-----------------
4:45pm - 6.15pm
Panel 5: YOUTH, SEXUALITY AND EDUCATION
Sex Ed: Student Experiences from a Salvadorean Public School, Sochitl Alfaro (York University)
The green tide and the fight to legalize abortion in Argentina, María Victoria Seca (Universidad Nacional de Cuyo, Argentina)
Teenage pregnancy and neoliberal subjectivity in Mexican television series La Rosa de Guadalupe, Rebecca Ogden (University of Kent)
Chair: Marcin Smietana (University of Cambridge)
6.15pm: Closing remarks
***