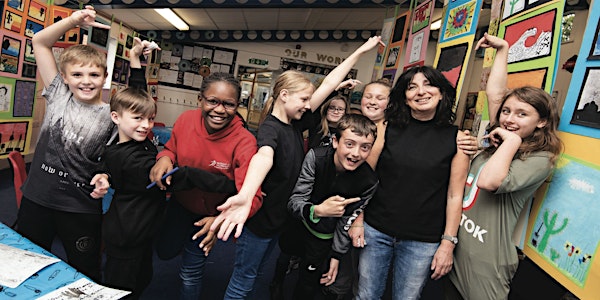 The Cultural Rucksack - Developing a Cultural Offer for Nottingham Schools
Location
The College Street Centre
College Street
Nottingham
NG1 5AQ
United Kingdom
An event for teachers, to hear from key arts organisations in Nottingham and help shape the new Cultural Rucksack offer for all schools.
About this event
Background
A rich and varied creative education has immense value in the development of young people. Of equal importance is the need to ensure that all young people have the opportunity to access a wide range of arts rich experiences. To this end, Nottingham's Education Improvement Board (EIB) and ChalleNGe Nottingham are working closely with the city's arts and cultural providers to boost the role that arts and culture plays within our schools.
Proposal
Nearly all of our schools engage with a range of arts partners to unlock a wider world of arts and cultural experiences for children and young people. Many young people arrive in school with their own experience of culture from home and community settings, and it is part of a school's task to deliver a broad and rich curriculum to build upon these experiences within and beyond the curriculum. However, arts provision can be sporadic in nature, often typified by short term initiatives, and not always universally available.
To help overcome some of these issues, raise the profile of creative education and widen access, we are developing a framework to coordinate and develop the arts and cultural offer to all schools in Nottingham. Not only will this improve the range of opportunities available to schools and young people but develop and showcase high quality experiences that have impact across the curriculum life of the school. Building cultural capital both with the school and the young people.
Nottingham's Cultural Rucksack
The cultural rucksack is a term that has been coined to try and best describe the development of cultural capital within a young person. It encapsulates all of the experiences and learning that results from positive engagement with arts and cultural education and contributes towards realising a young person's creative potential. The idea of a 'cultural rucksack' has been successfully developed in a number of countries and we are now keen to do the same for Nottingham and take advantage of the huge potential the City has to offer.
Shaping the development of Nottingham's Cultural Rucksack – Your Invitation
We would like to invite art leads and senior leaders to an inaugural meeting to help shape how we best engage with arts and cultural providers across the City to: • deliver high quality learning experiences for our young people• broaden the range of these experiences• ensure equal access• embed arts and cultural learning throughout our schools and develop a progressive entitlement for all.
This is an exciting initiative and we value your involvement to make the most of the emerging opportunities. Some of the key cultural providers across the City will be present to highlight their current work and share good practice.
Event Outline
1pm:
Arrivals and Coffee/Tea
1.30pm - 1.40pm:
Introduction to the afternoon and the Cultural Rucksack (Martin Smith)
1.40pm - 1.50pm:
Nottingham ChalleNGe (Cathy Mahmood)
1.50pm - 3pm:
Brief Presentations from some of the City's Cultural Providers
The current offer for schools: New Art Exchange - Nottingham City Council Museums and Galleries – Nottingham Contempory – Nottingham Playhouse – Lakeside Arts – Broadway – Nottingham Castle – Theatre Royal – Music Hub – Dance 4
3.10pm - 4.15pm:
Developing the Cultural Offer – Interactive session
Context: Cultural Capital, Arts Council Strategy, DfE
Developing the Cultural offer:
• Schools' needs
• Providers' needs
• Linking the two
Creating a progressive offer/entitlement – Access for all
Developing high quality interventions – integrating into the curriculum
Making it happen