Description
Cultural intelligence for communication

and team work
Currently available on request only or in-house in your offices on dates of your choosing
Improve your ability to operate in a culturally diverse or international workplace.
Are you a manager working across different cultural contexts – national, organisational, ethnic, virtual – who wants to extend communications flexibility?
Do you work with diverse teams and groups who could benefit from new ways of working collaboratively?
Would you like a deeper understanding of cultural norms and their possible impact on team or remote working?
Diverse and global markets are creating an increasing demand for people who have aquired an open outlook and are effective, flexible communicators.
For leaders and organisations, the ability to connect people and build successful teams in multi-cultural environments is a crucial competency.
However, the ability to work, think and communicate together can be impacted by cultural aspects. Even when both parties speak the same language there can be misunderstandings arising from cultural assumptions and implicit cultural behaviour. These can have serious consequences in organisations and for individual careers.
"Culture is the collective programming of the mind which distinguishes the members of one group from another."
Geert Hofstede, social psychologist
In this innovative and transformative workshop, we introduce you to practices, ideas and tools to uncover your own cultural intelligence and to create helpful ways of working across different cultural contexts.
Learn how to create successful teams or groups from mixed disciplines and diverse cultures
Build trust and communicate effectively across geographies and cultures
We will help you explore the key principles of successful communication in a number of different cultural contexts, identify the benefits of diversity as well as potential issues and discover how to create synergies among groups with different cultural backgrounds.
Many people think communication difficulties are about individual personalities, but the moment they become aware of some of the thinking patterns and differences in cultural norms, it helps avoid misunderstandings and improves team dynamics and performance.
We explore eight key areas where misunderstandings are most likely to occur from expectations of leadership, and the impact this has on' speaking up', to knowing when you have agreement, to cultural styles of decision-making, time-keeping and giving feedback.
When in Rome ...
Recognising cultural differences and respecting them as a vital part of your community is the only way to reconcile any differences, turn diversity into strength and accelerate business.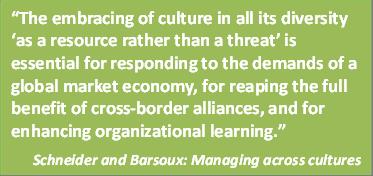 This workshop will help you:
Understand your own cultural assumptions as well as those of others

Develop higher level skills as a communicator across different contexts

Create the conditions for succesful international team working

Take away some specific techniques to make working at a distance easier

Introduce strategies to reduce the risks and increase the benefits of working with mixed groups and across different cultural contexts.
For an example of the impact of culture on our working practices and a creative resolution, see Nicole's story on team working in practice

This programme is for senior leaders, communicators, change and project managers and anyone whose role requires virtual, international or intercultural collaboration or communicating across split sites and geographies.
This page is for information only and our approach can be adapted to suit your particular requirements. To arrange a discussion or to find out more, please email deborah@fruitfulconversations.co.uk
The team we draw on for this workshop:
Nicole Utzinger is an internationally renowned communications consultant and coach, specialising in cross-cultural matters, team collaboration and leadership, executive presence, employee engagement and storytelling. Her work has led to a number of notable culture shifts in blue chip global corporations and across different sectors. She is skilled in working and training cross-culturally and with international teams. She is bilingual in German and English and speaks a number of other languages. She is widely travelled and has lived and worked across Europe, the Middle East and the United States for the last twenty years.
Deborah Goodall is the founder of Fruitful Conversations and a highly experienced leadership coach, and communications consultant with expertise in culture change management, international team working and storytelling. Since 2001, she has helped hundreds of business leaders develop a compelling business story and a style that engages and attracts. Her earlier career included senior roles in pharmaceuticals & communications She has worked extensively in Europe and the US developing and coaching diverse, international and virtual teams for many years.
Our other communications programmes are also available inhouse…
NB. Our full services are also available inhouse as workshops and coaching focussing on different aspects of communication - personal impact, team work, storytelling, leadership, corporate narrative and writing.
To find out more, please email deborah@fruitfulconversations.co.uk
If you would like to speak to one of us about this workshop, we would be happy to take your call. Please contact us as below.
Call: +44 (0) 1380 860 003
Email: deborah@fruitfulconversations.co.uk
Please also see our website for further information on our communications services and our leadership development and change programmes.
www.fruitfulconversations.co.uk