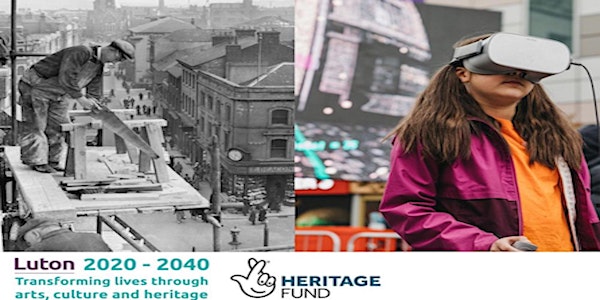 the CURATING LUTON COLLECTIVE: inaugural meeting 'What IS Heritage'?
Location
The Hat Factory Arts Centre
65-67 Bute Street
Luton
LU1 2EY
United Kingdom
Come along and kickstart THE CURATING LUTON COLLECTIVE
About this event
Are you currently managing a heritage project in Luton?
Is your organisation planning a heritage project?
Are you a hertiage practioner with a great idea?
Come along to our info-social and CPD opportunity sessions
Join in and kickstart THE CURATING LUTON COLLECTIVE
What's it all about?
Luton Borough Council have secured funding from the National Lottery Heritage Fund to develop a supportive infrastructure for the growing ecosystem of community organisations and heritage practitioners delivering (and wanting to deliver) heritage activities across town.
"We can't afford to work in silos anymore"
In this inaugural session we offer space for you to network and introduce your project activities and outcomes to a collaborative professional audience.
We'll be introducing our 'Curating Luton: Place-making' project; and our vision for the ' Curating Luton Collective'. Investigating how we can support each other's funded purposes and share lessons learned.
There'll be free refreshments!
and then a chance to ' deep-dive' into the question 'What IS Heritage?'
A program of activity
This event kicks off a program of 'Free Friday' networking, info-social and training events for heritage professionals. Other dates for your diary:
July 1st 4pm-7pm What IS Curation? (info-social networking & training event)
August 5th, Luton Creative Forum (networking with Luton's cultural creatives)
September 2nd What IS Place-making (and what does it mean to Luton)?
also in September: an introductino to preparing major project grant applications (CPD session)