Description
Join us in 2017 for The Daring Way™ Workshop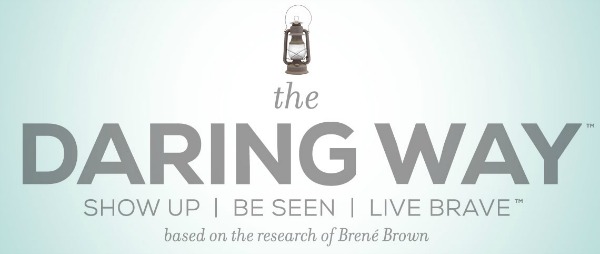 The Daring Way™ is a highly experiential methodology based on the research of Dr. Brené Brown. The method was developed to help men, women, and adolescents learn how to show up, be seen, and live braver lives. The primary focus is on developing shame resilience skills and developing a courage practice that transforms the way we live, love, parent, and lead.
When it comes to your personal or professional life…..
Do you find your inner critic running the show?

Are you able to embrace your imperfections and find the power in doing so?

Do you want to cultivate the courage to go the extra mile?

Are you tired of 'hustling' for acceptance from others?
During The Daring Way™ weekend you will learn how to apply the insights and research findings into your day-to-day life. You choose the area you want to work on and through a process of sharing, learning and exploring you will find powerful and transforming new ways to show up wholeheartedly in your life.
The Daring Way™ will help you -
Deepen your relationships

Cultivate intimacy and connection

Develop courage and embrace your vulnerability

Let go of fears that hold you back

Drop the need for perfectionism

Demonstrate compassion and empathy to deepen your connection to others

Increase your capacity to experience joy, contentment, stillness and creativity

Embrace the power of your own life story

The workshop is an interactive mix of -
Psycho experiential and educational Exploration

Viewings of videos from

Brené,

created specifically for The Daring Way™

Group discussion

Creative exercises

Coaching

Self-Inquiry
In 2017, the workshop will be held on these dates:
March: Friday 24th (7pm - 10pm), Saturday 25th (10am - 6pm), Sunday 26th (10am - 5.30pm)
June: Friday 23rd (7pm - 10pm), Saturday 24th (10am - 6pm), Sunday 25th (10am - 5.30pm)
November: Friday 24th (7pm - 10pm), Saturday 25th (10am -6pm), Sunday 26th (10am - 5.30pm)
Included in the registration fee -
Your personal copy of The

Daring Way™ w

orkbook

Light refreshments during the weekend

Post workshop activity
Facilitators: Ade Adeniji and Darren Brady - Certified Daring Way™ Facilitator.
---
ABOUT BRENÉ BROWN
The Daring Way™ method is based on the research of Brené Brown, Ph.D. LMSW. Dr. Brené Brown is a research professor at the University of Houston where she holds the Huffington Brené Brown Endowed Chair at the Graduate College of Social Work. She has spent the past fifteen years studying courage, vulnerability, shame, and empathy and is the author of three #1 New York Times Bestsellers: The Gifts of Imperfection, Daring Greatly, and Rising Strong.
Her TED talk - The Power of Vulnerability - is one of the top five most viewed TED talks in the world, with over 25 million viewers.
Brené is the Founder and CEO for The Daring Way™, COURAGEworks – an online learning platform that offers classes for individuals and families on braver living and loving, and BRAVE LEADERS INC – a platform that brings her latest research on leadership development and culture change to teams, leaders, entrepreneurs, change makers, and culture shifters.
Brené lives in Houston, Texas with her husband, Steve, and their children Ellen and Charlie.
Further information is available at www.brenebrown.com.