Description
The vision behind the @DataGirls movement is to introduce everyone interested in the logic, thinking and execution behind BI, and walk them through the basic problems and Cloud tools. They will be able to build upon this knowledge and either become junior BI consultants or/and move on to solve the business questions that they themselves face in daily business operations. The concept was created by DataFoundry members, female community Czechitas and the company Keboola.com
---
Name: Intro to DataGirls
Format: educational and networking event
When: 14th October from 5:30pm until 9pm
This year, we're taking DataGirls to the next level and we're proud to announce an exclusive DataGirls panel! Throughout the discussion, you'll be able to get to know the inside-outs of the data industry and how our panelists managed to get their data-career started.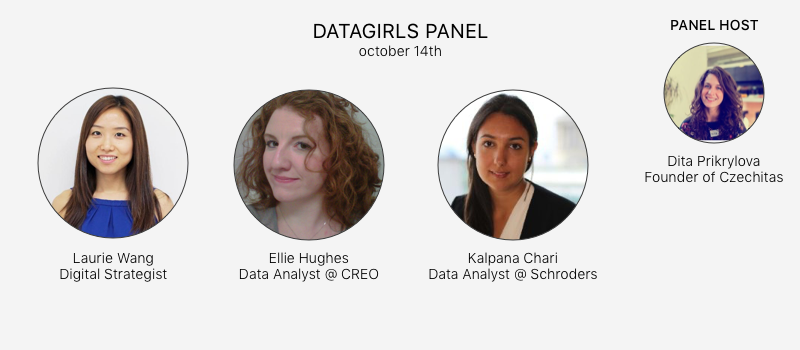 This talk is for those who are total beginners in data analysis and business intelligence (BI) as well as data pros with extensive experiences but eager to learn even more.

Programme:
17:30 - 18:30 - registrations and welcome drink :)
18:30 - 19:00 - Panel Discussion
19:00 - 20:00 - Intro to the Data world [presentation + live demo]
20:00 - 21:30 - Networking, drinks & snacks and even more data discussions
---


Name: Data
Girls
workshop 1.0 STARTER
Format: hands-on workshop
When: 15th October from 9am until 6pm
You will learn a bit about the history of data visualisation and BI. We will show you how to think and evaluate the balance between beautiful pictures and working BI tool and when/where to use each one of them.
Close to 70% of BI work is actually in data preparation. If you do not have data prepared (extracted, cleaned and connected) then there is no room for further data discovery and analysis.
This part is also hardest to learn on your own. We will focus lots of our efforts on this, so when you leave @DataGirls you know why/how to do it.
"Lingua franca" of data is SQL. Together with our lectors, attendees will learn the basics of SQL right on their first day. Furthermore, participants will be able to join different data sets and polish them in order to make them ready for analysis.
Programme:
08:30 - 09:00 - check in
09:00 - 11:00 - introduction into BI and data modelling
11:00 - 12:00 - starting with MS PowerBI
12:00 - 13:00 - lunch
13:00 - 16:00 - starting with Tableau, GoodData and Keboola
16:00 - 18:00 - Reporting exercises, broader discussions
Key Takeaways:
Understanding of context and logic in data, basic functionalities of Keboola, Tableau, GoodData utility of being data-driven (in business), where to obtain the data and how to know if it's the right data as well as how to solve the business questions that you daily face.
---
Data
Girls
workshop 2.0 - ADVANCED
Format: hands-on workshop
When: 16th October from 9am until 6pm
If you break fast with bread and data, then you're in the right place! DataGirls advanced is our second installation of DataGirls, where experts and data connoisseurs gather and discuss further complicated data-problems! Our lecturers have developed a new data chapter for those of you that want to get a deeper understanding of the mechanics behind data science and its application. You will have a chance to build advanced reports which are used daily in making decisions process (RFM, churn rate).
Programme:
08:30 - 09:00 - check in
09:00 - 12:00 - starting with Keboola Connection + GoodData - data preparation, cleaning, SQL
12:00 - 13:00 - lunch
13:00 - 14:00 - Data preparations best practice
14:00 - 16:00 - Segmentations - Bucketing, Cohort, RFM
16:00 - 18:00 - Subscription analysis, Churn rate, Attribution modelling
Key Takeaways:
Advanced knowledge of SQL and Database functioning, how to build solid business reports, what is a data cohort, churn rate and RFM and where to use it. Common data cleansing issues and how to solve it.
Expected experiences:
Basics of SQL is a must, general knowledge of BI tools, ETL and experience in reporting. If you attended DG for beginners and you know what SQL is and where/how to use it, feel free to join!
Special thanks to all our friends and supporters: