Description
Memorial Interventions: Negotiating Paths through Complicated Pasts
followed by a reception featuring traditional produce from the North-East of Scotland
Speaker: Professor Regina Bendix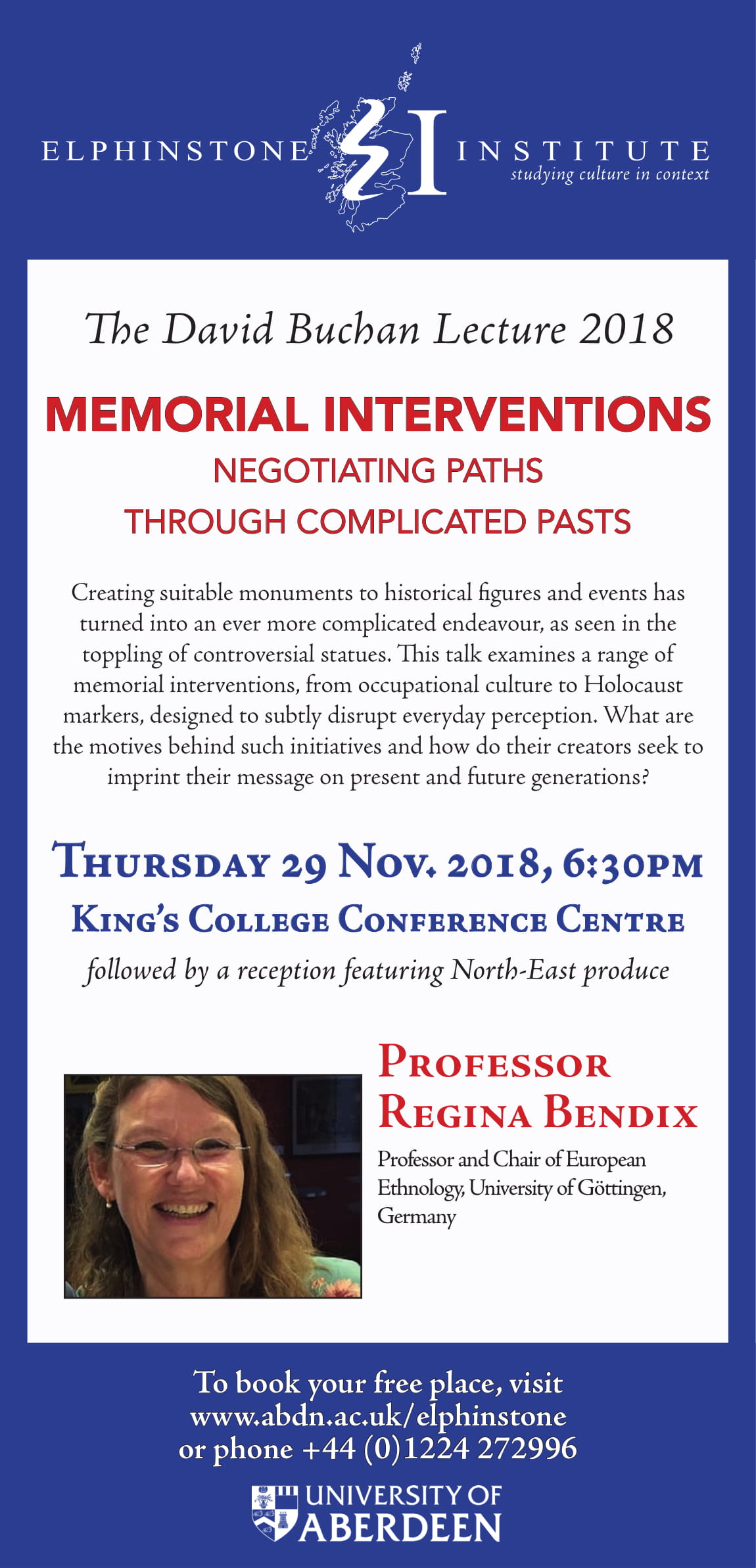 Creating suitable monuments to historical figures and events has turned into an ever more complicated endeavour. We live in a time where statues are toppled as they stand for ideologies and deeds no longer shared. Conversely, some sites memorialised for the atrocities committed within them are visited to honor the perpetrators rather than the victims. Drawing attention to components of local as much as world history has grown to be a complex field, with many different kinds of actors competing with innovative ideas.
This lecture examines a range of small memorial interventions ranging from occupational culture to Holocaust markers. Rather than working with large figures on pedestals, they are designed to subtly disrupt everyday perception. What are the motives behind such initiatives? Who pays for them? What kinds of materials are they made of and how do they seek to imprint their message onto present and future generations? Drawing from case materials in the USA and Germany, similar questions present themselves: Who is entitled to decide what should be publicly remembered and in what form? How effective are small memorial interventions in stirring public discussion of the past? And how does intentional memorial activity compare to actual evidence of historical events in everyday life?
Regina Bendix is Professor and Chair of European Ethnology at the University of Göttingen, Germany. Starting in the mid-1990s, her research interests and fieldwork focused on cultural tourism (primarily in Austria) embedded within the larger historical project of popular ethnography in the late 19th-century Austro-Hungarian Empire. Since moving to Germany, she has devoted significant ethnographic attention to the workings of the academic framework in Germany. Her research emphases continue to focus on narrative, tourism, heritage and culture, the ethnography of the senses, the history of cultural fields of research, and the culture of academia.
The David Buchan Lecture was launched in 2015 as part of the twentieth-anniversary events celebrating the founding of the Elphinstone Institute. The lecture is in memory of the influential ballad and contemporary legend scholar who was also the Institute's first appointed director. This annual event places the disciplines of Ethnology and Folklore firmly in the University calendar and appeals to a wide audience across the university as well as to the general public.