Event Information
Location
The Anglers
3 Broom Rd
Teddington
TW11 9NR
United Kingdom
Description
THE DEAD PARROT SOCIETY'S CHRISTMAS PARTY @ THE ANGLERS.
FRIDAY 19th DECEMBER
DOORS OPEN 8.00 – 11.30.
FIRST ACT 8.30
STARRING

MC – VIV GROSKOP
"Inventive and hilarious. My favourite new act." — LUCY PORTER.
"Viv is brilliant. But I still quite like Billy Connolly." — JO BRAND.
"Viv has a flair for picking out key details to juggle across the course of an evening and does so with great dexterity and nimbleness a la Dara O'Briain. When she's established a groove she rides it with authority and elan." — MALCOLM HARRIS, online review of Gits and Shiggles.
TIM RENKOW
"Confirms Renkow as one of the UK's most promising new stand-ups." - JAY RICHARDSON, CHORTLE.
"Tim, you kill every time I see you." - JARRED CHRISTMAS
"At the top of the hour we get a support act, Tim Renkow, who hits us with a chunk of Shakespeare before getting into some seriously snappy, creative stuff about supervillains, reincarnation and ET. You will never hear the words "ET phone home" again without sniggering. His parting shot about "following" him is a brilliant kicker to an impressive set." -KATE COPSTICK (The Scotsman).
Winner of the Amused Moose Laugh Off 2014 competition.
LAURENCE OWEN –
"Wickedly funny... Brilliant stuff" - THIS IS CABARET.
"A joy to listen to... Owen will be finding fun and insightful material for years to come." – THE STAGE.
"Genius... a glorious shot of pure dark satire." – BROADWAY BABY.

.
JAYDE ADAMS
Funny Women Winner 2014.
"Very funny…highly accomplished." – THE HERALD, MELBOURNE INTERNATIONAL COMEDY FESTIVAL.
"Jaw-droppingly amazing, Jayde Adams is the rising star of London cabaret. See. Her. Now." – THISISCABARET.
MR SUSIE
"Promise to go to Mr Susie's Last Chance Cabaret. This is a brilliant show." – THE GUARDIAN.
"Rib-crushingly hilarious"- MUMBLE COMEDY.
"Mr Susie got bigger laughs than most comics by simply holding up one-word gags on cards." – JOHN FLEMING.
JOE JACOBS
A Jewish comedian laden with misanthropic musings from Home County hell.
"His set is filled with tales of sexual angst and is always a crowd pleaser...a brilliant mimic and master of comic timing" – SEAN RUTTLEDGE.
Winner Comedy Cafe New Act 2014
Winner of King Gong at the Comedy Store X3
JACK GRANT
"Grant demonstrates a subversively mischievous streak" – STEVE BENNETT, CHORTLE.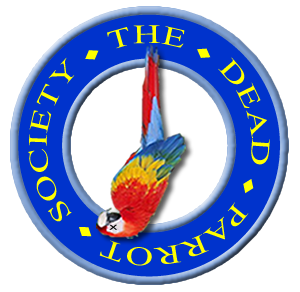 THE DEAD PARROT SOCIETY
UPSTAIRS in the COOPER ROOM,
THE ANGLERS,
3 BROOM ROAD,
TEDDINGTON,
TW11 9NR.
SPECIAL FOOD DEAL
choose:
London Pride Battered Sustainable Cod, Chunky Chips, Char Grilled Lemon, House Tartar
OR
Chalcroft Farm Burger, Streaky Bacon, Mature Cheddar, Cholla Bun, Chips, Kohlrabi Coleslaw
Either for only £10 when attending the comedy.
Ticket price £10.00
Tickets are available to reserve online, at The ANGLERS before the event or on the night.
We strongly advise booking tickets online via Eventbrite to avoid disappointment.
Accessible by public transport
Buses run from Teddington High Street - 33, 281, 285, 481, R68, & X26. Teddington mainline station, is a short walk away.
http://www.thedeadparrotsociety.co.uk
http://www.facebook.com/thedeadparrotsociety
https://twitter.com/DPS_Comedy
Email: info@thedeadparrotsociety.co.uk
Phone: 07709 605299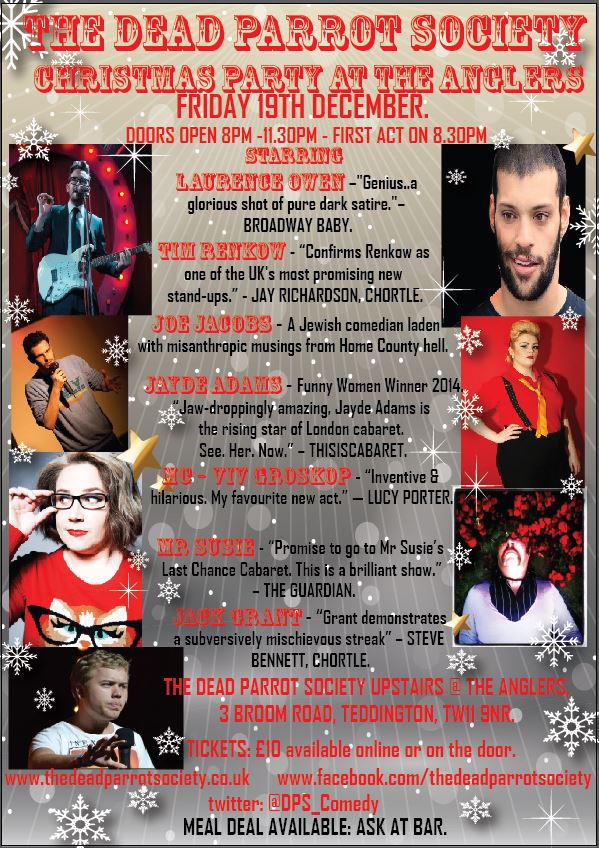 Date and time
Location
The Anglers
3 Broom Rd
Teddington
TW11 9NR
United Kingdom