| | |
| --- | --- |
| The Dental Mastery Experience: Saturday 17th October 08.00-21.30 - Sunday 18th October 09.30-17.00 | |
Event Details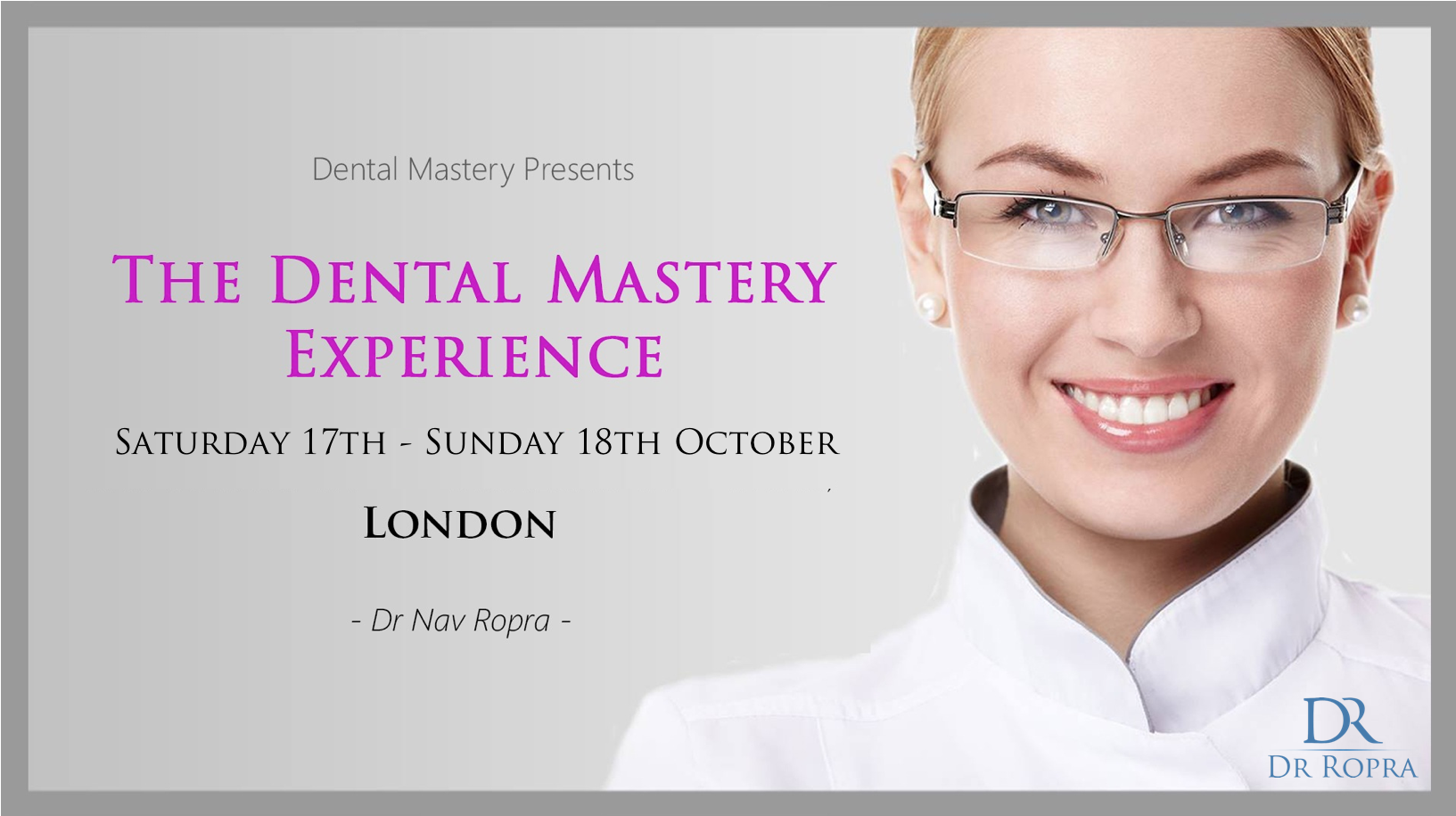 '2 Inspiring Days...A Lifetime Of Benefits'
Powerful solutions to solve your problems
A two day interactive seminar to give you a new perspective 
on your challenges to help you transform your personal 
and practice life
If you are having challenges in your practice, feeling frustrated with conflicts, or you want to empower your life, then The Dental Mastery Experience is the seminar for you.
The Dental Mastery Experience is a powerful, interactive and inspiring weekend.  It will teach you simple solutions for a more fulfilling, focused and purposeful practice life.  From; increasing profits, wealth creation, time management, business management, improving relationships, dealing with staff, setting realistic goals, understanding your values, understanding health, delegating appropriately, reducing stress, dealing with depression, increasing confidence, gaining certainty, being inspired, gratitude, love and much, much more!
Whether you perceive your practice or personal challenges are rooted in fear, guilt, stress, anxiety or low self esteem, you will get the tools to empower you at The Dental Mastery Experience.  What  could this do to your net worth, your business, your self-worth and your freedom? 
This event is open to all types of Healthcare Professionals from all sectors.
Discover how to:
• Understand how self worth and net worth are related to financial success
• Determine what is really important to you in your practice
• Discover your values and how to change them
• Understand and resolve volatile emotions to reduce distractions
• Change your perceptions to change your life
• Relieve tension and build stronger relationships with your team
• Deal with fear and guilt so that you are present and powerful at work
• Deal with delegation, relationship conflicts and reduce stress
• Begin to Master your practice
Here is what other have said about this event:
Yvonne Wood
'I love all dental courses and attend many, but never have I attended one quiet like this!  Nav is a real expert in human behaviour and he is also a practicing dentist.  He is able to apply everyday challenges and problems we encounter in the practice and show us how to deal with these in a purposeful way.  This enables you to appreciate every single day…the good and not so good!'
Dr Anita Patel
'Not just another dental seminar!  The experience is truly eye-opening and Nav effectively teaches useful principles that can be put into practice straight away.  Great group, good fun.  Don't know where the time went!'
Dr Shiraz Akram
'Nav speaks from a position of authority on philosophy, metaphysics and business.  Providing a useful perspective for the challenges we face in our relationships and life.'
Dr Shobha Kirplani
'Very unique insightful ideas and mastering one's life and taking that out into practice.  I realised the challenges in practice are a feedback mechanism to change something in myself.'
Dr Jag Jeer
'Nav delivers another inspirational event giving you the power to embrace balance through the highs and lows in all aspects of life.
Janet Evans
'It has been like no other.  I can now see life and events in such a different way.  Can't wait to put into practice. Thank you.' 
Dr Surinder Hundle
'A great weekend with Nav, the team and fellow colleagues.  A very intimate seminar where everyone shared the challenges in their life, some within and some external.  The realisation of how to look within and to be true to oneself.  Honour oneself and to be grateful.'
Dr Anish Patel
'The experience has helped me balance my life into a quantum of realisation that there is always more that you can learn from a bad/good experiences.' 
Dr Vanisha Patel
'Useful reflections and appreciation of other's experiences.'
Dr Randeep Gill
'I highly recommend The Dental Mastery Experience.  It will give you a different perspective on dentistry, business and personal development that is not touched on at dental school.  Nav is a great communicator and teacher with practical tools that can be used immediately to improve your work-life balance, making you more productive both in your business and in your personal life.'
Dr Niall Hutchinson
'Nav is a very enthusiastic and passionate speaker.  He has obviously done a lot of research, and is extremely knowledgeable.  Everyone I spoke to after the day said how much they enjoyed it, and were looking forward to more.'
Bal Chana
'The Dental Mastery Experience certainly gave me the grounding and understanding of human behaviour to enhance my personal and working life.  Nav takes you through a journey, sharing both his personal experiences and vast knowledge in this field.  I strongly recommend this course, which will help you to address life's challenges and leave you totally INSPIRED.'
Dr Prem Rishi
'Inspirational, challenging and supportive experience!  A Master class for everyone wanting to Master their practice and most important their life!  It was a fantastic experience!  Nav is unique and priceless in what he does.  Thank you!  I feel privileged to have taken part in this amazing workshop.!'
This is one weekend that you cannot afford to miss. 
Event Information:
Date: Saturday17th October 08.00-21.30 - Sunday 18th October 09.30-17.00
Venue: Central London - To Be Confirmed
Tube: To Be Confirmed
It is important to register at 08.00 am as the Event begins at 08.30 am sharp. We shall provide all reading materials, teas, coffees, pastries, lunch on both days and dinner on Saturday night at The Kensington Close Hotel.
Please do not make any plans on the Saturday night as we may run over depending on the needs of the group.  You may wish to book accommodation at the hotel. 
20 Hours Verifiable CPD
 For further information regarding Dr Nav Ropra and events, please contact Dental Mastery Ltd, 43 Berkeley Square, Mayfair, London,
W1J 5FJ - 0208 822 0939 info@DrRopra.com
or visit www.DrRopra.com  
Do you have questions about The Dental Mastery Experience: Saturday 17th October 08.00-21.30 - Sunday 18th October 09.30-17.00?
Contact Dental Mastery Ltd
Where

Dental Mastery Ltd
43 Berkeley Square
Mayfair
W1J 5FJ London
United Kingdom


Organiser
Dental Mastery Ltd
Dental Mastery Ltd is a research and educational company providing valuable education and inspirational events, talks, products, mentoring, coaching and information to a wide range of health care professionals.
The Dental Mastery Experience: Saturday 17th October 08.00-21.30 - Sunday 18th October 09.30-17.00