Description
Are you …
A designer, maker, visual artist or creative freelancer struggling with money? You are worried, but don't really know what to do and who to ask. Would you like to do your own bookkeeping and knowing what expenses you can claim from HMRC? Do you want to set financial goals and get back in control of your finances?

Finding it hard to make enough money with your products and skills, let alone make your business profitable? You suspect that you need to charge more, but lack the confidence to increase your prices? Worried about loosing clients if you did?


Struggling with costing and pricing your creative products and services? Are you charging enough for your creative endeavours? Or maybe you are too expensive (when you start to sell to retailers)? You want to cost and price your work at the right level, and find out what to include (and what not).


Finding it hard to talk about money? Does it make you uncomfortable, go 'yuck' or do you find it a bit dirty? Do you undersell yourself? Are you aware how much your thoughts, ideas and behaviour around money influence how you run your business and how successful you could be?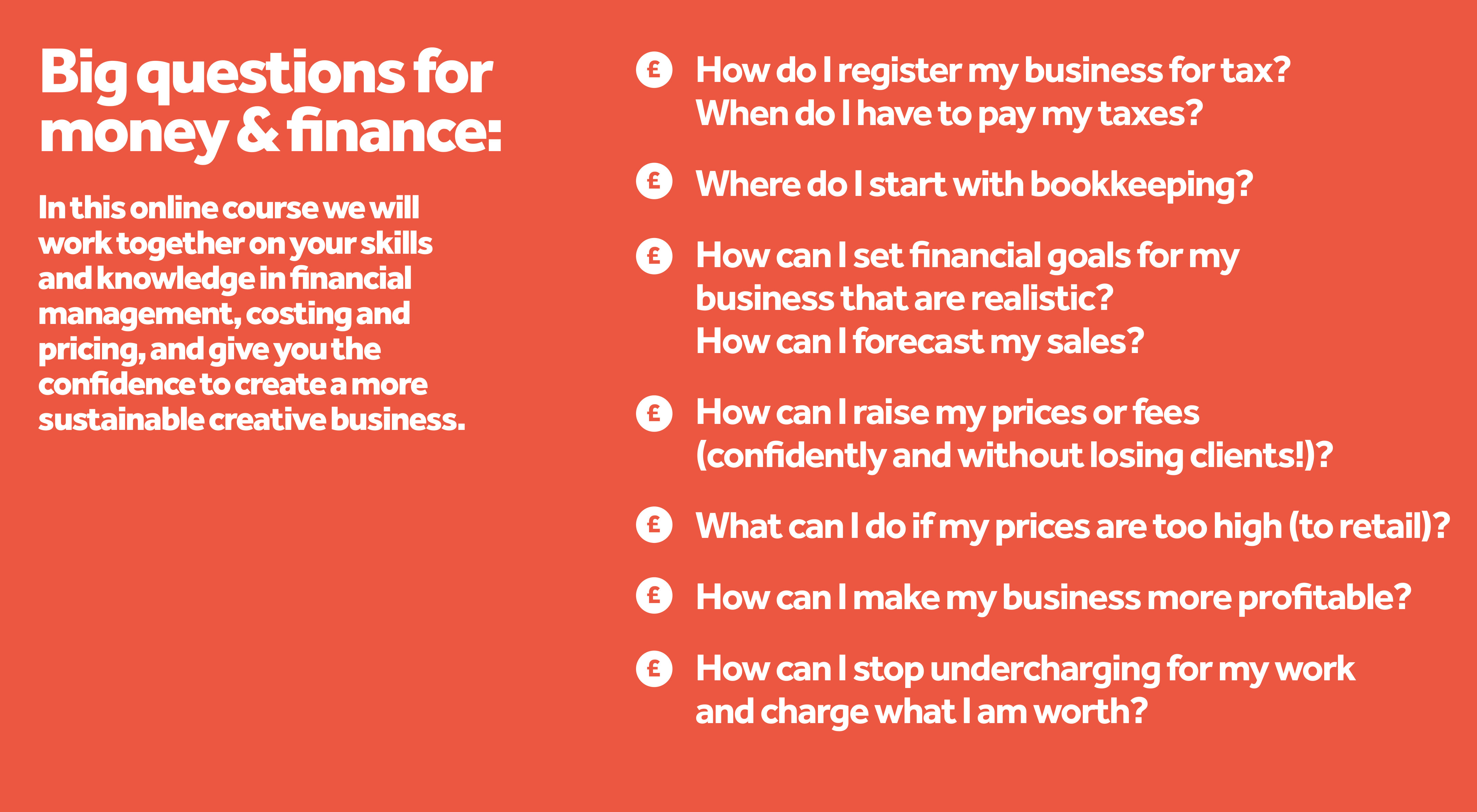 In our new 4-week online course MONEY & PRICING FOR CREATIVES we will work together on getting your financial management organised and keep you on top of your invoices and late payers, how to register and deal with HMRC and VAT, how to set financial goals for your business and manage your cash flow, how to create a sustainable and even a profitable creative business by raising your prices confidently and identify additional income streams.
The Programme for Money & Pricing for Creatives:
Intro to Financial Management - Friday 26 February 10am - 12.30pm

The main financial terms and terminology explained
How to register for HMRC for tax and National Insurance, and what HMRC expects from you
The self-assessment process: What do you need to do, and when?
Do I need an accountant? And if so, how do I find one?
What is VAT? Do you need to register? How does it work?
What bookkeeping software to use
Getting started with sorting out your bookkeeping, step-by-step
How to get organised: create an invoice, how to keep track of your payments, contracts and avoid late payers
Financial planning and management - Friday 4 March 10am - 12.30pm

Set your own financial goals for 2016
How setting financial goals can help you achieve your goals
How to create a startup, annual and a project budget (with an Excel template for you to download)
How to cost your product - calculate your cost price in 7 easy step
Cash flow: What is it, why is it crucial, what are the most common cash flow challenges, and how to avoid them?
Learn how to create your own cash flow forecast (with Excel template)
You will get an easy cash flow tool to check your money on a monthly basis
How the 'Profit First' system can help you to save money for later and the things that matter
Pricing for Profit - Friday 11 March 10am - 12.30pm

The 6 most common pricing mistakes and how to avoid them
The top 9 pricing strategies for creatives
Pricing issues when selling to galleries and shops
What to do if you are too expensive to sell wholesale
Do your numbers stack up? Working on your strategic pricing.
Why can other creatives charge much more than you? Find out what really impacts on your price.
How to raise your prices and fees (confidently and successfully)
How to make your creative business more sustainable, and ideally more profitable, including the number one thing you need to do!
More than making: how to get more income streams - Friday 18 March 10am - 12.30pm

Why is diversification so important as a creative?
A practical overview of the various alternative income streams available to creatives
Putting it all together: We finish our course by creating a strategy and an action plan to work on your finances and income, and turn your goals into action
BONUS VIDEO INTERVIEWS & WEBINARS:

We are working with some great creative and financial experts who will be contributing bonus webinars and interviews to this course.
You can find the full details about our new online course here.
FAQs
What if I can't make some of these dates? Or if I have to miss part of the day?

All the sessions will be recorded and posted on the Friday, for you to watch whenever you like, if you are unable to join our sessions live. When you join you will have access to the recording and our online community for 3 months, till the end of June 2016. I will answer any questions posted in the forum till 14 days after the last live session to give you additional time too.
What if I have got more specific and confidential questions? Can I talk to you privately?
Anything to do with your business and money is confidential and private. You will learn a great deal in these 4 weeks about financial management, bookkeeping, costing and pricing, cash flow, creating a profitable business and much more. Most of your questions will be answered in these sessions and on the forum.
But ... you might have more questions that you want to ask me in private! And now you can ... if you join this online course then you can book (for a very special price!) a 30min private consultation with Patricia on the phone or skype, where she will answer any of your questions around money and pricing. You can book this on this Eventbrite page now. Please note that this advice session is only available in conjunction with the course.

I am not in the UK, can I join in?
Yes of course you can! But be aware that some of the information in session 1 is specific to the UK (registration with HMRC and VAT). Although price and fee levels for crafts and design are different in different countries and cities, the principles I will teach here are exactly the same.
And just make sure that you join us at the right times.
What is the refund policy?
You will get a full refund for this course till Thursday 25 February. Just email us in writing with the reason of your cancellation, and we return your fees within 48hours. Once the course has started we are unable to provide any refunds.

Where can I contact the organiser with any questions?
If you have any questions, please get in touch on info at thedesigntrust dot co do uk

Please put in the subject line: 'Question about Money & Pricing course' so that we can help you sooner.