About this event
ABMA Presents Live Webinar On
The Dietary Management of Newly Diagnosed Infants with CMA
Saturday, 2nd October 2021 @ 10:00 AM UK Time
1 CPD CREDIT
Certificate for GP Appraisal
Free to Attend
Topic Highlights:
Introduction to cow's milk allergy
Prevalence and impact
The role of the dietitian
Guidelines
Diagnosis of CMA
Dietary management
Principles of management
Supporting breastfeeding and/or specialist formula selection
The reintroduction process
Speaker
Dr Rachel Wood
Specialist Paediatric Dietitian in Allergy and Gastroenterology, Royal Manchester Children's Hospital.
Chairperson
Dr Zubair Ahmad
GP Partner, Trainer, Appraiser and Medical Educator, Founder Director – ABMA, UK.
Target Audience: GPs, GP Trainees, Practice Nurses, Pharmacists & the wider primary care team.
This is an independent educational meeting. The sponsors have no input into the topic or speaker's selection and content of this event.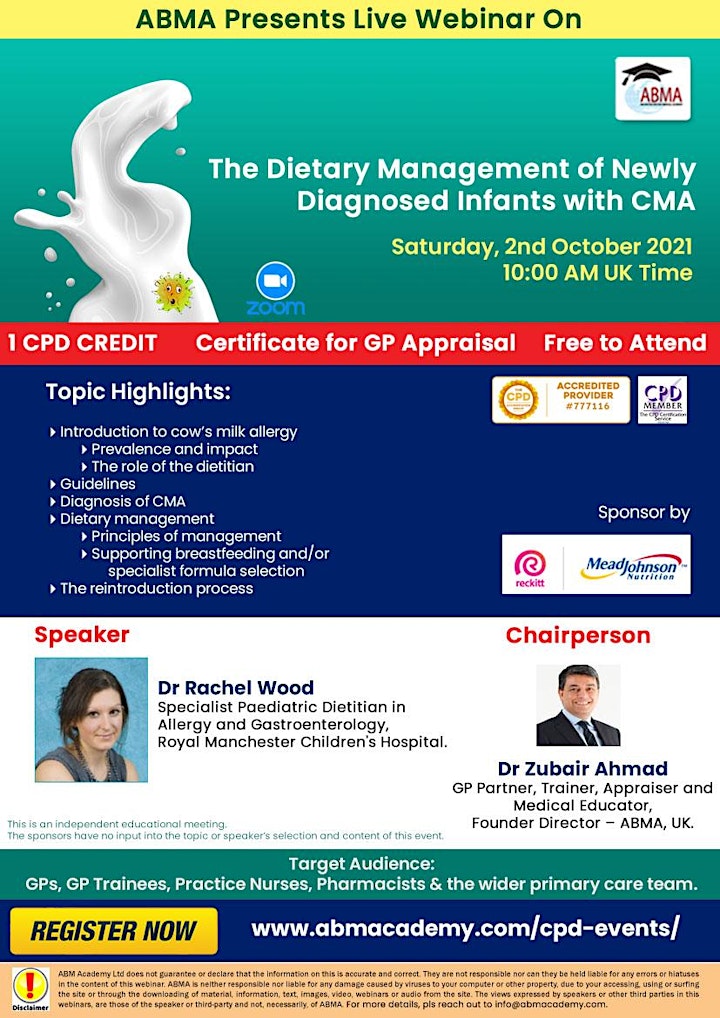 Organiser of The Dietary Management of Newly Diagnosed Infants with CMA