Description


FREE EVENT – £10 deposit will be refunded once you have attended
Please Note: Private businesses are not eligible for POP ideas events...please see below.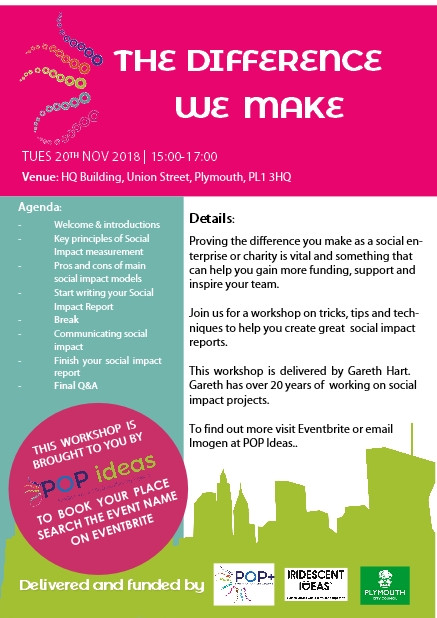 Evidencing the outcomes of your organisation's work is almost as important as the work that you are doing. Good evidencing can increase your chances of new or repeat funding exponentially as well as helping you to really hone your practices and provide the best possible service. Come along to this session with our experienced Trainer and learn some essential skills and tips to make sure the great work you do is really visible!
Please be aware that photographs may be taken at this event and used for our own recording and marketing purposes.
This event is offered free of charge to anyone working in the Voluntary, Community or Social enterprise sectors. The deposit is to secure your place, this deposit is fully refundable within 7 days of attendance. If you cancel your place within 48 hours of the training date or do not attend the training session then your deposit will be non-refundable.
---
If you would like to become a member of POP+ (Plymouth VCSE) please CLICK HERE