Description
Did you know that as well as being feathered, some dinosaurs were ginger? How do we make such discoveries? On Thursday 16th May, join Michael J. Benton at Heffers as he talks about The Dinosaurs Rediscovered - his new book which traces the transformation of dinosaur study from its roots in antiquated natural history to a highly technical, computational, and indisputably scientific field today.
Over the past twenty years, the study of dinosaurs has changed from natural history to a true scientific discipline. New technologies have revealed secrets locked in the prehistoric bones in ways that nobody predicted - we can now work out the colour of dinosaurs, their bite forces, top speeds, and even how they cared for their young. Remarkable new fossil finds, such as giant sauropod dinosaur skeletons from Patagonia, dinosaurs with feathers from China, and even a tiny dinosaur tail in Burmese amber - complete down to every detail of its filament-like feathers, skin, bones, and mummified tail muscles - have caused media sensations. New fossils are the lifeblood of modern palaeobiology of course, but it is the advances in technologies and methods that have allowed the revolution in the scope and confidence of the field.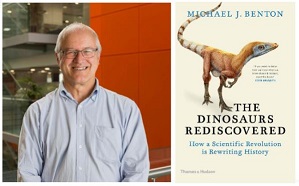 Michael J. Benton is Professor of Vertebrate Palaeontology and Head of the Department of Earth Sciences at the University of Bristol. He has written over 40 books. Michael will be in conversation with Dr Rob Asher, a University Lecturer in Zoology and Curator of the Museum of Zoology.
Tickets for the event are priced at £6 in advance or £7 on the door, and can be purchased through this page, by calling 01223 463200 or in person at Heffers bookshop. Please note that tickets are transferable but non-refundable.
Like this? See a full list of our forthcoming events by clicking here.