Description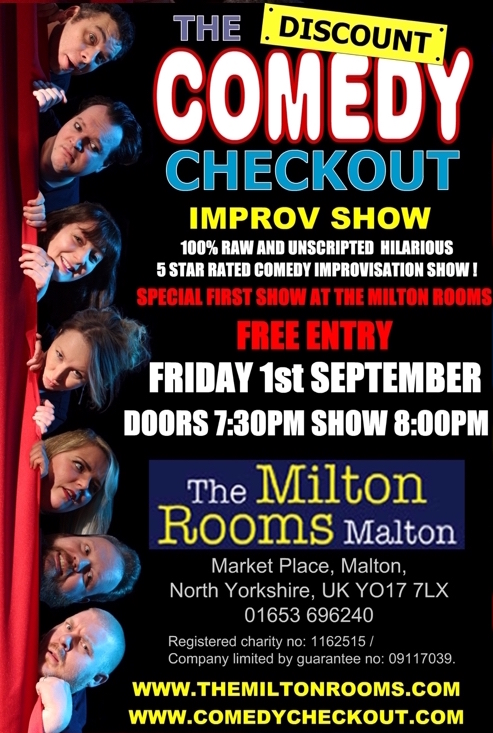 SPECIAL EVENT - FREE TICKETS TO OUR FIRST SHOW AT THE MILTON ROOMS!
The Discount Comedy Checkout - Improvisation Comedy Show
Hilarious 100% raw improvisation is on the menu as some weird and wonderful suggestions are taken from the audience while performing short form Improvisation games. So if you've ever wanted to see a giant jelly man attack New York City, or a musical romance blossom between a kitchen sink and a fridge then come along, suggest it and "The Discount Comedy Checkout" will deliver it for you!
With performers selected from Chris Lumb (Russell Howard's Good News), Natalie Smeaton, Dom Hodgson, Jade Fearnley, Tom King, Eddie French and Terri Shaw.
DOORS 7.30PM SHOW 8.00PM
PRAISE FOR THE SHOW :- " 5 Stars. The comedy is creative and crude, quick and quirky, the performers commit completely to the games and create funny and fantastic characters at a moment's notice. " - Remotegoat " They blew the roof off! " - Toby Hadoke " I'd heartily recommend them. " - Silky " The best improv group I've ever seen live. " - Phil Walker
------------------------------------------------------------------------------------------------------------------
For more information please call us on 07749661928 email to info@comedycheckout.com or visit our website at
WWW.COMEDYCHECKOUT.COM