About this Event
Ready to build and scale your business in 2020?
Join us at TDC Live where you can…
Discover the proven framework for monetising your niche and your passion
Meet the Disruptors who've already built their businesses and left their jobs
Power up your business mind using the Disruptors Method and RTT
Learn how daily meditation will accelerate your business success
Dive into the 6-Figure Online Business Framework
Uncover the Top 3 Disruptors Online Business Models
Be inspired with 101 Online Business Ideas (some will blow your mind)
Hear guest speakers share their stories and secrets of how they built their business and how you can do the same
You'll be inspired, motivated and ready for action in building and scaling your business with other like minded action takers!
The Disruptors Club Live is on another level and the ONLY event where you can meet real Disruptors who've built their businesses and transformed their lives in 2019
Learn from those who've taken action, disrupted their ordinary and become a part of the most exciting and inspirational business building communities around.
Network with our Disruptors, and learn how YOU are just ONE STEP AWAY from making that decision to change your life.
Guest Speaker #1
Marc Le Cornu - Bam Perspectives
This time last year, Marc was in the throws of leaving a high paying career and setting up a business doing what he loves best.
Marc will share how he overcame his fears, imposter syndrome, and how he disrupted the salary trap to become an award winning, world recognised aerial photographer.
A huge inspiration for anyone thinking about building and scaling their business based on their passion.
Guest Speaker #2
Jacqui Carrel - Rapid Transformation Therapy (RTT)
In this massively valuable session, Jacqui will demonstrate the power of RTT and how it can rapidly help you overcome those deep rooted causes which hold you back in life and in business.
See first hand the positive effects RTT can have with a live demonstration.
Guest Speaker #3
'Positive' Neil Jordan - The Good Thinking Club
From a life of Drugs and Violence, Neil transformed his life through meditation, and now helps others master their own mind.
Neil talks openly about his story and how, from nearly being a lost soul, he turned things around to build a business he loves, serving others to help gain clarity and focus in their daily lives and businesses.
Powerful, candid and funny, Neil is larger than life and has a positive impact on everyone he meets.
Meet The Disruptors
An live interview with 3 of our members who've disrupted their ordinary and built businesses they love.
Discover how they overcame their biggest challenges to transform their lives into business owners.
Ask the Panel
Your opportunity to ask the speakers anything about mindset and building and scaling a business.
Power Networking
"This isn't Starbucks, this is The Disruptors Club and this will change your life"
This is definitely NOT networking as you know it. This is your chance to chat with The Disruptors Club members and meet other like minded action takers in the room.
Opportunity happens at intersections, so get out there and meet some new people.
Behind the Scenes Tour of The Disruptors Club
Find out how The Disruptors Club is helping to transform lives through building profitable businesses:
The Disruptors Method
The Business Success Path
Live Group Coaching
Lazer Trainings
Resource Vault
Affiliate Programme
Altitude - The Business Owners Mastermind
Who's it for?
It's for the Wantopreneur
You're stuck in your dead end job and you desperately want to get out. You're demotivated, and you dread that Monday Morning feeling every week...
You have an idea, but don't know where to start.
​If only you could surround yourself with entrepreneurs and business owners who will help you get out the starting blocks and on your way...
Those who will motivate and inspire you, and hold you accountable to really get things going - that's what you'll find at TDC Live!
It's for the Business Owner
You're captain of your own ship and things are good.
But you know you MUST take things to the next level, you have to scale the business, increase turnover and up those profit margins.
Trouble is, you're working IN your business, instead of ON your business and you can't seem to take things to the next level.
You want to spend time with other like minded business owners, those you can share the journey with and be motivated by - come and meet them at TDC Live!
It's for the Entrepreneur
Being an entrepreneur is one of the best things in the world. It's exciting, dynamic, and we get to create opportunities for ourselves and others.
But we're not at our best working alone. We need to be surrounded by other like minded entrepreneurs to help keep us motivated, inspired and to leverage our collective experience.
THE DISRUPTORS CLUB is a mix of entrepreneurs and business owners at all levels. As it grows, so do the opportunities for all of us.
With new and exciting entrepreneurs coming through the ranks, mixing with those with many more years experience, the opportunities to work together, invest in and joint venture with, become greater by the day - come and find out more at TDC Live!
Refund Policy
Unfortunately due to the limited places available, we are unable to offer a refund for any tickets purchased.
You are welcome to transfer your tickets to another person, but please let us know so that we can change the name on the badge.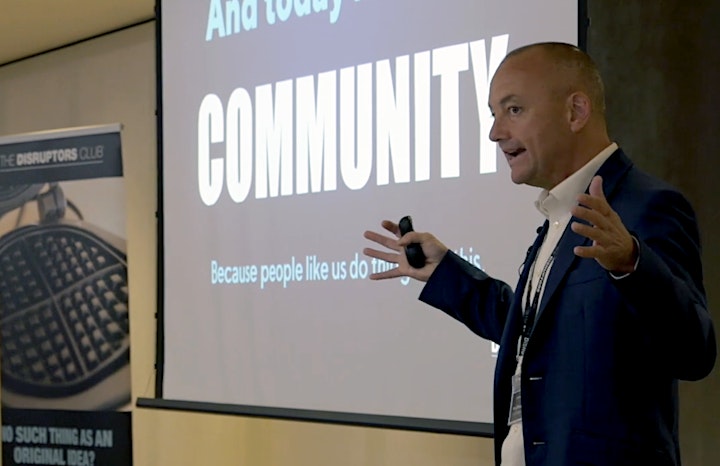 Meet Your Host
Andy Brown, serial entrepreneur and founder of The Disruptors Club, helping others to build and scale profitable businesses.
From a torrid childhood and failed education, Andy left home at 16 on a mission to become a pilot. Determined and driven, he hustled until he could afford flying lessons and put himself through his PPL.
Through getting his wings, he discovered a process of gaining clarity and planning, which he now uses to build business.
Discover how from nothing, he created The Disruptors Club to help others build and scale their businesses through mindset, clarity, coaching and being part of an incredible community.