From comedy to music, poetry to dancing, The Dolly Effect has been launched to shine a light on female voices and this is just the beginning
About this event
"Find out who you are. Then do it on purpose" — Dolly Parton.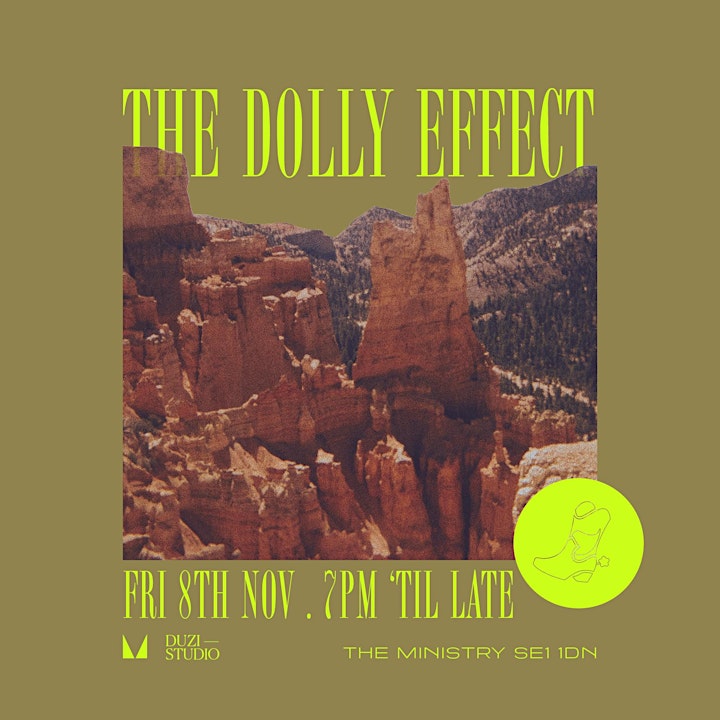 The Voices
— Dior Bediako
Dior is the founder of Pepper Your Talk, a careers platform for fashion students and graduates, and The Junior Network, a member's club for young fashion professionals. Additionally, Dior is a lecturer, moderator, workshop facilitator and speaker; having covered events such as Stylist Live, Drapers Fashion Forum, Graduate Fashion Week and hosted workshops for Facebook, Arcadia and more.
— Posy Sterling
Posy is an actor, singer and writer from Clean Break — an all female Theatre Company in their 40th year of working with women in the criminal justice system. Posy also worked with The Amy Winehouse Foundation as a young music artist and has had her own music released with Island Records, 'Amy's Yard — The Sessions
— Grace Campbell
Grace is an immensely talented comedian, activist and filmmaker. In the past year, Grace has made a name for herself for making provocative and feisty comedy. In her latest show Riot Girls, for Channel 4, Grace uses pranks and stunts to highlight sexism and inequalities in society. From football to feminism, politics to periods, no topic goes untouched with Grace's sketches. With writers Scarlett Curtis, and Honey Ross, and illustrator Alice Skinner (@thisisaliceskinner, featured above), Grace co-founded the Pink Protest; a community and platform for female activism. In the last year, the Pink Protest have worked on the #freeperiods campaign, a campaign to end period poverty in the UK. For that they organised a protest on Downing Street which resulted in changing the law.
— Roxy Dunn
Roxy is an actor-writer-poet-producer (and multi-hyphenate). Her and her comedy partner have taken two critically acclaimed shows to the Edinburgh Fringe, transferring to SOHO Theatre, and were recently selected onto the BBC Comedy Writersroom. As an actor, Roxy's appeared in multiple BBC comedies and was a series regular in C4's Babylon directed by Danny Boyle. Her poetry has appeared in international journals and her second pamphlet, Big Sexy Lunch will be published by Verve Press in March 2020. You can follow her on Twitter @RoxanaDunn
— Jacob Simons
Jacob is a London-based writer & entrepreneur who is about to launch Esooko, a fashion marketplace that helps to fund environmental initiatives. We are so excited that he has taken the time to write a bespoke spoken word piece for this evening, which puts female empowerment at the forefront of its message.
— LA
LA is an East London based Singer/Songwriter, she recently moved back to the UK after spending 6 months travelling India as the lead vocalist in her band — The Trippers. She spent 6 months writing content, creating, performing and learning about herself and her passion. LA was called back to London to pursue her musical career in the UK… After creating Indian fused soul music she was keen to come back and delve back into her R&B roots, which she is now creating and fusing with soul to influence her upcoming EP. Lauren's aim is to spread an empowering message through her music, offering listeners a soulful story with her content and incorporating a healing message in all of her songs. LA uses personal stories to create her music and to offer guidance and light for listeners. You can find Lauren's debut single on spotty now called DEAR BOY and will be releasing her first EP very shortly.
— DJ Nikki Beatnik
Nikki is an international DJ Producer & Musician who is consistently quoted as one of the best DJ's in the UK. Nikki has spun in 60 countries worldwide from Ibiza to Singapore. Nikki has the skills of a hip hop DJ but has a love for many electronic genres, hence being known for never playing the same set twice. She has worked with legendary musicians, is long time collaborator partner in crime and tour DJ for Kelis and has DJ'd countless festivals, awards ceremonies, artist parties, concerts and clubs. Nikki is also a multi talented creative who has been behind some of the most legendary parties in London's clubland. As a producer writer & remixer Nikki has had major worldwide radio play alongside her brother Statis the other half of Beatnik.
More information & details about the event to be revealed soon. Watch this space.