Description
A new novella from the 'John le Carré of our generation'...
Heffers is delighted to welcome back thriller favourite Mick Herron, who will be here for an evening devoted to his latest Slough House book, The Drop.
Old spooks carry the memory of tradecraft in their bones, and when Solomon Dortmund sees an envelope being passed from one pair of hands to another in a Marylebone café, he knows he's witnessed more than an innocent encounter. But in relaying his suspicions to John Bachelor, who babysits retired spies like Solly, he sets in train events which will alter lives.
A drop, in spook parlance, is the passing on of secret information. It's also what happens just before you hit the ground.
Don't miss this opportunity to hear from Dagger Award-winning author Mick in the intimate setting of Heffers bookshop.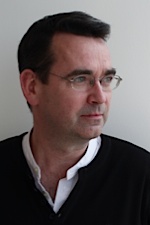 Tickets for the event are priced at £6 in advance (£7 on the door) and can be purchased through this page, by calling 01223 463200 or in person at Heffers bookshop. Please note that tickets are transferable but non-refundable.
If you are unable to attend but would like to request a signed copy of The Drop, please send an email via the 'contact' button on this page.
Organiser of The Drop: an evening with Mick Herron
Heffers has been trading in Cambridge since 1876 and is part of the fabric of the historic city centre. We stock an amazing range of books, games, stationery and music, and our friendly and knowledgeable staff are on hand to provide advice and recommendations. Our excellent programme of events runs year-round - currently online - and features book launches, author talks, games nights and more. We are also a sponsor and the official bookseller for the Cambridge Literary Festival. For more information or to sign up to our mailing list, please email marketing@heffers.co.uk