Event Information
Refund policy
Contact the organiser to request a refund.
Eventbrite's fee is nonrefundable.
An adhesive bound hardback book with uninterrupted page spreads, ideal for printmaking artists book content or photo books.
About this event
The Drum Leaf Binding with Hardback Cover Boards
This workshop is designed for participants with or without bookbinding experience. The workshop will be taught online using the Zoom software meeting platform. As a participant in a Zoom book workshop you are not required to download the software. A Zoom link will be sent by email to each participant inviting them to join the workshop. The workshop will run from 9.30am to 4.30pm and there will be a 45 minute lunch break and a 15 minute morning and afternoon break.
The participants will have the opportunity to make an adhesive bound book structure with full-page spreads. The book with hardback covers will have pages that will open out and lie flat without any stitching through the centre folds.
The Drum Leaf Binding structure is ideal for photographers and printmakers, or those presenting visual narratives without the disruption of sewing thread dominating visual continuity in the page content.
The pages in this book structure are made of single sided folios. This makes the task of printing and layout imposition of page content relatively straightforward.
Materials to be acquired by the participants for the workshop
1 x A4 size piece of Greyboard / Strawboard for the book's cover boards (these will be covered with coloured paper stock during the binding process). The greyboard / strawboard needs to be approximately 2.5 mm thickness (with the grain running along its length). This can be tested by flexing the board along its length and then comparing the resistance by then flexing it along its width. Flexing along the length is easier when the grain is running lengthways.
1 x A1 size sheet of Cartridge Paper (long grain / grain running along the length) can also be tested for grain direction by flexing the paper to see which direction has the least resistance (should be lengthways).
If A1 Cartridge Paper is not available then use 2 sheets of A2 size Cartridge Paper instead (this should have the grain running along width of the paper, again flex the paper to test it using the resistance test).
2 x A4 size of Coloured Paper stock between 120gsm and 160gsm (this will be used for covering the book cover boards). If required, each of the two book cover boards can be covered with different coloured papers as they are covered separately from the spine of the book.
A small piece of Coloured Book Cloth (13 cm x 6cm) will be needed for covering the exposed spine section of the book (the colour of the cloth can be complimentary to the coloured paper used for covering the book cover boards). If book cloth is unavailable, then a piece of clean etching scrim (cut to the same dimensions) would be suitable to use instead.
A piece of Craft Paper (brown paper) also cut to 13cm x 6cm dimensions will also be needed.
PVA Glue, a small Glue Brush and a Receptacle/Jar for the glue.
Tools
A Bone Folder or similar (e.g. a standard all stainless steel bread and butter cutlery knife or a wooden clay workers modeling tool) will be used for scoring and reinforcing page folds.
A small Cutting Mat.
A Stanley knife and a scalpel or craft knife.
A flat 30cm / 1ft Steel Ruler.
A bookbinders Pricker or similar (e.g. an etching needle or a darning needle with a cork over the eye end) for marking paper and greyboard.
A bookbinders Clip Point Knife or similar (e.g. an old thin and flat flat bladed kitchen knife, such as a bone handled butter knife) for cutting through folds in the cartridge paper page stock.
Waste paper (cut into 5cm wide 20cm lengths) for gluing. Printer or copier paper is ideal for this, keep several A4 pieces aside for the cover glue pasting process.
Workshop Tutor
Guy Begbie the workshop devisor and tutor is a UK based independent bookbinding workshop provider, interdisciplinary book artist/printmaker and an associate university lecturer.
Guy has devised and continues to teach many innovate kinds of book arts based workshops in the UK and in places further afield such as Australia, Spain, Portugal and Norway. He teaches book arts both independently and in art & design higher education to undergraduate and postgraduate students who are studying in a wide spectrum of art & design disciplines.
Guy also regularly runs both multi participant and bespoke one to one book making workshops for independent established artists and studio groups.
https://guybegbie.com/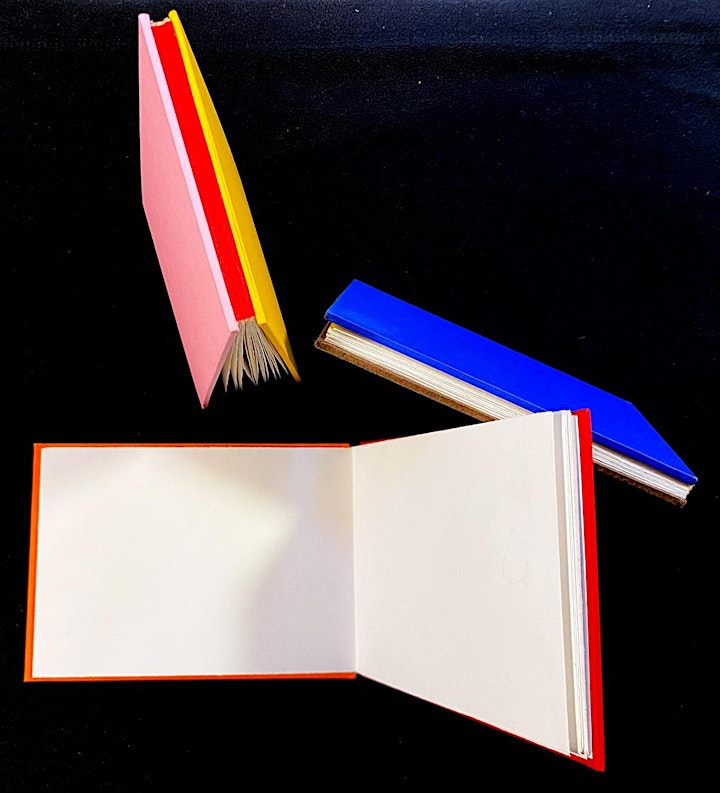 Date and time
Location
Refund policy
Contact the organiser to request a refund.
Eventbrite's fee is nonrefundable.