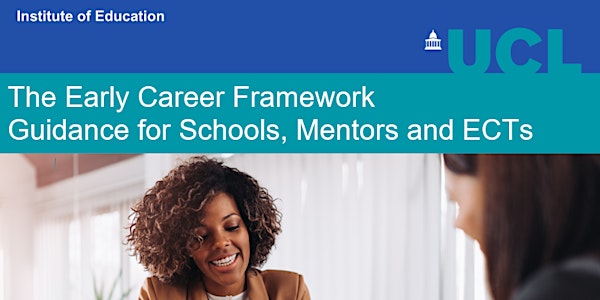 The Early Career Framework - Guidance for Schools, Mentors and ECTs
An event presenting research informed guidance for Schools, Mentors & Early Career Teachers on implementation of the Early Career Framework.
About this event
Following on from the publication of their three guides produced for Schools, Mentors and Early Career Teachers on the Early Career Framework, experts from UCL Institute of Education will draw on their evaluation of the ECF pilot support programmes, the broader research literature and their own research and experience in supporting schools, mentors and new teachers, to offer guidance around the following questions:
How can schools make the most of opportunities that the Early Career Framework presents?
What steps should schools take in implementing programmes of support for Early Career Teachers?
How can mentors and new teachers work best together to support development
The event will consist of three short presentations lasting around 45 minutes in total, followed by opportunities to ask questions and discuss the Early Career Framework and its effective implementation.
Please note the presentation section of this event will be recorded. Please register to receive the link to this recording following the event.
The guidance is applicable to primary, secondary and special schools, and is not specific to any particular programme of Early Career Support.
For information about UCL's privacy practices and how UCL uses your data, please see the UCL General Privacy Notice.
The Guides
The Early Career Framework – A Guide for Implementation
The Early Career Framework – A Guide for School Leaders and Induction Leads
The Early Career Framework – A Guide for Mentors and Early Career Teachers