Description
Casey Strine
Lecturer in Eastern History and Literature at University of Sheffield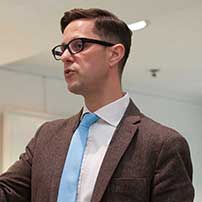 What Refugees Can Teach Others About the Bible
One often hears that the Bible is the best selling book in history. Of course, one is just as likely to hear it is just a tool of power, privilege, and oppression. Neither sentiment reflect its origins: despite its association with power and privilege, the texts that we call the Bible come from communities who experienced marginalisation in various ways.
One of the most prominent ways was involuntary migration. This theme dominates Genesis, frames Exodus, and features in the prophetic texts such as Isaiah, Jeremiah, and Ezekiel. Indeed, even Jesus of Nazareth appears as a refugee in the New Testament.
In the midst of the current debates about migration, this talk will explore what asylum seekers and refugees can teach others about reading the Bible, a collection of texts that remain deeply influential in Western culture.
Biography
Dr C. A. (Casey) Strine is Lecturer in Ancient Near Eastern History and Literature at the University of Sheffield. He completed his D.Phil. at the University of Oxford, before holding research fellowships at King's College London and at the University of Sheffield.
Strine is the the author of Sworn Enemies: The Divine Oath, the Book of Ezekiel, and the Polemics of Exile (Walter de Gruyer, 2013), winner of the 2015 Manfred Lautenschläger Award for Theological Promise, and a co-author of When the Son of Man Didn't Come: A Constructive Proposal on the Delay of the Parousia (Fortress, 2016). He wrote the Christians in Parliament document 'What the Bible Says About Migration' and also co-curated the 'Back Where You Came From' exhibition in The Gallery at 35 Chapel Walk in Sheffield, which featured art made by people seeking asylum in response to stories from the Book of Genesis about migration.