Description
Ruth Hunt
Chief Executive of Stonewall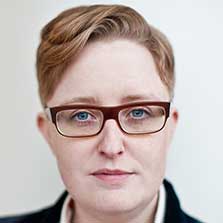 "Here I am Lord". The Place for LGBT people in the modern Christian Movement
The question as to whether LGBT people can have faith has often led to polarised arguments, with some people losing sight of God. In this lecture, Ruth will explore the range of views on the issue and will discuss some productive ways forward towards creating an inclusive, modern Christian movement.
Biography
Ruth Hunt is the Chief Executive of Stonewall. She has successfully led the development of Stonewall's groundbreaking policy, campaigns and research outputs, including its work to tackle homophobic bullying in schools, interventions to improve the health of lesbian, gay and bisexual people and Stonewall's leadership development programmes.
Since taking on the leadership, Ruth has committed to bringing Stonewall even deeper into communities, engaging with groups from different ethnicities, religions and geographies – both in the UK and abroad. She has also spearheaded Stonewall's commitment to campaign for trans equality; a decision that will shape Stonewall's work going forward.
Ruth attended St. Hilda's College, Oxford where she studied English and was elected President of Oxford Student Union. Prior to Stonewall, Ruth worked at the Equality Challenge Unit and in 2015 she was voted the third most influential LGBT person in the Independent's Rainbow List.