Description
Come and celebrate the 40th birthday of Business Property Relief (BPR) at our IFA focussed conference "The Efficient Transfer of Wealth".

In association with the industry leading WiseAlpha VCT and EIS Investor Forum, we have launched a parallel conference for IFAs, Wealth Managers and the Adviser community to come and hear from all the leading IHT/BPR solution providers. Come and meet everybody you need to know all in one place in one day!

We'll cut through the complexities of BPR and other IHT solutions and find out what type of products are available for your clients.
NB: If you would prefer not to use Paypal please call 020 7720 1102 or email modwenna@angelnews.co.uk and we will register you.
The Agenda
11.00 INTRODUCTIONS FROM CHAIRPERSON, Modwenna Rees-Mogg
11.10 Modwenna Rees-Mogg interviews Jonathan Gain of Stellar Asset Management
11.30 PANEL 1: Getting to know you: Cutting through the BPR complexities
Why is BPR important for estate planning and IHT mitigation and what is the impact of IHT Residence Nil Rate Band (RNRB)? With Rotimi Ososami of Allenbridge, David Kaye of Puma Investments and Simon Housden of TIME Investments
12.00 PANEL 2: The guest list: Who are the right clients for BPR?

A valuable insight into client suitability and scenarios?
With Hugi Clarke of Foresight Group and Andrew Boyle of Lesmoir-Gordon Boyle
12.30 Q&A and closing comments
12.45 LUNCH & NETWORKING
13.45 WELCOME BACK
13.50 PANEL 3: A bountiful buffet
What are the solutions and who's providing them?
With Leon Clarence of Motion Picture Capital, David Kaye of Puma Investments, James Sore of Syndicate Room (Fund Twenty8) and Belinda Thomas of Triple Point
14.20 PANEL 4: Dance-off: AIM vs Unquoted portfolios
Taking a closer look at the underlying assets
With Jack Rose of LBGR Capital (Unicorn Asset Management), Matthew Steiner of Stellar Asset Management and Paul Sheehan of WH Ireland Wealth Management
14.50 CLOSING COMMENTS: Audience discussion
15.05 END OF EVENT, NETWORKING

NB. IFAs and Wealth Managers purchasing this ticket can also attend the wider VCT and EIS Investor Forum which starts at 9am and finishes at 5pm.
Sponsors: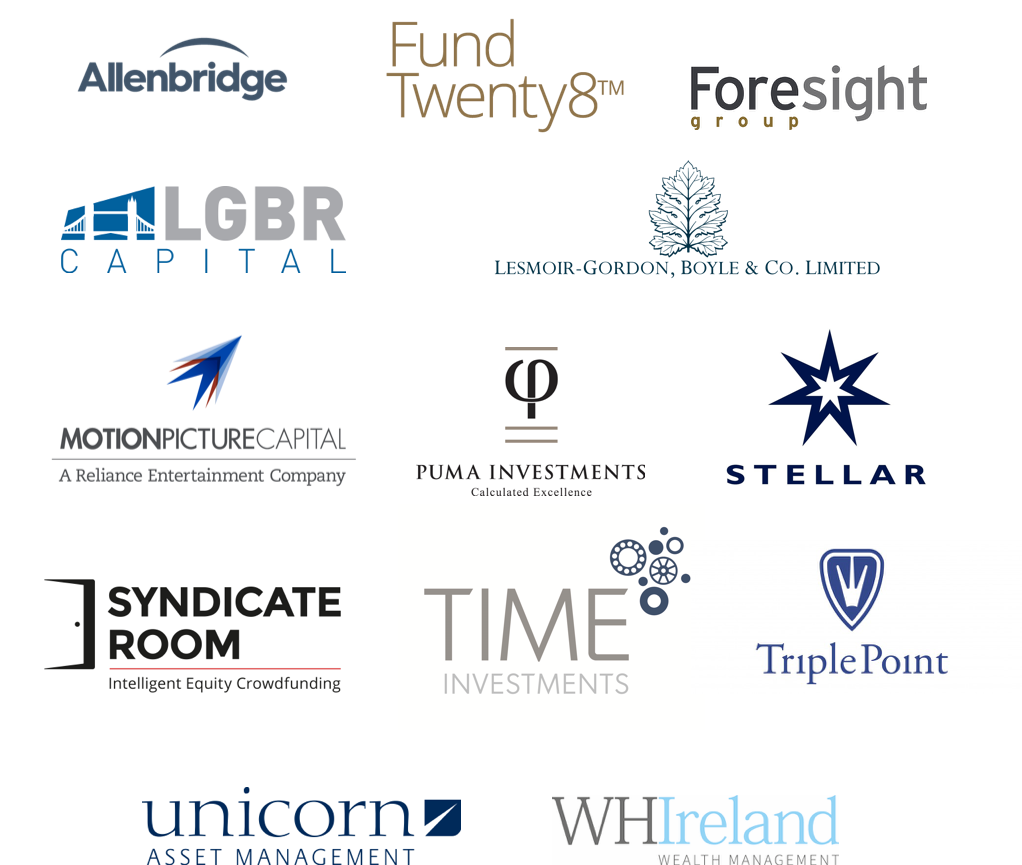 Marketing Partners:

You can find our Terms and Conditions here.