The Elite Network Leeds (The 6 Secrets of Effective Gratitude with Steve Ho...
The Elite Network Leeds (The 6 Secrets of Effective Gratitude with Steve Ho...
Thu 27 October 2016, 18:30 – 21:30 BST
Description
ARE YOU BEING THE BEST VERSION OF YOU?
JOIN US FOR AN EVENING OF PERSONAL DEVELOPMENT TALKS AND SURROUND YOURSELF WITH LIKEMINDED PEOPLE WHO ARE STRIVING TO BETTER THEMSELVES...
What is The Elite Network?
The Elite Network is an expanding community of personal development networking events for those that wish to develop a growth mindset a come the very best they can be. The events provide you with the perfect balance between education, positivity, inspiration and motivation therefore enabling you to live a happier, more positive and fulfilling life.

The Elite Network events help you get the most out of personal development, with two new exciting guest speakers each month you be learning about the best and latest ways of developing yourself, meeting local likeminded people all in a live, local enjoyable environment. Full details of this months speakers will be released shortly but rest assured it will be one of the UK's thought leaders when it comes to personal development.

We are pleased to announce the next of our monthly events in the vibrant city of Leeds.

PLACES ARE LIMITED AND WE EXPECT TO SELL OUT SO PLEASE GET YOUR TICKETS EARLY!
Guest Speakers
Steve Houghton-Burnett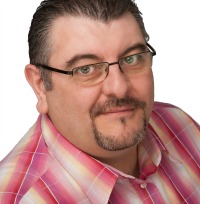 Steve is a serial entrepreneur (he always thinks that sounds like Serial Killer but more ominous) and professional speaker. He loves positive disruption and challenging the people around him to see how they can positively disrupt the world around them.
His wife sums him up as a "Collector, Connector and Cultivator" of people, which he entirely agrees with.
Steve's speaking style is challenging to the group and supportive to the individual. He's a big guy with a big personality and bags of energy that he tries to spread around the room. He uses his battery to help to recharge other people, so they can walk away with the tools, optimism and the desire to improve their own lives.
Steve will be speaking about The 6 Secrets of Effective Gratitude.
In his talk Steve will provide evidence of why people who have mastered gratitude live happier more successful lives. He will show how this can be applied to your professional and your home life. Finally, he will share the 6 Secrets of Effective Gratitude.
What Next?
Book your ticket now to secure your space as limited spaces available. Teas, coffees and biscuits included.
Arrive from 6:30pm for a prompt 7pm start. We will finish by 9:30pm.