A Covid-safe heart-warming Christmas show for Home Educating Family audiences. Age guide 3+
About this event
The music has gone quiet. The dancing has stopped.
People aren't buying dancing shoes, and the shoemakers are almost out of leather.
But sometimes, Little Things can make all the difference...
With themes of kindness and neighbourliness which feel so relevant this year, 'The Elves and the Shoemakers' is full of the energy, joy and magic of live theatre. Interactive as ever, the whole audience become part of a heart-warming tale of giving and sharing, elfin antics and shoe-tapping music-making, and – of course – saving the world!
This is a Covid-safe performance. We have been bringing live workshops & performances to schools since June and the general public from August and you can download risk assessments from our WEBSITE
'The Elves and the Shoemakers' has been specially written to perform during the pandemic. The audience will be seated in distanced household bubbles. The hall will be well ventilated; the actors have microphones, and the show is only 35 minutes long. This is a gentle performance, with no 'panto-style' audience shouting or singing (clapping, music making and movement instead!).
We strongly believe that the Arts have an important role to play in our society, especially now. 'Normal' things like attending a Christmas show help our children feel secure and confident for the future, and is great for family bonding. Shared experiences are vital to bring our community together and we can connect through theatre – a song, a moment, a scene. Its cathartic to forget our worries for an hour or so; time spent fully in the present moment is very healing. A great story enjoyed together is a chance to explore emotions and remember that life is good. We're pretty sure you'll leave with a smile on your face!
TICKETS
All tickets are £5 and sold via Eventbrite.
Please book for your household/support bubble at the same time, up to a maximum of 6 people, so that you are allocated seats together. Please email any seating requirements (eg wheelchair spaces etc) - info@treehousetheatre.com
We have very reduced audience capacity for our performances, and have to include every human in our head-count (including the Treehouse team!). Therefore, every human needs a ticket, even if they are a 1 day old baby.
We have kept the price as low as we can because we want as many people as possible to be able to afford to come. We have families too and we know how expensive it can be to go to the theatre together.
CORONAVIRUS PRECAUTIONS
In order for the event to take place in a COVID secure way and conform with government guidelines, there will be strict measures in place which must be followed.
- Face coverings must be worn by adults inside.
- Social distancing rules must be followed – in particular please remember to stick to a 2m distance wherever possible when entering and exiting the building, and when using the toilets.
- Your group must stay in your allocated seating bubble during the performance.
- Please follow the one way systems in place to maintain social distancing.
- DO NOT mix with anyone outside your household/support bubble, even if you see other people you know!
- We will require contact details for each household as part of the track and trace scheme.
CANCELLATIONS and CORONAVIRUS
You can request a full refund if you are unable to come due to symptoms of Covid-19, a positive test, or are required to self-isolate. You can get the Covid refund up to 9am on the day of the show.
WE TRUST YOU to only ask for this refund if this is the reason for cancellation. I'm sure you can all do the maths and work out that we have reduced the ticket price so much we need to sell almost every seat to make this work!
PLEASE NOTE – Eventbrite keep their transaction fees when we issue a full refund. Therefore, you pay £5 + transaction fee initially, but would get a refund of £5.
We have your safety as our top priority. If any of the Treehouse team (we are one household) have to self-isolate, test positive, or have any coronavirus symptoms, we will cancel the show and everyone will get a full refund.
If the government rules change and we are no longer allowed to hold the show, it will be cancelled and everyone will get a full refund. If lockdown is extended to include the show dates, the shows will be cancelled and everyone will get a full refund.
It is our understanding that we will leave lockdown on 2nd Dec, and return to the Tier system. We believe will be able to hold these performances even if we are in Tier 3, provided there are no additional local restrictions. As BCP, Dorset and the New Forest were all still in Tier 1 before lockdown began, we feel confident that the performances will go ahead.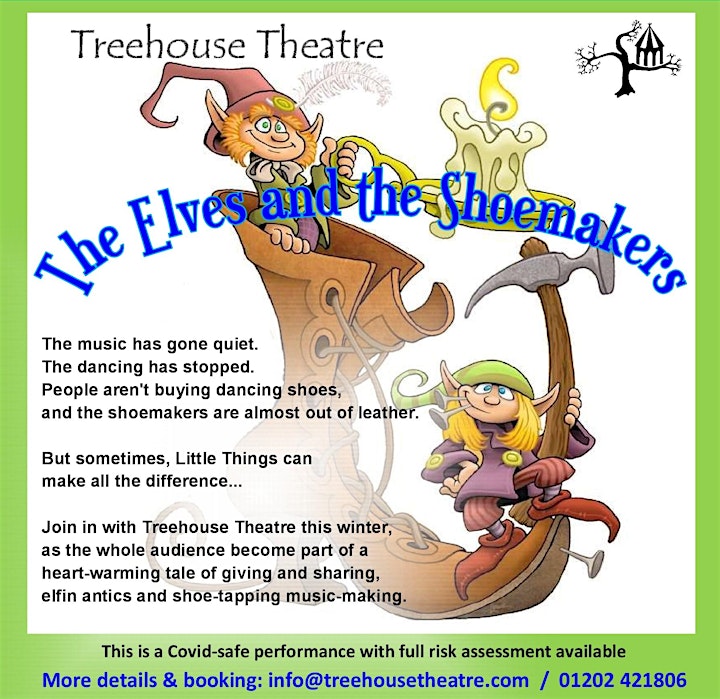 Organiser of The Elves and the Shoemakers - for Home Educating Families