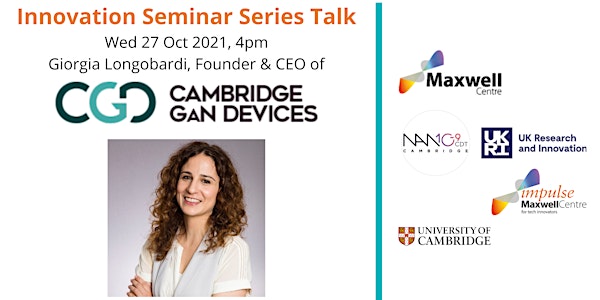 The entrepreneurial journey from deep science to a billion market product
The Entrepreneurial journey from deep science to a billion market product: how to embrace risks and failures while aiming for success.
About this event
Innovation Seminar Series
The joint NanoDTC-Impulse-Maxwell Innovation Seminar Series has a series of brilliant speakers who are at different stages in their Innovation and Entrepreneurship journey.
We are delighted to welcome Dr Giorgia Longobardi to this month Innovation Seminar Talk.
"The Entrepreneurial journey from deep science to a billion market product: how to embrace risks and failures while aiming for success. "
Dr Giorgia Longobardi, founder & CEO of Cambridge GaN Devices
About Cambridge GaN Devices (CGD)
CGD has been created to explore and develop a number of unique opportunities in power electronics made possible by the team's proprietary application of Gallium Nitride to the silicon-based semiconductor transistor manufacturing process. With silicon transistors widely acknowledged as having attained maximum efficiency, CGD's power design engineers have developed a range of Gallium Nitride transistors that are over 100 times faster, lose 5 – 10 times less power and are 4 times smaller than existing silicon equivalents. The possibilities and range of potential applications for these transistors is almost endless in this increasingly digitally connected world.
CGD aims to change the future in the following 4 areas.
- Data Centres - Reduced energy usage – lower running costs
- Wireless Charging - High speed wireless charging
- Solar panel inverters - Renewable energy systems that can store and convert more power
- Power suppliers - Smaller more compact
About the Speakers
Giorgia Longobardi, founder & CEO of CGD
Giorgia has a PhD in power devices from Cambridge University. Since 2009 she has been working on GaN power devices design and characterisation gaining extensive and in-dept knowledge of GaN reliability. She has more than 5 years of experience in managing and budgeting multi-partner projects and prior to that she has led the GaN power devices team at the engineering department at Cambridge University. In 2019 she received the RAEng Engineers Trust Young Engineer of the Year by Royal Academy of Engineering.
She now leads a team of more than 30 people including several consultants. In recognition for her contribution to the business she has been recently awarded the 2021 Business Woman of the year award from Business weekly and Talented Young Italian award in the category research and innovation from the Italian Chamber of Commerce and Industry for the UK. Cambridge GaN devices (CGD) has also received the UKBAA Deep tech investment of the year and the Business Weekly scale-up of the year. Giorgia has a strong passion for green technologies, which has been driving her along her entrepreneurial journey.
About the Seminar Series
This series of seminars happens monthly and speakers will present their ideas and experiences on how innovation impacts their endeavours.
We have a varied list of speakers, from academics turned in to entrepreneurs all the way to established companies.
The format is a 45 minute talk, followed by Q&A.
Attendance is free
Come and join the talk with Giorgia.
Data Protection
We collect information about you when you register to attend the Innovation Seminar Series. You can find details on how we handle personal information at https://www.maxwell.cam.ac.uk/faqs.
The data we hold for this purpose is very limited (contact details: name, email address, name of the organisation you are affiliated with).
The information you provide will be used to process your booking, and contact you regarding your participation. We may also contact you to undertake post-event evaluation and provide marketing information about events and services offered through the Maxwell Centre, University of Cambridge and the Impulse Programme. All marketing communications will incorporate an option to opt-out of receiving further communications.
Please note that we are managing registration for this event via Eventbrite. Eventbrite is a third-party service that is not owned or managed by the University of Cambridge. You may wish to review Eventbrite's terms and conditions and privacy policy as we do not accept any responsibility or liability for their policies.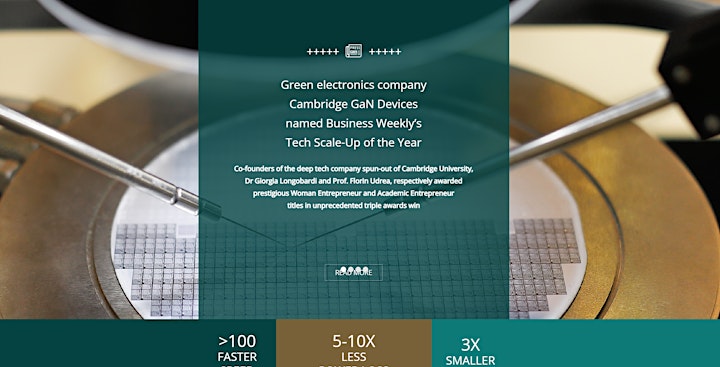 Organiser of The entrepreneurial journey from deep science to a billion market product