The first FREE to attend Zoom webinar in the series: 'Emission & Pollution From Transport.' Wednesday 27th October 2021. 6:00 PM - 7:45PM.
About this event
Supporting the aims of the UN Climate Change Conference UK 2021, COP26, taking place in Glasgow from 31 October to 12 November 2021...
'Emission & Pollution From Transport.'
Webinar Overview.
According to the UK Government, the transport sector is the largest emitter of greenhouse gas (GHG) emissions, producing 27% of the UK's total emissions (figures from 2019).
It is essential that this area of emission is tackled, in order to reach net zero by 2050.
This webinar explores what is being done and what more needs to be done...
Speakers and Topics.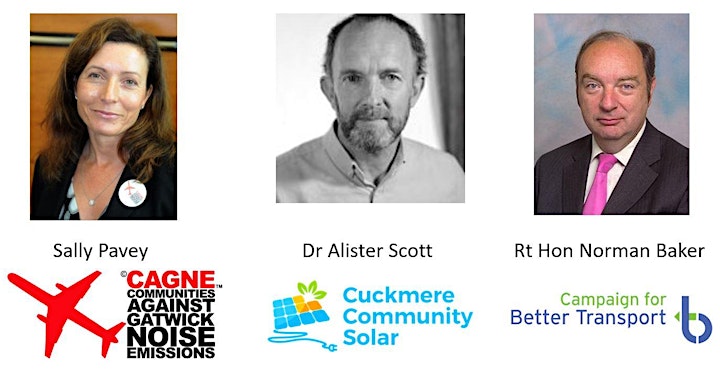 Sally Pavey, Chair, Gatwick Airport Environmental Campaign Group, CAGNE. Sally will be discussing airport emissions and the environmental challenge of aviation in aircraft emissions and air quality.
Dr Alister Scott, Chair, Cuckmere Community Solar, focusing in on an innovative project in Sussex with solar energy powering trains. Alister will be talking about the realities and challenges of innovating in a zero-emission direction, incorporating Cuckmere Community Solar's' project as a case study.
The Rt Hon. Norman Baker, Former Transport Minister , now Advisor to the CEO of the Campaign for Better Transport. Norman will be discussing public transport and reducing transport emissions.
Q & A.
Speaker presentations will be followed by Q & A discussion sessions.
Attendees will be offered the opportunity to ask speakers questions pre webinar when they register. Questions will be answered at the live event.
Zoom Login Details.
All registered attendees will be sent webinar Zoom login details 48 hours prior to the event date of 27th October 2021.
Click here for more information on the speakers and webinar.
*Donations to the South Downs Network gratefully received - option to register with a donation at check out.
Organizer of The Environment, Climate Change and COP26 Webinar Series 2021.