Description
We're excited to announce our next event on Thursday 11th April that will look at how you can make a real difference with your charitable giving:
Make Your Giving Great
Are your charitable donations having the impact you want?
The seminar will bring together top charity sector experts in the field to discuss charitable giving, and how to measure the impact of your donation.
You'll hear from:
Jim Clifford OBE
Jim leads the Advisory & Impact team at the legal firm BWB. With over thirty years in private business and charity advisory and corporate finance, he has spent the last decade focusing on the developing social impact field, social investment, and corporate transactions by charity, public, and private sectors
Emily Collins-Ellis
Emily is a Senior Advisor at I.G. Advisors, a consultancy on a mission to bridge the gap between fundraisers, businesses and philanthropists. She advises donors on how to achieve impact with their giving, and non-profits on how to grow. Emily's career has focussed on LGBTQ issues, mental health and human rights, most notably with the Helen Bamber Foundation.
John Spiers
An entrepeneur and philanthropist, John is CEO of EQ Investors, a boutique wealth management firm that specialises in impact investing. Through his own family foundation and the EQ Foundation, John has been responsible for giving over £5 million to charity since 2008.

Refreshment and canapés will be provided.
Please join us for what should be a fascinating evening.
Attendees will also receive a copy of our new 'Giving is Great' guide.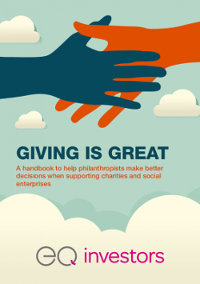 For further information on the Giving is Great initiative, visit: https://eqfoundation.org.uk/
Organiser of The EQ Foundation presents: Make your giving great
EQ Investors is an award-winning, boutique wealth manager, dedicated to delivering the highest standards of financial advice and investment management.
Our name 'EQ' stands for 'emotional quotient' - a measure of a person's ability to recognize their own and other people's emotions. At the heart of what we do is helping our clients to align their finances with their broader life goals.
To find out more, visit: eqinvestors.co.uk
EQ Investors Limited is authorised and regulated by the Financial Conduct Authority.