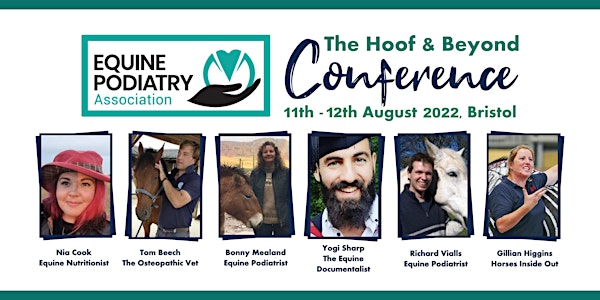 The Equine Podiatry Association Conference 2022 - The Hoof & Beyond
Location
Bristol
Memorial Stadium
Filton Avenue
Bristol
BS7 0AQ
United Kingdom
Refund policy
Refunds up to 30 days before event
Eventbrite's fee is nonrefundable.
The Equine Podiatry Association UK- Promoting responsible hoofcare www.epauk.org
About this event
***Ticket sales for the live event are now closed but tickets for the webinar are still on sale***
Please join us for the 7th bi-annual Equine Podiatry Association Conference 2022 - The Hoof & Beyond.
Thursday 11th- Friday 12th August 09.00-17.00
Thursday schedule
8.30-Doors
9.20-Welcome
9.30-Gillian Higgins
10.45-Break/Networking
11.15-Nia Cooke
12.30-Lunch
1.30-Tom Beech
2.45-Break/Networking
3.15-Richard Vialls
4.30-finish
Friday
Doors- 8.30
9.30-Bonny Mealand
10.45-Break/Networking
11.15-Tom Beech
12.30-Lunch
1.30-Yogi Sharp
2.45-Break/Networking
3.15-Yogi Sharp
4.30- Finish
Webinar tickets now on sale -
The live conference is being recorded and will be aired on Vimeo shortly after the event (date to be confirmed due to editing) via private link and password. Tickets for the webinar will be on sale till October 1st and will be accessible for a three month period.
Line Up-
Yogi Sharp DipWCF BSc Hons
The Equine Documentalist
www.theequinedocumentalist.com
'The Physics of Hoof Morphology'
The physics of hoof morphology will delve into the biomechanics and physics involved in the changes in hoof shape we see every day as podiatrists. It will discuss the importance of impact versus load, centre of pressure traces and impulse measurements. Questioning which has the greatest effect on morphology, and bring the latest research adding new complexities to our notions of hoof balance. And then it will discuss the implications to our trim and hoof management.
Gillian Higgins BSc Hons BHS SC Dip (RM) MSM ITEC (equine) MCAM MIAS
Horses Inside Out
www.horsesinsideout.com
'Posture and Compensation Patterns'
Asymmetry, posture and compensation patterns are important to understand to improve equine performance and to reduce the risk of injury. A detailed knowledge of the anatomical connections of the horse are key to achieving this. Using high speed video and photographs of her incredible anatomically painted horses and dissection specimens, Gillian will illustrate myofascial and biomechanical connections of the horse.
Tom Beech BVSc MRCVS EDO
The Osteopathic Vet
www.theosteopathicvet.co.uk
'Considering the whole horse'
During Tom's treatment sessions he tries to evaluate the whole horse. In this presentation he will be discussing the osteopathic links throughout the body and how that relates to the feet and limb flight.
'It's what inside that counts: impact of the viscera'.
In this presentation, Tom will be discussing the impact the viscera (organs) have on the musculo-skeletal system and therefore their relationship to limb flight and foot balance.
Bonny Mealand DAEP MEPA (UK)
Touching Wild
www.touching-wild.blog
'The Importance of an Ethological Perspective'
Ethology is the study of animals in their natural environment, who are free to express the behaviour that evolution has prepared them for. The blueprint for normal, this is the most powerful tool we have for understanding their bodies and behaviours.
Nia Cooke BSc Hons Prof. Dip (Eq Nutr) DEP MEPA (UK)
Independent Equine Nutritionist
www.equineandpetnutrition.co.uk www.ponypedicures.com
'Equine Nutrition'
A dive into the commonly found components of commercial horse food and the shift in demand towards a more species appropriate diet and feeding for equine health. An examination of the benefits and pitfalls of plants as feed or feed supplements, and the need to preserve and develop biodiversity in the context of our horses, their guts, and the wider environment.
Richard Vialls BSc MSc PhD MEPA (UK)
Equine Podiatrist
www.unshod.co.uk
'Some thoughts on the causes of laminitis'
Over the decades, there have been a good number of models proposed to explain how laminitis occurs. Some of these have been debunked, some are still considered current. But are we really any closer to understanding the disease processes that underpin laminitis and low grade laminitis?
In this presentation, Richard will be discussing his latest thoughts on the causes of laminitis and low grade laminitis and the implications this thinking might have for the management of cases. Starting from the premise that laminitis is a clinical sign not a disease in its own right, he will explore the current thinking on the variety of underlying health issues that might contribute to laminitis.
Guest Stalls -
Urban Horse
www.urbanhorse.com
Ron Fields
www.ronfieldsnutrition.co.uk
Raffle with prizes from brands including Equ-Streamz
If you have any queries please contact conference@epauk.org
At the time of creating this event the attendance of all speakers was confirmed. To cover events beyond our control, we reserve the right to replace speakers with similar alternatives should personal circumstances dictate anyone is not able to attend.