Description
PRICE
£416 + VAT & FEE
When you are hunting for that crucial first job, the ability to speak persuasively to a group of people is essential if you want to stand out from the competition. Many of your prospective employers are likely to test your presentation skills during the interview process.
On June 20th, Intelligence Squared are hosting a one-day public speaking course, aimed specifically at graduates and young people (aged 18-25) seeking employment for the first time.
Graham Davies, the UK's leading presentation coach, will run the day. His clients have included fifteen British cabinet ministers, the prime ministers of three different countries and eight FTSE 100 CEOs. Each course is limited to 24 people and will take place at Second Home, Spitalfields. Lunch is included.
You will learn a highly adaptable method for creating and delivering speeches and presentations, and you will get the chance to put what you have learned into action. By the end of the day you won't just be ready for your next presentation – you will be looking forward to it.
"Graham Davies is a brilliantly funny speaker who knows how to inspire and enthuse anyone who sees presenting as a bore, a burden or a source of terror." — Nick Robinson, BBC News
---
IF YOU HAVE TO CANCEL OR POSTPONE
We understand that sometimes events overtake us and it becomes necessary to either cancel or reschedule your attendance.
Once booked, your position is committed. Where possible, and no later than 10 working days prior to the scheduled event, we will do our best to offer up your place to our waiting list and move you onto the next available course. If a date cannot be found to accommodate you, 50% of your fee will be refunded.
There are no refunds for cancellations within 10 days of the scheduled event. Our full Terms and Conditions can be found here.
FEATURING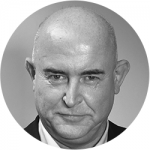 Graham Davies
One of the UK's leading public speaking consultants
Graham Davies is one of the UK's leading public speaking consultants. He is the go-to expert for senior executives, professionals and politicians who need to communicate effectively under pressure. His book, The Presentation Coach, is the most popular title on its subject ever published in the UK. This has made him a regular choice as a speech analyst on the BBC, CNN, ITV and Sky News. Find out more about Graham at www.grahamdavies.co.uk.