Event Information
Refund policy
Contact the organiser to request a refund.
Eventbrite's fee is nonrefundable.
Zoom lectures presented by The British in India Historical Trust. This month's speaker is ROSIE LLEWELLYN-JONES.
About this event
The Estate of Major General Claude Martin at Lucknow
Rosie Llewellyn-Jones
This talk offers a unique glimpse into a European household in 18th-century India. Major General Claude Martin was a French soldier who joined the East India Company after the French lost Pondicherry. He became not only the richest European of his day but a purveyor of Enlightenment ideas. Rosie Llewellyn-Jones, Martin's biographer, discusses his paintings, silverware, jewellery, armoury, scientific equipment and more, and his large library, based on the inventory of his possessions and the examinations of six experts.
Simon Schaffer, Professor of History of Science at the University of Cambridge, writes:
'These inventoried materials throw a fascinating and indispensable light on the world of an enlightened polymath of remarkably broad interests in erudition and experimental philosophy. They also chart the material culture of excessive display and conspicuous consumption characteristic of a master of South Asian trade and profit. The inventories have much to teach about artisan skill and erudite activity, the outputs of the range of workshops and studios that played such a vital role in later eighteenth-century material cultures. Spectacular hoards catalogued in the inventory simultaneously represent the results of deliberate attempts by their owner to emulate the great cabinets and palatial showrooms of those Indian rulers whose high status and erstwhile power the ambitious Martin sought to mimic and, in key respects, rival.'
Dr Rosie Llewellyn-Jones MBE is the editor of The Estate of Major General Claude Martin at Lucknow: An Indian Inventory (Cambridge Scholars 2021), her third book on Martin.
The talk will be recorded.
This is a paid event.
General Admission: £5.00
General Admission to this lecture and the two others listed at the foot of this page. This 'all three lectures' ticket is available for purchase until 17 January and can bought on the booking page for 'Ruling the Savage Periphery'. Select the green 'Tickets' button and you will find the 'All three lectures' ticket listed there: £15.
Additional donation (optional) to promote scholarship by funding essay and book prizes for excellence in historical writing on the British in South Asia between 1600 and 1947: £1 suggested.
Please contact the organiser if you would like to attend the lecture but are experiencing financial hardship during the pandemic. Or if you have any queries.
Cambridge Scholars have offered attendees a 25% discount on orders of Rosie Llewellyn-Jones's book (original price £64.99/ $99.95US). Details will be given in the email confirming your registration.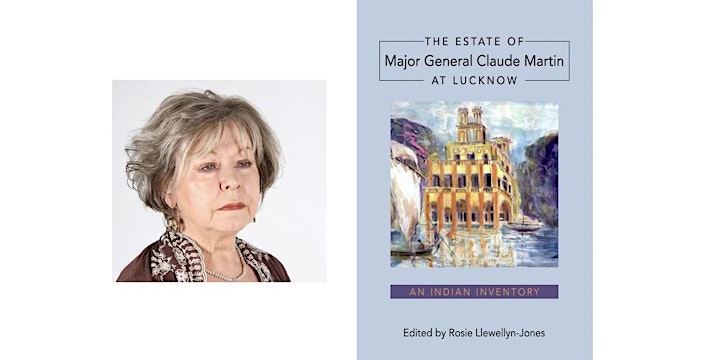 Reviews
'The book reveals a recherché world of luxury and leisure where firearms were as exquisitely crafted as jewellery and the colours of fabrics had such poetic names as "'amooah' (a shade of green like an unripe mango)"— a world mirrored in the works of European masters like William Hodges and Johann Zoffany who visited India and painted canvases that often featured Martin and were part of his art collection, which "has almost completely disappeared from studies".' — Soumitra Das, The Telegraph Online
'Rosie Llewellyn-Jones, whose knowledge of India is encyclopædic, and who is the author of impressive studies of Major General Claude Martin (1735-1800) and his works, has now edited this extraordinary account of that remarkable man's estate.' — Professor James Stevens Curl, The Critic
Date and time
Location
Refund policy
Contact the organiser to request a refund.
Eventbrite's fee is nonrefundable.
Organiser of The Estate of Major General Claude Martin at Lucknow
The British in India Historical Trust is a small charity that promotes education in the history of the British in the Indian subcontinent (South Asia) from 1600 to 1947, and in other areas administered by or of interest to the East India Company and the Crown, by running online lectures and awarding prizes for excellence in non-fiction historical writing.
We have three lectures currently listed on Eventbrite. You may buy tickets to individual lectures or buy a ticket to all three lectures. Information on these options is given on the booking page for each lecture.
The British in India Historical Trust | Charitable company limited by guarantee no. 13404425