We are back and opening our doors to welcome you! EPPS 2021 is set to bring together the best of Pizza & Pasta Industry at Olympia London
About this event
The 5th edition of the European Pizza and Pasta Show will be held on 18 - 19 October 2021, at Olympia London. It is an established dedicated B2B event, which gathers leading flour, pizza and pasta brands, speciality food and ingredients, as well as professional kitchen/catering equipment, pizza ovens distributors and manufacturers from UK, Europe and beyond.
The event is organised in association with PAPA –Pizza, Pasta and Italian Food Association (UK) and supported by Visit Britain and Pizza Senza Frontiere.
We are grateful for the ongoing support of our sponsors: PAPA - the Pizza, Pasta and Italian Food Association, Molino Caputo, Jestic Ltd, Pizza & Pasta Magazine and Accademia Pizzaioli, GI Metal, Petra Molino Quaglia, PEPPADEW®, Saltwell, Ristorazioni Italiana, and World Pizza Association.
The European Pizza & Pasta Show is an industry-specific B2B event aimed at sellers and buyers in the European Pizza and Pasta Industries.
The show provides a much-needed opportunity for this £4 billion UK industry to get together with opportunities for renewing contacts and networking.
Buyers and NPD teams from the UK and Europe's largest retailers, wholesalers, pizzerias and Italian restaurants, bars, pubs, hotels, catering companies as well as over 3,000 family-run businesses visit the show. From the largest multiple units to the family-run restaurants and delicatessen – all come together to see, taste and hear about the latest products and innovation in the industry of pizza and pasta making.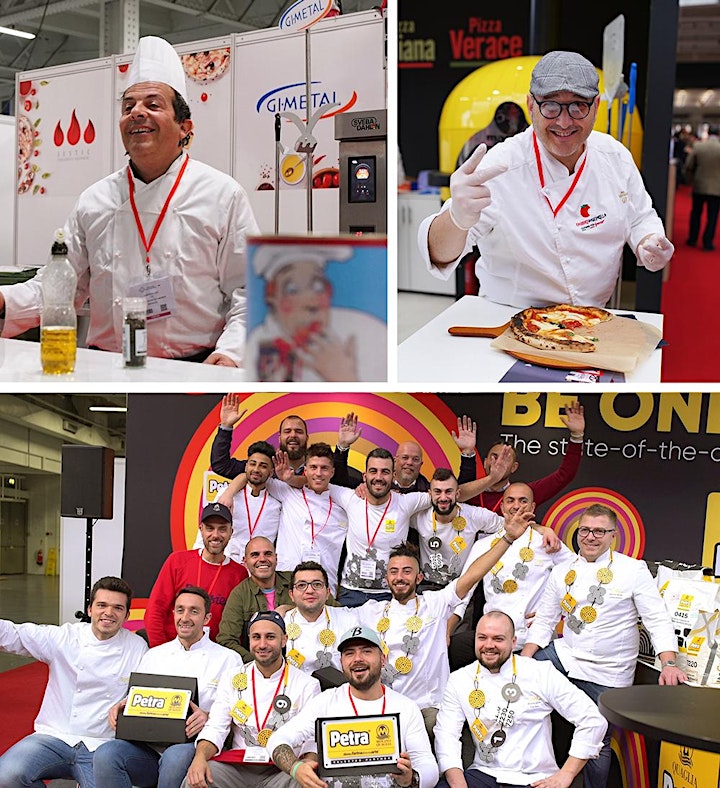 EPPS Exhibitor Profile:
pasta, pizza dough
ingredients and equipment for pizza and pasta production
food service equipment
ready organic pasta
pizza toppings and ingredients
flour and rice
bakery, sweets and snacks
charcuterie
organic food
food service equipment
cheese and dairy products
oils
frozen food
vegan and vegetarian products (vegan charcuterie, seitan and vegan cheese products)
catering equipment
food ingredients
gourmet products
Italian food & wine
gelato
pizza ovens
kitchen equipment
restaurant equipment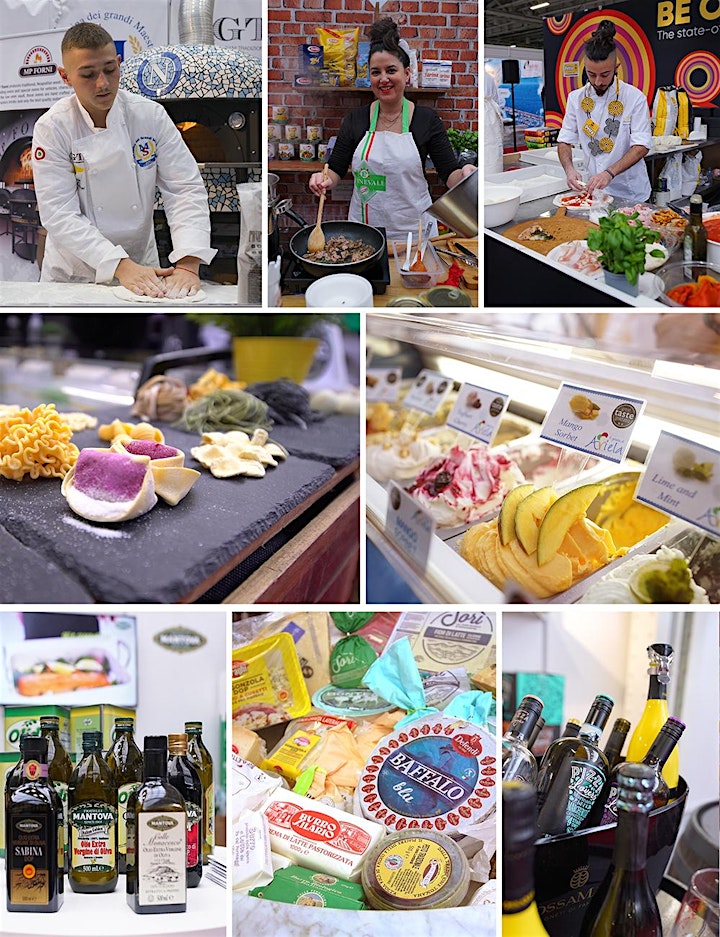 SEMINARS PROGRAMME & LIVE MASTERCLASSES
Two days of specially designed Seminar Programme will present an opportunity for exhibitors and sponsors to participate alongside leading industry experts, restaurant owners, CEO's as well as Purchase Managers and NPDs from UK, Europe and USA.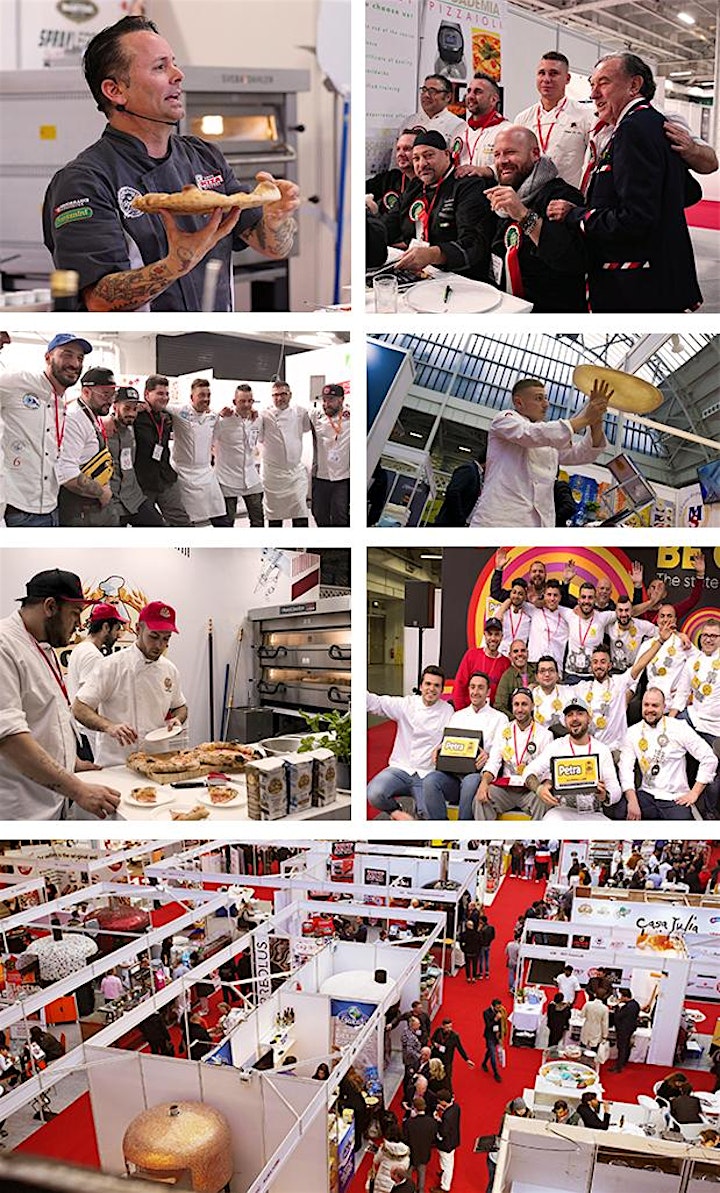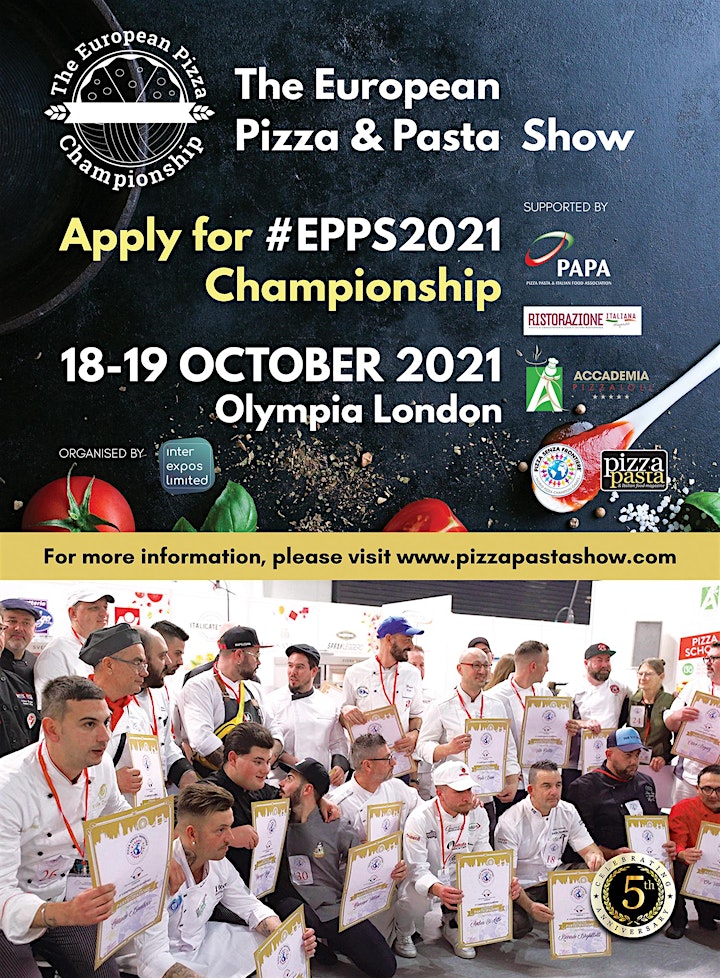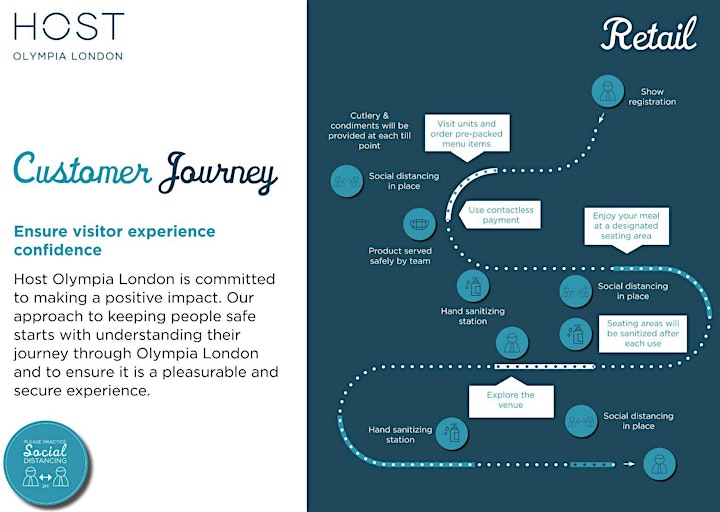 WHAT EVIDENCE IS REQUIRED FOR ENTRY TO EPPS2021?
1. Proof of a negative Lateral Flow Test (LFT), reported and demonstrated via your NHS COVID Pass on the NHS app, or a text message or email from NHS Test and Trace. This can be on your device (including a screenshot) or a printout.
2. Proof of full vaccination. It must be demonstrated either via your NHS COVID Pass on the NHS App or the English vaccination letter. Your vaccination card will not be accepted.
3. Proof of natural immunity, demonstrated via your NHS COVID Pass on the NHS App.
The easiest way to demonstrate your COVID-19 status is via the NHS COVID Pass on the NHS App. A step-by-step guide to viewing your Covid Pass is available here: https://www.nhs.uk/conditions/coronavirus-covid-19/covid-pass/
WHERE CAN I GET A TEST?
Anyone who lives or works in the borough, and does not have Covid-19 symptoms, can book a rapid lateral flow test.
https://www.gov.uk/order-coronavirus-rapid-lateral-flow-tests
The NHS link gives access to other sites around the borough/London including where else you are able to collect home test kits
https://maps.test-and-trace.nhs.uk/
We continue to work very closely with the local authorities and are always looking at ways to mitigate risk and improve the experience and safety for our guests.
WHAT HAPPENS IF I DON'T HAVE THE NHS APP, OR MY VACCINE RECORDS ARE NOT SHOWN WITHIN THE NHS APP?
You should take a Lateral Flow Test and show proof of a negative result via SMS text or email upon entry to the event.
Admission is free. Each badge is issued individually per attendant and is valid for 2 days of the show. Visitor pass holders have free access to seminars and cooking stages. Please register online to save time at the door.
The European Pizza & Pasta Show is a trade only event, admission is restricted to trade visitors. You may be asked for proof of trade status upon arrival, the organisers may revoke your badge/entry registration, if your trade status cannot be verified.
Please Note: Children under the age of 16 will be allowed into the show if they are under direct control and supervision of their parents. General public will NOT be allowed to enter.
VENUE Olympia London | Hammersmith Road, London, W14 8UX
CONTACT US International Expos Ltd | Enterprise House, NW4 2HN, 2 The Crest London | +44(0) 20 7352 4356
Alternative registration is open on official our website www.pizzapastashow.com/visit