Location
698 Woolwich Rd
698 Woolwich Road
London
SE7 8LQ
United Kingdom
Revival & Evangelism Training with UK Evangelists: June 2022, Thursday 23rd June 19:00, Friday 24th & Saturday 25th March 10:30am - 21:30.
About this event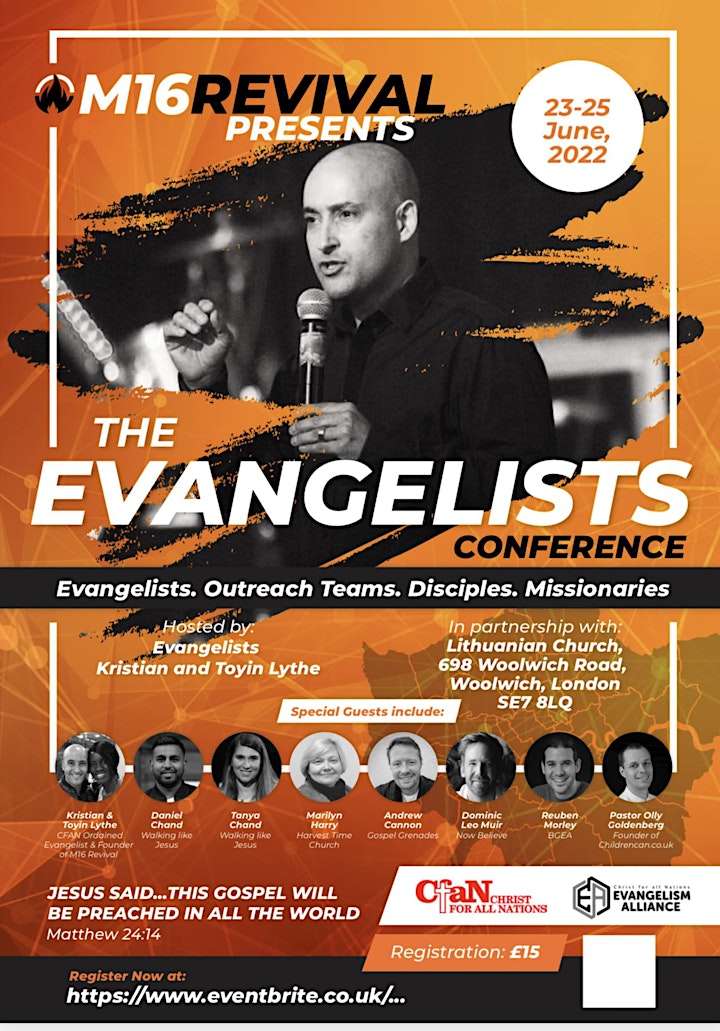 The Evangelists Conference is 3 Days of Revival, Evangelism and Prayer Training where the UK Evangelists will be sharing on revival, lessons on soul winning, the need to preach the Gospel and how God working powerfully across the UK.
It's time to stir the ministry of the Evangelist and for every member of the Church to rise up to boldly proclaim the Gospel message!
We will have guest worship leaders from across the UK leading us into the presence of God each day.
We will be hitting the streets during the afternoons with Gospel Trucks, Sound Systems, Live Worship as we publicly proclaim the Gospel into Woolwich, Charlton and surrounding areas of South East London. We are believing God for many souls to encounter Jesus Christ and for signs and wonders to confirm the word.
THE EVANGELISTS CONFERENCE will be hosted by Evangelist Kristian & Toyin Lythe who lead the M16 Revival Foundation which is dedicated to reviving the great commission. Kristian has just be trained by CFAN and has recently come back from Nigeria and the USA having graduated from the CFAN Bootcamp as a CFAN Associate Evangelist. Kristian and Toyin are founders and leaders of M16Revival.
The Weekend will be hosted in partnership with the Lithuanian Church, Woolwich which is led by Senior Pastors Darius & Vilma Ditkevicius. The website is www.lithuanianchurch.org
Special Guest Evangelists Include :
Evangelists Daniel & Tanya Chand from Walking Like Jesus Ministries
Evangelist Dominic Leo Muir from Nowbelieve.com
Evangelist Andrew Cannon, Gospelgrenades.com
Evangelist Marilyn Harry from Love Wales
Pastor Olly Goldenberg from Children Can.
Presentations for upcoming UK Evangelism will be led by:
Reuban Morley from BGEA, Reuban will be envisioning us on what the Billy Graham Association will be planning across the UK in 2022 and how we can be involved.
Evangelist Kristian & Toyin Lythe will be presenting the vision of M16Revival and how you can partner together with us as we aim this year to equip Evangelists, Missionaries, Disciple Makers and Outreach team leaders across the UK and the Nations through the Evangelists Conference and other initiatives, partnering together for the Gospel of Jesus Christ.
Prayer & Intercession for London and the UK Thursday 23rd June 2022.
The Conference will start on the Thursday Evening at 19:30 with Prayer Night for London and the UK where we will be crying out for Revival in every country and district. We will be crying out for labourers to be released and sent out across the country. Intercession for the UK is needed and to launch the first night with Intercession is going to be a powerful time.
Morning Sessions
The morning sessions we will be having inspirational sessions, equipping and training evangelists in evangelism, revival, intercession and how to reach the UK for Jesus.
Afternoon Sessions
The afternoon will be given over to practical evangelism and soul winning where we will be hitting the streets with gospel trucks, one to one evangelism, public proclamation and prayer & worship walks outside Woolwich Arsenal Station.
Evening Session
The evening will be Holy Spirit Revival nights to empower and release the anointing and to empower evangelists, church leaders and outreach teams. There will be a time of prophetic ministry and intercession as we pray for everyone and send them back to there towns and villages to preach the Gospel in the power of the Holy Spirit.
Registration: £15 per person, this will help us cover the costs for the weekend, the venue and we will able to bless those who will be coming to speak.
Lunch will be an extra cost. We will confirm these costs.
JESUS SAID....THIS GOSPEL WILL BE PREACHED IN ALL THE WORLD MATHEW 24:14 or ITS TIME TO REVIVE THE GREAT COMMISSION or ITS HARVEST TIME!!! Will Confirm.... later over the weekend.
The Event will be hosted at the Lithuanian Church, 698 Woolwich Road, Woolwich , London, 10 mins walk from Woolwich Arsenal Tube Station and Charlton Rail Station. Nearby is Greenwich 02, Blackwall Tunnel, London City Airport and the Thames River.
Full Address:
Lithuanian Church 698 Woolwich Road, Woolwich, London, SE7 8LQ
NEAREST TRAIN STATIONS INFO:
Woolwich Dockyard
(12mins. walking time)
DLR STATION
Woolwich Arsenal
(26 mins. walking time, or you can take one bus from the station: 161, 171, 180 or the 472 and exit at "Clevely Close")
UNDERGROUND STATION
North Greenwich
(From there, take the 161 or 472 bus, and exit at "Royal Greenwich Uni College")
TRAVEL BY CAR
Please check justpark.com to book parking in advance.
We are looking forward to shaking Woolwich, London and the Nation with the power of God, let the name of Jesus be glorified. Come and be trained, empower to preach Jesus to your generation. Lord raise up the ministry of the Evangelist in todays generation!
For Jesus and For Souls in the UK!
Blessings
Evangelist Kristian & Lythe
The M16 Revival Foundation, Charity No 1189702
Facebook.com/M16Revival
www.m16revival.com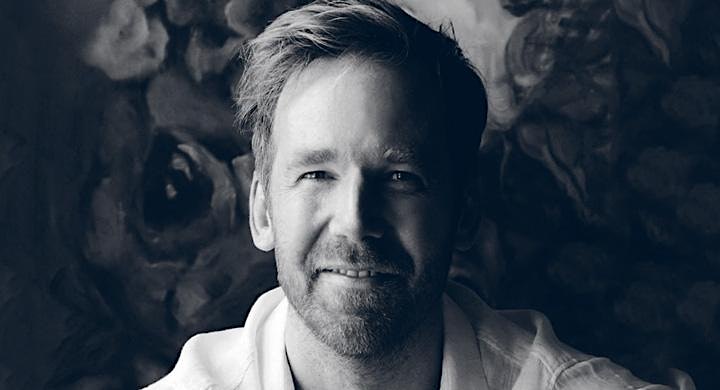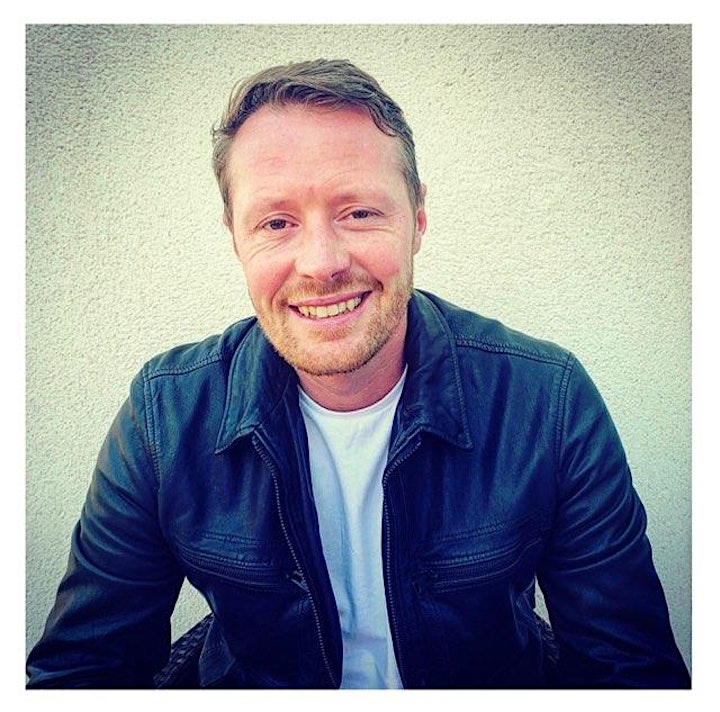 Andrew Cannons Bio:
Andrew Cannon is an Evangelist born and raised in Liverpool, UK. The hand of God radically touched him in January 2010 when he called up on the name of Jesus.
It was on Andrews very first encounter with the love and power of Jesus that he was transformed, he was completely and instantly set free from his life of destruction and addiction and the chains of the enemy were broken off.
He now lives a life sold out for Jesus, and has lead 1000's to the Lord through the love, truth and compassion of Christ and encourages and equips believers to do the same in their everyday life. Andrew met his wife Jennifer in church during his first year of new life with Jesus, they married in 2012 and have ran with Jesus together ever since. They believe the radical encounter Andrew had with Jesus is available to all and want to see people walking in their freedom and true identity.
Andrew operates in the office of an Evangelist and wastes no time in unashamedly sharing his faith in Jesus with those he comes across, whether that's speaking at a Stadium event, a conference or ministering on the streets, he loves nothing more than introducing people to the Lord.
As the founder of evangelistic ministries, Gospel Grenades, Take the Step and co-founder of Harvest Now Evangelism School, Andrew travels globally teaching, training, equipping and releasing the Saints into living a lifestyle of outreach and evangelism. He has featured on christian networks such as TBN, God TV and UCB.