Event Information
Refund policy
Contact the organiser to request a refund.
Eventbrite's fee is nonrefundable.
Welcome to our final meeting of 2021!
About this event
2021 has certainly been a challenging year and with Christmas looming, it is important that we focus on our own health and wellbeing. With that in mind, we are proud to present another line up of amazing guest speakers to not only challenge but also inspire you.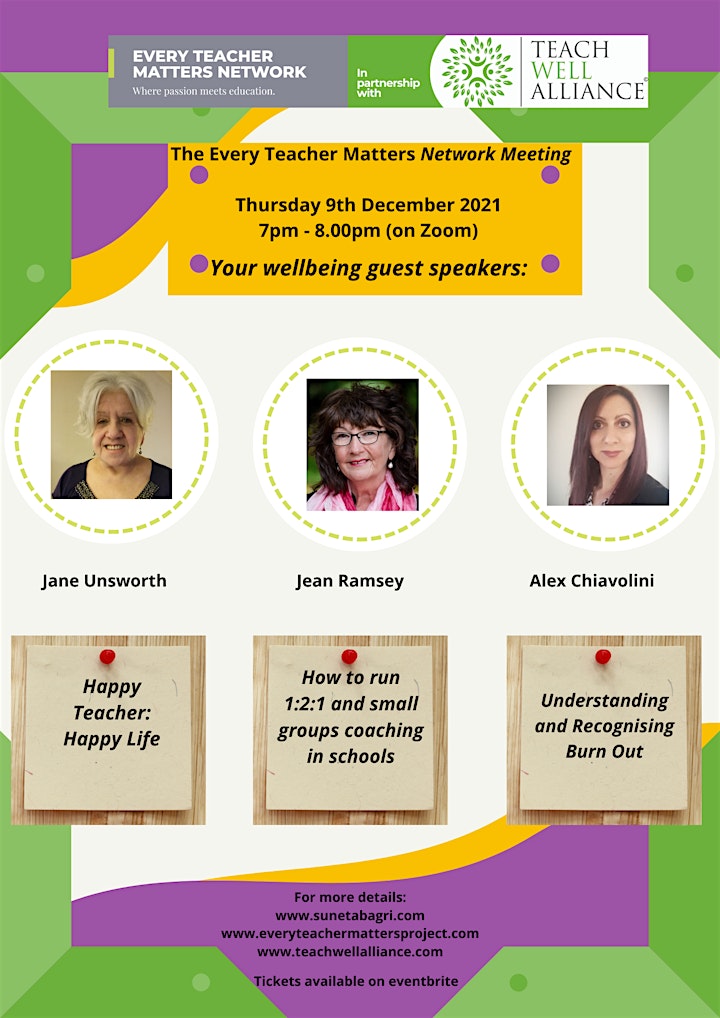 Jane Unsworth
Jane Unsworth helps school leaders recover from chronic stress, health and unwanted habits, in order to feel recharged and ready for anything.
An early life experience created an innate curiosity in how we tick. She was a Youth Trainer for 9-yrs. She's a NUCO Mental Health First Aid Instructor, and took a BSc (Hons) in Home Economics as a mature student. Jane is curious, loves learning, staying switched on, and the innate power of playfulness.
She spent a decade, from 2004, training in an integrated range of energy therapy & coaching processes, including NLP & Hypnotherapy, and recommends the Emotional Freedom Technique (EFT Tapping) as an anytime, anywhere, with anyone, go-to stress release approach for all ages.
Over time she learned about the direct correlation between releasing outdated patterns, recovering energy, clarity, and humour and believes they are especially pertinent as we age.
She also learned that stress is not only the elephant that sucks the energy out of a room, but that it inevitably leads to long-term chronic health, poor habits, and immobility.
Jane is passionate about a whole school happiness that nurtures self-confident children, which places much on the shoulders of school leaders, who in turn need to feel fully supported both inside and outside the school gates.
Jean Ramsey
Jean began her career in 1976 as an assistant English Teacher at a mixed 11 -16 comprehensive school in Oxfordshire and never really left!
In a career spanning 35 years she reinvented herself several times and ended up as Head of Creative Arts Faculty and the school's education coach working with staff and students.
Always interested in the disengaged, she did a Post Graduate Diploma in Educational Studies at Oxford on Effective Teaching and learning in 2004 and never looked back got her Masters in 2004.
Came to coaching after a severe burn out and it changed her life. She ran a successful academic coaching programme pilot and carried on coaching until 2018. During this time she developed a highly effective model for coaching young people which morphed from academic coaching to a much more therapeutic model.
Since her retirement from the classroom, Jean has been promoting the idea of a truly coaching culture in every school. Where every individual is known, nurtured and valued for their own unique strengths and talents and where learning becomes a lifelong, joyous experience for everyone in the school community.
Currently she is developing an online programme to Introduce staff to the benefits of coaching students and early career teachers.
Alex Chiavolini
Alex is the Practice Manager and Lead Clinician for Sullivan & Associates in Leicestershire. Sullivan & Associates provides counselling, psychotherapy, clinical supervision and training services.
Alex is highly qualified, with a BSc (Hons) in Psychology and a Post Graduate Diploma in Counselling, is a BACP Registered and Accredited Psychotherapist, and a clinical supervisor. Alex is qualified to work with couples and young people and is a trained mediator. She has over fifteen years of experience working within the Criminal Justice system (in offender management, victim contact and prison settings). Alex is also an EMDR therapist and specialises in trauma treatment.
She currently provides clinical supervision and psychotherapy to prison officers, social workers, youth offending and probation staff, as well as students and staff in schools.
Alex uses her wide range of skills & experience and tailors her approach to suit individual clients. Her clinical interventions include trauma-based psychotherapy, EMDR, anxiety management, short-term and long-term therapy and professional support sessions.
Working within a public service environment, and particularly one which involves a 'caring role' such as teaching, can present many obstacles. On a daily basis dealing with not only life and the difficulties within it, but a heavy workload, plus the wellbeing of the young people involved, can be challenging for those involved. The pressure is on for both staff and students to succeed, however when dealing with people (especially young people!) there can be difficulties at every turn. For example, - how to prioritise, look after ourselves, achieve, get the job done, manage the pupil's anxieties and issues, keep SMT happy, attend to parental issues and have our own life too... all whilst remaining calm and in control? It can be exceptionally difficult.
This short session will help you to learn a little more about how useful therapy and supervision can be in understanding burnout, recognising the early signs and thinking about ways in which we can help ourselves to keep a healthy perspective in our working lives.
Date and time
Location
Refund policy
Contact the organiser to request a refund.
Eventbrite's fee is nonrefundable.
Organiser of The Every Teacher Matters Network Meeting
CULTIVATE COACHING & CONSULTANCY FOUNDER, SUNETA BAGRI  - LAUNCHES AWARD-WINNING EVERY TEACHER MATTERS NETWORK
Where Passion Meets Education 
Coaching and cultivating a community of lifelong professionals. The best investment you can make is the one you make in yourself. 
Suneta Bagri is on a mission to help teachers, staff and senior leaders in education to lead fulfilling lives and encourage a positive mindset. Helping teachers to navigate their way to a mindful lifestyle is something she is incredibly passionate about. 
In this overwhelming arena it can be difficult to manage your mental, physical, and emotional health. As an award-winning consultant, speaker, and head teacher, with over twenty years' experience, Suneta offers a specialised coaching packages to schools and individuals, which relate to personal and professional performance, linked to teaching and learning. 
Education is a gift, and to be able to support teachers with their personal and professional growth and development motivates Suneta to positively impact future generations. With her guidance, teachers can take control of their wellbeing, look after themselves, and be truly effective in the classroom. 
Working with Suneta, you will be supported by an outstanding teacher with extensive knowledge and experience who considers your wellbeing and professional development to be of paramount importance. 
Whether you are an individual or a school, she can provide a safe and confidential space to grow.