Description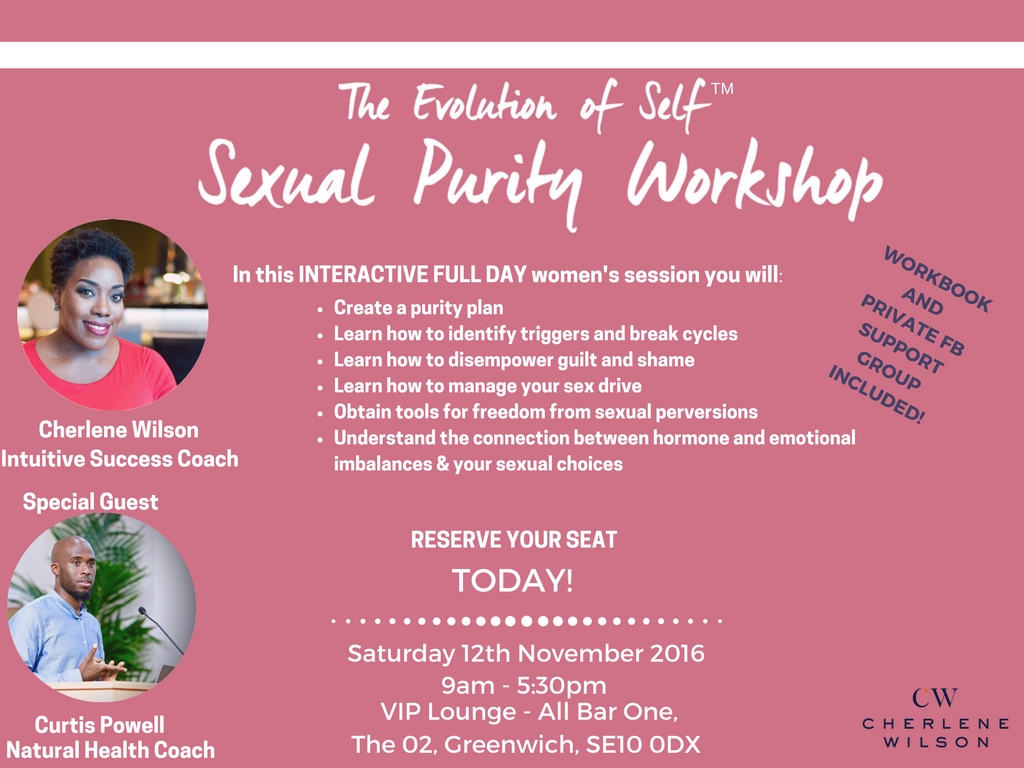 We live in the most sexually confusing time in the history of humanity. Whether the rules our ancestors have set were good or bad, they used to put a kind of protective bubble over young, puzzled minds. Now this bubble is no more and we see a whole pallet of disempowering emotions affecting sexual choices – helplessness, guilt, disappointment, uncertainty and much more. As a result, the family as we know it has been replaced by an unstable society with questionable values.
Is that all because of sex? Maybe not. But enough of it is, so that we work on bringing the purity back to our world.
That's exactly what I do. My name is Cherlene Wilson and I am an Intuitive Success Coach devoted to developing effective strategies for managing sexuality.
In this FULL DAY workshop, you will:
Create a purity plan and demystify the practices needed to stick to it

Identify and remove emotional blocks and limiting beliefs affecting your sexual decisions

Achieve results through a candid coaching style approach of storytelling & humour

Learn how to identify triggers & break cycles

Learn how to disempower guilt and shame and so much MORE!
SPECIAL GUEST SPEAKER
We will have special guest Curtis Powell - Natural Health Coach from The Original Plan teach on how our unseen daily practices can impact our hormone balance.
I know what I do is important, because I've dealt with sexuality challenges myself and desperately needed someone to guide me through this difficult time. After failing to manage my hyperactive sexual appetite, I found myself breaching my values and conscience only feel ashamed, embarrassed and guilty, and trips to the family planning clinic. There were very few people who could help me and were not ashamed to discuss the matter. Now I am one of those people, reaching out a helping hand, to share what has aided me in being over 9 years celibate!
To break the vicious cycle and shift your behaviour is easier than you think – the first steps to successful purity and new way back to yourself is a workshop awary. You will leave empowered with TRIED and TESTED tools to incorporate sexuality with your values and live a healthy, balanced life both physically and spiritually.
Please reserve your seat and let's talk about one of the less spoken about topics when it comes to practical celibacy!
VIP
VIP ticket guests will have an opportunity to join me for lunch for 'Conversations with CeCie'. *Guest expected to pay for their lunch*.
See you there!
Cherlene Wilson