The Exploited / Throwback 282 Live at The Fleece , Bristol
About this event
Wed 15th Mar | 7.30pm | £20 adv | All ages*
Death Or Glory Promotions present-
https://www.facebook.com/DeathorGloryPromotions/
The Exploited-
https://www.facebook.com/TheExploited
The Exploited are a legendary Scottish punk rock band from Edinburgh, Scotland in 1979. They were known for their DIY ethic and anarchist tendencies, crafting lyrics about chaos, anger and protest, and sometimes simply about having a good time. The band originated as a street punk/Oi! band but then in 1987 they began incorporating elements of crossover thrash. The band was also known for their appearance, primarily before the mid 1990s, which featured dyed spiked mohawks, black leather jackets, black or blue denim, black boots and studs. The band has had frequent line-up changes but have remained together for 3 decades. The band was formed by vocalist Terry Buchan, but he soon left and was replaced by his brother Wattie Buchan. The band released singles such as Dogs of War and Dead Cities, the Army Life EP and the live album On Stage in the early 1980s. Their early work often appeared on independent charts in the UK. The band has been preparing to release a new album for the last several years.
+
Throwback 282-
https://www.facebook.com/Throwback282
Well known punks from Intensive Care, Beerzone and Control have got together to form Throwback 282.
Originally, all were part of the 2nd wave of punk in 1982, the band has 40 years of blistering punk tracks plus lots of new material for release.
Tickets: £20 Adv
Available at Eventbrite online
In Person at The Rock Shop Bristol (No Booking Fee)
https://www.facebook.com/therockshop
*under 16s must be accompanied by an adult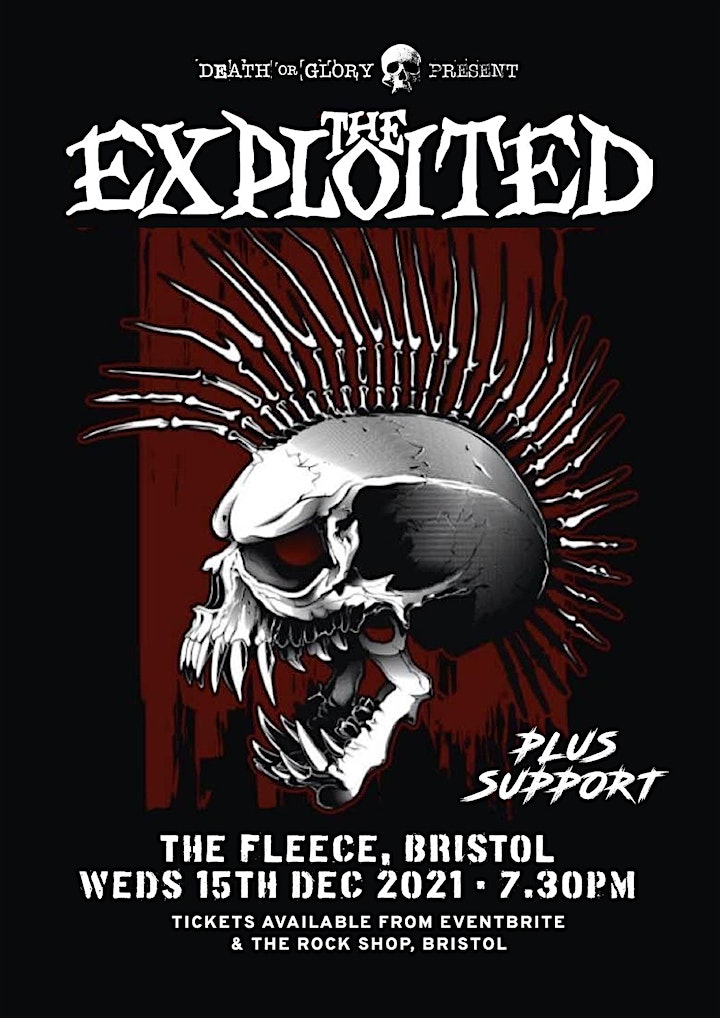 Organiser of The Exploited / Throwback 282 Live at the Fleece Bristol