How To Academy presents...The Exponential Age – a Guide to Our Near Future | Azeem Azar
About this event
We are entering the Exponential Age. Between faster computers, better software and bigger data, ours is the first era in human history in which technology is constantly accelerating.
Azeem Azhar - writer, technologist, and creator of the acclaimed Exponential View newsletter - understands this shift better than anyone. Technology, he argues, is developing at an increasing, exponential rate. But human society - from our businesses to our political institutions - can only ever adapt at a slower, incremental pace. The result is an 'exponential gap' - between the power of new technology and humans' ability to keep up.
In this livestream talk, Azeem will show how this exponential gap can explain our society's most pressing problems. The gulf between established businesses and fast-growing digital platforms. The inability of nation states to deal with new forms of cyberwarfare. And the sclerotic response of liberal democracies to fast-moving social problems.
But the exponential gap is not inevitable. Drawing on fields as varied as economics, political science and psychology, Azeem will sketch out how we can harness the power of tech to serve our real needs - fostering new ways of doing business, innovative forms of politics, and fresh approaches to national defence.
The result is a holistic new way to make sense of the modern world. Exponential technology is transforming all of our lives. This talk will explain how.
Praise for Azeem Azar's Exponential:
'Read this book if you are interested in how we can design a more inclusive and sustainable system with a re-direction of technological change at its centre.' Mariana Mazzucato, UCL professor and author of The Value of Everything and Mission Economy
'Azeem Azhar is one of the best-regarded thought leaders in the industry. But more importantly, he has a broad understanding of the exponential ways technology can be used to solve our biggest problems, shape our society, and bridge cultural divides.' - Daniel Ek, founder and CEO of Spotify
'Azeem Azhar is a globally recognised voice on technology and its impact. He has written a fascinating and important book, required reading for anyone seeking to understand the new economy and the massive global corporations that seek to dominate that economy.' - Matthew Taylor, CEO of the RSA
'Comprehensive but lively . . . An essential addition to the ongoing discourse about where remarkable new technologies can take us, and where we should be aiming to go. Highly recommended!' - Reid Hoffman, co-founder of LinkedIn and author of Blitzscaling
'A powerful argument . . . Azeem Azhar's writing is informative and accessible, and his prescient ideas are only going to become more important as time goes on.' - Hannah Fry, BBC Radio 4 presenter and author of Hello World
Azeem Azhar is the creator of Exponential View, Britain's leading platform for in-depth tech analysis. His weekly newsletter is read by 200,000 people from around the world, and his hit podcast has featured guests including Yuval Noah Harari, Reid Hoffman and Mariana Mazzucato. He is a member of the World Economic Forum's Global Futures Council, and a contributor to publications including the Financial Times, Prospect and the MIT Technology Review.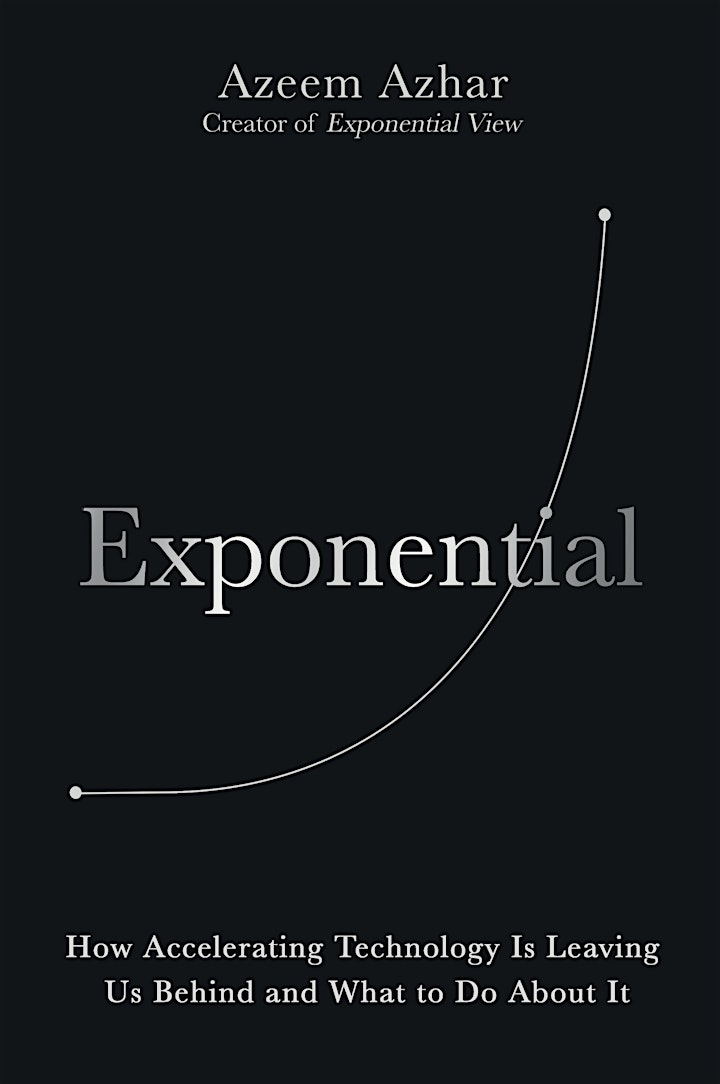 Organizer of The Exponential Age – a Guide to Our Near Future | Azeem Azar
How To Academy is an organisation for people who think big. From Nobel laureates to Pulitzer Prize winners, we invite the world's most influential voices to London to share new ideas for changing ourselves, our communities, and the world. 
We host leading artists and thinkers in an unrivalled programme of public talks, debates and conferences – from Yuval Noah Harari to Natalie Portman, Emma Watson to Eric Schmidt.
We help businesses discover transformative new strategies, anticipate the future, and inspire their staff with keynotes and workshops by internationally-acclaimed economists, psychologists, politicians, and thought leaders. 
We offer masterclasses live and online with experts in essential twenty-first century skills, like leadership, public-speaking, decision-making and resilience. And we make books, podcasts and films to share insight and innovation around the world.